Kimberly-Clark (NYSE:KMB) announced its first quarter 2014 results and stuck to its previous guidance for full-year 2014. Its share price has already gone up 4.5% in the last three months, outperforming the S&P 500 by 3.1%. Kimberly-Clark's earnings were above analysts' estimates marking the ninth consecutive quarter the company has beaten the estimates. Kimberly-Clark beat analysts' estimates by roughly 3.2% on average in the last nine quarters.
In the first quarter the net revenue fell 1% to $5.3 billion compared to 1Q2013. The currency headwind was a hurdle for top-line growth. Excluding the currency impact and lower sales as a result of European strategic changes and pulp and tissue restructuring actions, the organic sales increased 4% backed by a 12% improvement in K-C international. The sales volume improved 3% and higher net selling prices contributed 1% towards organic growth. However this quarter's organic growth slowed down from 5% in the fourth quarter of 2013.
The organic sales growth, cost savings, and lower selling, general, and administration expenses created a slight improvement in the operating profits allowing it to increase from $783 million to $797million. The adjusted earnings per share of $1.48 remained almost flat, narrowly beating analysts' estimates of $1.47 for the quarter. Better than expected earnings results were due to an improvement in operating efficiency and share repurchases. Kimberly-Clark repurchased around $464 million worth of shares, roughly equal to 1.1% of the total market cap of the company.
Personal Care Segment Results
The revenue for the first quarter from the personal care segment declined 1% to $2.4 billion. The unfavorable currency impact of 5% and lower sales from Europe were partially offset by 6% organic sales volume improvement and a 1% improvement in the net selling prices. The first quarter operating profit of $457 million reflected an increase of 4%. Sales in the North America region were flat compared to the same period of the previous year. The 2% improvement in sales volume was offset by a 1% decline in sales price and 1% unfavorable currency impact.
Revenue of the K-C International segment increased 3% despite a 9 point negative impact from changes in currency rates. The increase in revenue was due to a sales volumes improvement of 10% and net selling prices improvement of 3% for the quarter. Volumes increased in China, Russia, and Vietnam and throughout most of Latin America, including Brazil and Venezuela. The higher net selling prices were driven by increases in Latin America and Eastern Europe, the Middle East, and Africa in response to unfavorable currency rates and cost inflation. Sales in Europe decreased 36%, including a 39 point negative impact from lower sales in conjunction with European strategic changes. Organic sales volumes were the same as last year's level as growth in baby wipes and child care was offset by declines in other products.
Consumer Tissue Segment Results
Revenue from the consumer tissue segment dropped 2% due to lower sales in conjunction with the European strategic plan, tissue restructuring, and a 2% currency headwind. This decline was partially offset by a 2% improvement in selling price. Due to higher manufacturing costs the operating profit declined 1% to $257 million. The sales declined in North America by 1% and the 4% fall in sales volume was partially offset by a 2% improvement in selling price. Revenue from K-C international improved 2% despite the negative impact of currency. The revenue increase was due to a 6% boost in sales volume and a 2% improvement in selling price.
K-C Professional Segment Results
Unlike the results of the other segments the revenue from K-C professional segment increased by 1%. The organic sales growth of 2% and selling price increase of 2% helped the overall revenue increase. However the operating profit of $136 million declined 5% due to input cost inflation and higher marketing. Sales from North America declined like the other segments, however European sales increase by 2% due to tissue restructuring. Sales in K-C international contributed a 7% increase on the back of a 7% volume improvement and an 8% selling price improvement.
Competitor Analysis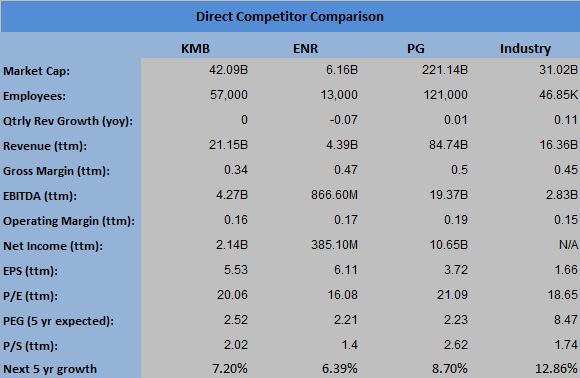 Source: yahoo finance
Kimberly-Clark is quite strong compared to the industry and Energizer Holdings Inc. (NYSE:ENR) on the basis of market cap and revenue but still lags behind the giant Proctor & Gamble (NYSE:PG). Kimberly-Clark's revenue remained flat while in comparison Energizer faced a revenue decline and Proctor and Gamble also remained almost flat. The 0.34 gross margin of Kimberly-Clark is much better than Proctor and Gamble's however it was lower than Energizer. The industry's gross margin is 0.45 which gives Kimberly-Clark the potential to increase its gross margins. The company is trying to improve its profit margins by divestiture or the exiting of some lower-margin businesses in certain markets, primarily in the consumer tissue segment. Kimberly-Clark's earnings per share of $5.53 are much better than the industry average of $1.66 and higher than the $3.72 average of Proctor and Gamble. After the completion of its on-going restructuring, for which company will allow $300 to $350 after tax charges during 2014, the net income and earnings per share are expected to improve further.
Conclusion
Another strong point for Kimberly-Clark is its strong dividend profile. For the first quarter, Kimberly-Clark increased the dividend 3.7% to $0.84 per share. This translates into an annual dividend of $2.78 per share with a dividend yield of 3.03%. In comparison Energizer's annual dividend per share is $2 with a 2.03% yield.
For the full year 2014 the company expects the earnings per share to be in the range of $6.00 and $6.20 whereas consensus average EPS estimate is $6.13. Based on the consensus forecasted EPS and five-year average payout ratio of 61.64%, the dividend per share should be around $3.78 in 2014, $4.09 in 2015, $4.35 in 2016 and $4.62 in 2017. Investors might bid second guess investing in Proctor and Gamble's shares following Kimberly-Clark's results. This is because Proctor & Gamble underperformed compared to Kimberly-Clark during the previous quarter and beat the earnings by just 0.9%, while Kimberly-Clark beat the earnings by 3.3%. The significant price increase is unlikely for Kimberly-Clark however for dividend-seeking investors this stock is a safe bet.
Disclosure: I have no positions in any stocks mentioned, and no plans to initiate any positions within the next 72 hours.
Business relationship disclosure: The article has been written by a Gemstone Equity Research research analyst. Gemstone Equity Research is not receiving compensation for it (other than from Seeking Alpha). Gemstone Equity Research has no business relationship with any company whose stock is mentioned in this article.