"Why do you even try to time the market? It's a waste of time."
That's what one of my friends asked me not long ago.
"Well I'm not playing fortune teller really", I said. "I'm just trying to understand what's happening".
We have to try to protect our assets. I don't subscribe to the "there's nothing you can do" theory. I don't try to predict the future, nobody can; but I like to assess the conditions and take precautionary actions, just in case. I find the damage of missing some upside less harmful than holding everything during a correction.
Why not lighten the load a bit when something's fishy?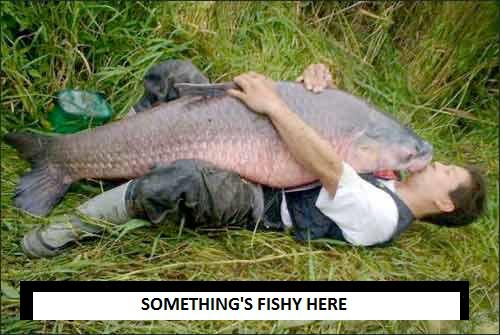 image source: hookedupfilms.com
I may be wrong and I have been wrong plenty of times, but this recent rally (started in mid-April) doesn't feel right. I don't believe it yet, until I see some ratios changing to the bullish side.
With May about to start, how are conditions affecting the market (NYSEARCA:SPY) direction probabilities?
Considering that:
- US economic leading indicators are still in a long-term uptrend,
- sovereign bond yields are trending lower in stressed big euro-economies like Italy and Spain
- and the Federal Reserve is still executing an easing monetary policy...
it is not that surprising that the stock market has performed so well since 2012's summer (initiation of QE3). I feel these 3 elements have been the most important macro-fundamentals that have made the "buy on dips and hold" strategy to work like a charm during that period of time.
So should I be worried? What has changed?
European worries have been replaced by alleged Chinese economic woes and Russian-Ukrainian tensions. Also, QE has been reduced to $55 billion per month (maybe $45 billion soon?). That's definitely something to keep an eye on, but it is not what's concerning me right now.
The "run for cover" action
The "run to safety" this year has been largely ignored by the stock market and that's what seems out of sync. The longer the divergence, the more pressure the tectonic plates accumulate. Given the bullish macro-fundamentals are still present, I prefer to think a tremor is more probable than an earthquake, but the potential for any kind of correction is real anyway. It is better illustrated with images. Here are some concerning graphs below. The first graph, the bond yield curve, could be the leading reason why defensive sectors are outperforming (spreads contracting).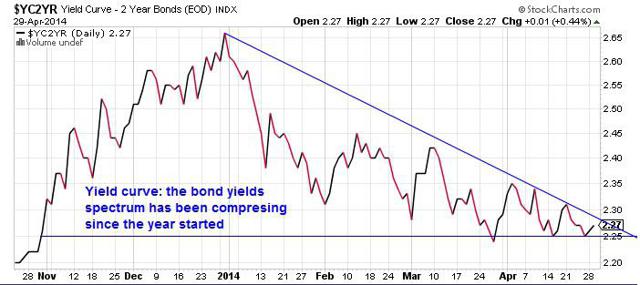 The next graph shows, from another perspective, how powerful the rally has been since mid 2012. This corporate bond index (Dow Jones Corporate Bond Index Total Return) absolutely steamrolled the long-term treasuries (30 year) price index on performance, showing fiery appetite for risk on the ratio. Now, if we look at the RSI on top of the graph, it shows it touching the 30 line for the first time since mid 2012. Another step in the ladder or the beginning of a drop?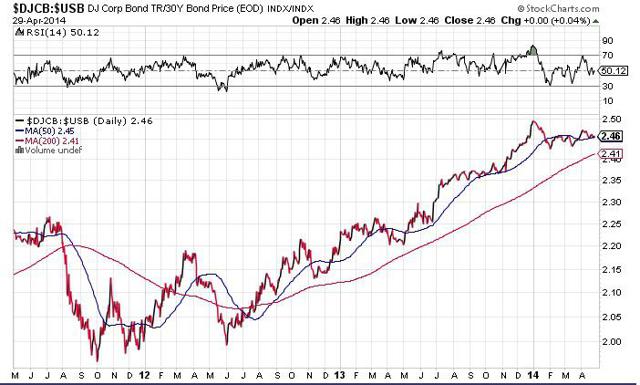 The drop in the (discretionary sector/consumer staples) ratio has been sudden and sharp. See the chart below.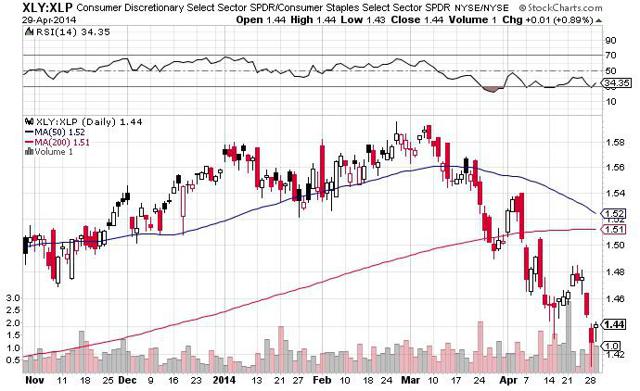 Defensive utilities are overperforming financials too, as shown in the next graph (financials in the numerator).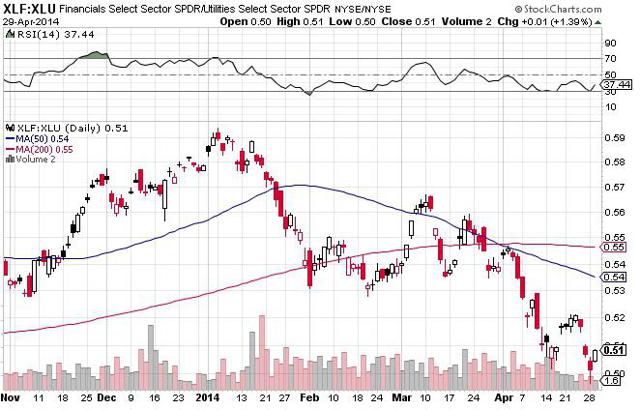 Small caps indices and high beta ETFs are also showing weakness when compared with conservative dividend funds. Bullish percentage index looks bearish too. Some bright spots can be seen on the energy sector, emerging markets and emerging markets bonds however.
I remain cautious for now. What's your take? Safe trading to all.
Disclosure: I have no positions in any stocks mentioned, and no plans to initiate any positions within the next 72 hours. I wrote this article myself, and it expresses my own opinions. I am not receiving compensation for it (other than from Seeking Alpha). I have no business relationship with any company whose stock is mentioned in this article.
Additional disclosure: Any content in this article should not be considered as a recommendation or investment advice given that financial objectives and individual needs of the end user have not been evaluated. Suggestions or tips are for information purposes only and there is no guarantee on stock returns or market performance. All readers must use their prudence and consult their financial advisors before acting on any of the securities or suggestions mentioned or engaging into any kind of investment. I do not hold any responsibility and can not be held liable for any losses incurred (if any) by acting on the information provided.