From the growth perspective, Qualcomm Incorporated (NASDAQ:QCOM) reported a less than stellar fiscal second quarter. Generally, the smartphone market is nearing saturation, especially in developed markets, and consequently QCOM's sales growth should slow in future periods. With that stated, the profitability margins look good, cash flows are strong, and the balance sheet is top-notch.
Looking forward, I expect incremental revenues from the roll out of LTE in China. Also, consumers in developed markets will continue to refresh their smart devices. And additional devices will become connectivity enabled, the Internet of Things ("IoT"). Qualcomm continues to operate with a very favorable secular tailwind.
As the price moves closer to the estimated intrinsic value, Qualcomm could still be as much as 24% undervalued.
Recent Developments
The Snapdragon 600 earned a designed win from Amazon and can be found in the Fire TV.
Some Samsung Galaxy S5s have six Qualcomm chips: Two power management ICs, two RF transceivers, an audio codec IC, and the Snapdragon 801 baseband/app processor.
Qualcomm declared a $0.42/share quarterly dividend, which is a 20% increase from $0.35.
The Snapdragon 808 and 810 will be available in the first half of 2015.
Analyst's Note
Qualcomm Incorporated is a leading developer and innovator of advanced wireless technologies, products, and services. The company develops digital communication technology called CDMA and owns intellectual property applicable to products that implement any version of CDMA including patents, patent applications, and trade secrets.
MSM chip shipments increased 21% in calendar 2013. I expect the pace to slow this year to about 10% or 822 million shipments. This comes as device sales, in billions, increases about 9%. Device ASPs are expected to remain flat in the near term with most of the pricing pressure for a decline coming at the high end of the market, as the increase in battery life commoditizes offerings, at the high end.
| | | |
| --- | --- | --- |
| For the year ending (in millions of dollars except per share data): | 2013-09 | 2014-09E |
| Revenues | 24866 | 26731 |
| Gross profit | 15046 | 16039 |
| Operating income | 7230 | 7217 |
| Net income from continuing operations | 6845 | 6950 |
| Diluted EPS from continuing operations | 3.91 | 4.08 |
Thus far in fiscal 2014, revenues have tracked well below my forecasted pace. I was expecting revenues growth of 15% y/y, and revenues are growing at 7%. The below-expectations results are partly attributable to slower-than-expected units shipments. Growth in sales of licenses weighed on total revenues growth. Consequently, I'm decreasing my full-year revenues growth forecast to $26.7 billion, which is a 7.5% y/y increase. The gross margin is coming in a slightly better than I expected, which means I overestimated the pace of decline. The rest of the profitability numbers are tracking inline with my forecast. Above is the revised 2014 forecast. Lastly, the 2015 revenues forecast may likely be revised lower; it currently stands at $29.9 billion.
From an assets and liabilities perspective, my forecast has been roughly inline with performance. The liquidity remains ample and the solvency position appears solid. I expect the relative cash position to decrease through capital returns to shareholders, which means capital returns could be substantial in the back half of the fiscal year. Also, fixed capital seems to be low by historical standards, so management may increase capital expenditures. Lastly, mirroring the slow down in the rate of growth of sales is the relative decline of deferred revenues.
Turning to the cash flows, cash flows from operations are on pace to be about $9B, which is inline with my forecast. Capital expenditure is coming in at a faster pace than I forecasted. The company repurchased $2B of common stock while I expect $5B for the full year. Also, the dividend payments are tracking roughly inline with my forecast of $2.6B.
Overall, the first half of the year was solid. Obviously revenues are tracking below my forecast; this is probably because of saturation in some markets. Qualcomm definitely maintained its technological lead in the industry and continues to be featured in some of the most demanded computing mobility solutions. Additionally, the company has yet to experience the full impact of the LTE deployment in China.
Risks
The share price is likely to remain volatile and investors could lose a portion or all of their investment.
Investors should judge the suitability of an investment in QCOM in light of their own unique circumstances.
A decline in global economic growth rate and/or a decline in the pace of economic growth in the United States could adversely impact the results of operations and the share price.
Cyclicality in IT expenditure may affect performance.
The technology industry is characterized by rapid technological change, which could materially adversely impact the results of operations.
Competition in product development and pricing could adversely impact performance.
Incorrect forecasts of customer demand could adversely impact the results of operations.
Higher interest rates may reduce demand for QCOM offerings and negatively impact the results of operations and the share price.
This section does not contain all risks related to an investment in QCOM.
Portfolio & Valuations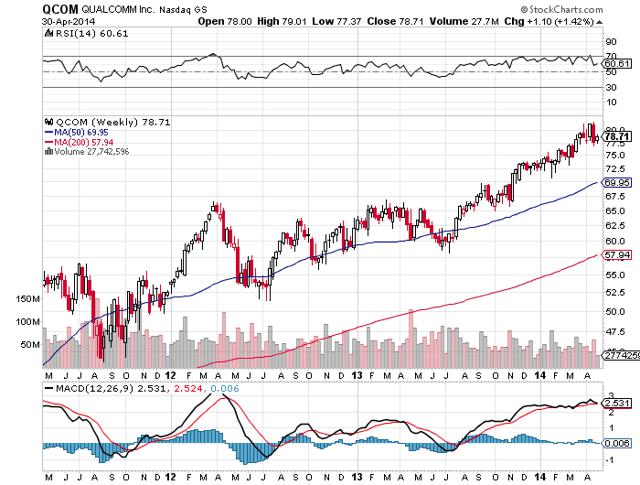 QCOM continues to be in a bull market of intermediate and primary degree. But the bearish divergence forming says that the momentum of the uptrend is slowing and at some point in the near future could turn negative. The trend is said to continue until such time as the weight of evidence suggests the trend has changed.
| | | |
| --- | --- | --- |
| Monthly expected return | Quarterly expected return | Quarterly standard deviation of returns |
| 1.5% | 4.44% | 11.88% |
Right now, QCOM is trading near the lower end ($81.50) of the intrinsic value range. The upper end of the range is at $98.44. Consequently, QCOM could be as much as 24.6% undervalued. The lower end of the valuation range is determined based on the capital return program, and the upper end of the valuation range is derived from operating returns.
Disclosure: I have no positions in any stocks mentioned, and no plans to initiate any positions within the next 72 hours. I wrote this article myself, and it expresses my own opinions. I am not receiving compensation for it (other than from Seeking Alpha). I have no business relationship with any company whose stock is mentioned in this article.