Sustainable growth rate is the maximum growth rate that a firm can sustain without having to increase financial leverage. To calculate its value, we use the equation (Sustainable Growth Rate) = (Return on Equity) x (Retention Rate).
The following is a list of S&P 500 stocks with high sustainable growth rates. Details of the screen we used:
All stocks are part of the S&P 500 index
All stocks pay dividends
All stocks have positive ROE and ROA values (ttm)
To make sure these companies have enough liquidity to pay their dividends, we only focus on companies with Price / Free Cash Flow Ratios below 15, and current ratios above 1.5
Yes, this is a crude method to calculate sustainable growth rates, but this list is only meant to be a starting point for you to do your own homework on these stocks. It's also worth pointing out that the analysis is incomplete because we're using a trailing twelve month value for ROE instead of a longer-term average.
Here is an interactive chart of all the companies that showed up in our screen. More detailed analysis follows below. Dividend payout and ROE data sourced from Finviz. The list has been sorted by sustainable growth rate.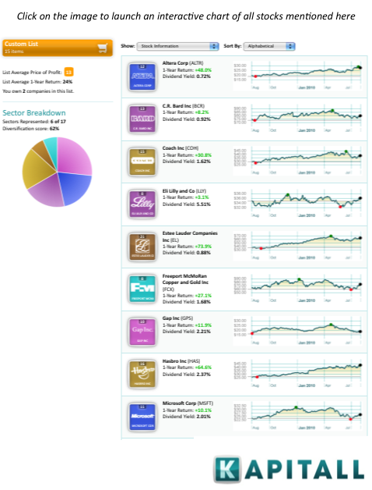 (Click to enlarge)
Disclosure: No positions