The Two Horse Race for First To US FDA approval for a Long-Term Mechanical Heart Assist Device For NYHA Class III Heart Failure (NYSE:HF)
This is essentially a two horse race, with Sunshine Heart's (SSH) C-Pulse making a slow start and Thoratec's (NASDAQ:THOR) HeartMate II left at the barrier.
Forget HeartWare's (NASDAQ:HTWR) HVAD and Synergy devices. HVAD was entered in the race but had to be withdrawn when it failed to qualify in the NYHA Class IV Destination Therapy (DT) stakes. Synergy is not yet race ready and has firstly to qualify in Class IV DT before entering a Class III FDA sanctioned race.
Table 1 below provides details of the race so far -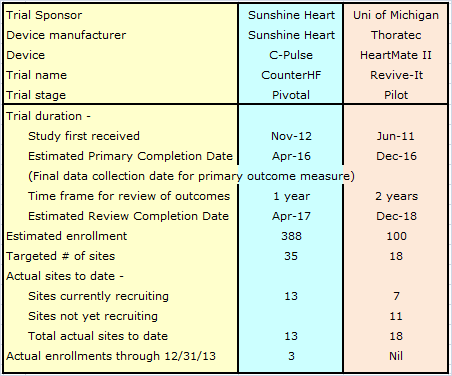 Note particularly that the Revive-It trial is only a Pilot trial and not a Pivotal trial. An initial estimate of the total number of patients needed to adequately power a subsequent pivotal trial is 250-300 (see here).
It should be also noted only 4 sites involve both trials. Of these 4 sites only 1 is currently recruiting for the Revive-It trial.
So competition for patients between the two trials should not be an issue. The bigger issue for both trials is most likely enrollment criteria. On top of that the Revive-It trial has had its own particular problems causing delays.
Major delays to the Revive-It trial -
The first major delay was when the HeartWare HVAD failed to gain Destination Therapy approval for NYHA Class IV HF patients on schedule (this situation continues).
NYHA Class III HF patients do not qualify for heart transplant so it follows any mechanical device therapy must be either Destination Therapy (DT) or Bridge To Recovery (BTR). Without DT approval for NYHA Class IV it was not possible for HVAD to start a trial for DT in Class III.
In January 2013 Thoratec's HeartMate II, which already has DT approval in Class IV, was chosen to replace the HVAD in the Revive-It trial.
By January 2013, most or all sites had already been recruited and activated. But following the change in device it was not until August 2013 that the trial was declared ready to accept enrollments.
In late 2013, prior to any enrollments, concerns were raised that the incidence of blood clotting from HeartMate II might be higher in practice than in the earlier trials. This caused at least 2 hospitals to withdraw from the trial (see here ) and for a review of the trial design to be undertaken. Note - C-Pulse is non-blood contacting and no strokes, clots or bleeding have resulted for patients in the Feasibility study leading to the current Pivotal trial (see here).
On April 15, 2014, The University of Michigan Health System announced it had received approval from the Food and Drug Administration (FDA) on March 12 to resume the REVIVE-IT (Randomized Evaluation of VAD Intervention before Inotropic Therapy) pilot clinical trial under a revised study protocol.
Existing safety protocols and some changes following the review leading up to resumption include -
Limiting the study to participants with more advanced heart failure, but still less than that currently required for an LVAD. As the trial was already limited to enrolling the sicker patients in NYHA Class III classified as Class IIIb presumably only the sickest patients in Class IIIb will now be eligible for enrollment;
Limiting the number of patients who can participate in the trial until the FDA and DSMB can review the safety data on those patients and determine if it is prudent to proceed with the trial. This likely means an initial small number of patients implanted followed by a halt for a lengthy review period; and
Modifications to the study to reduce the risk of pump thrombosis.
Conclusions -
This is not even a two horse race. Sunshine Heart's C-Pulse is the only starter in a Pivotal trial that can lead to FDA PMA approval for NYHA Class III Heart Failure. It is also the only device addressing the whole of Class III;
Thoratec's HeartMate II has not even passed the starting line in its Pilot trial and it must win this race before it can hope to enter a Pivotal trial to gain FDA PMA approval. It is also addressing only a portion of later stage Class III;
Both C-Pulse and HeartMate II have been and are facing certain difficulties with patient selection criteria and patient enrollment in their respective trials;
I believe C-Pulse is much better positioned to overcome these difficulties and we will see it progress steadily but at an accelerating rate of enrollments in the period ahead.
I propose to expand on the above issues and how C-Pulse might progress its Pivotal trial in a Part II to this article.
Caution: The information above is not intended to replace the advice of a doctor. I disclaim any liability for any decisions you might make based on this information.
Additional caution: As always, please do your own research before any buy or sell decisions. Use of information and research in the article above is at your own risk.
Investing in micro cap companies is not suitable for all investors and can be risky. It's important that investors thoroughly perform their own due diligence and analyze the potential risks. Due to illiquidity, share prices can fall despite strong fundamentals and possible inability to raise sufficient additional cash to continue to fund ongoing operations is always a serious concern. Fuller details of risks associated with Sunshine Heart as identified by the company may be found with their form 10-12B/A registration filing with the SEC and their other SEC filings.
Disclosure: I am long SSH. I wrote this article myself, and it expresses my own opinions. I am not receiving compensation for it. I have no business relationship with any company whose stock is mentioned in this article.
Editor's Note: This article covers one or more stocks trading at less than $1 per share and/or with less than a $100 million market cap. Please be aware of the risks associated with these stocks.