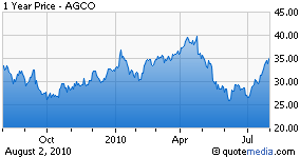 AGCO Corporation (NYSE:AGCO) announced adjusted second-quarter earnings per share of 66 cents that beat the Zacks Consensus Estimate by 19 cents. Results in the quarter were 3% higher than the prior-year EPS of 64 cents. The strong performance was driven by material cost control, higher production and solid growth in South America (particularly in strong Brazilian and Argentinean markets), which helped offset weaker results in the Europe/Africa/ Middle East (EAME) segment.
During the quarter, the company's adjusted and reported EPS remained the same. The company recorded severance and other related costs to the tune of $500,000 associated with the company's rationalization of its Denmark, Spain and France operations, which had a negligible impact on EPS.
However, in the prior-year quarter, AGCO recorded restructuring and other infrequent expenses of $2.8 million, having a per share effect of 2 cents related to severance costs associated with the rationalization of its operations in the United States, United Kingdom and Finland. Including these items, EPS in the year-ago quarter was 61 cents.
Revenues
Revenues dipped 1.4% to $1.7 billion, at par with the Zacks Consensus Estimate. Excluding a favorable currency translation impact of approximately 0.3%, net sales decreased 1.7% year over year.
Revenues at South America almost doubled to $448.2 million driven by strong market demand in Brazil and Argentina . The Brazilian government has extended low interest rate equipment financing programs through the end of 2010, which, along with strong harvests and improved farm income, are supporting industry sales. However, this stellar performance was marred by declines in its other markets.
Weak industry conditions in Western Europe led to a 15% decline in revenues in the EAME region. In the North American region, revenues suffered a 17% drop due to lower sales of utility tractors and hay products.
Cost and Margin Performance
Cost of sales dipped 4% to $1.4 billion in the quarter and based on revenue, it contracted 190 basis points to 81.6%. Consequently, gross profit went up 10% to $321.1 million and gross margin expanded 50 basis points to 46.7%.
Selling, general, administrative and engineering expenses spiked 7% to $164.8 million in the quarter and based on sales increased 80 basis points to 9.5%. The company's adjusted operating profit in the quarter was $101.3 million, an 18% increase from the prior-year period with operating margin expanding 100 basis points to 5.8%.
Financial Position
As of June 30, 2010, AGCO had cash and cash equivalents of $575 million, up from $408.1 million as of March 31, 2010. During the quarter, the company generated operating cash flows of $215.8 million compared with $192.3 million in the year-ago quarter.
As of June 30, 2010, debt-to-capitalization ratio went down marginally to 15.3% as of June 30, 2010, from 15.9% as of March 31, 2010.
Outlook
AGCO expects strong industry conditions to continue in the South American markets in the second half of 2010, but would remain flat due to a difficult year-over-year base comparison. North American industry demand is expected to remain stable while market conditions are expected to remain weak but stable in Western Europe in the back half of 2010.
The company expects to deliver adjusted earnings per share in a range of of $1.85 - $2.00 for the fiscal 2010. Net sales are estimated to range between $6.7 billion and $6.8 billion. The company expects gross margin to improve but this will be partially offset by higher engineering expenses for new product development and Tier 4 emission requirements, as well as higher pension costs.
Earnings per share projections exclude restructuring expenses that are expected to be incurred in the company's European operations and are estimated to be approximately 6 cents for fiscal 2010.
Our Take
With a full product line of farm equipment and a wide network of dealers and distributors, we believe AGCO is well positioned to capitalize on the need for increased food production driven by worldwide population growth over the long term. Moreover, the company is also looking to expand operations in high-growth emerging markets, which bode well for future operating performance. However, soft demand conditions in North America and Europe coupled with intense competition remain points of concern.
AGCO Corporation is a leading manufacturer and distributor of agricultural equipment and related replacement parts. Its product line is categorized under five groups: tractors, replacement parts, combines, application equipment/sprayers and other machinery. The company operates through four geographical segments: Europe/Africa/Middle East (EAME), South America, North America and Asia-Pacific.
Disclosure: No positions