I have my favorite equity investment in every sector of the stock market: I like Telefonica (NYSE:TEF) in the telecommunication sector because of its low valuation and high dividend yield, Bank of America (NYSE:BAC) in the financial services industry because of its sizable discount to book value and, of course, Vale (NYSE:VALE) in the basic materials sector. Almost all of these companies have in common that they are extremely neglected by the market because of short-term problems. Now, it is up to discussion what constitutes a 'short-term' problem (in the case of Bank of America short-term problems carry on for quite a few years) and what isn't. Generally, I would classify lower commodity prices as a short- or maybe medium term issue. Vale certainly suffers from lower iron ore prices for quite a while and first quarter results confirmed once more that the iron ore market remains challenging. However, Vale certainly has a lot to offer in terms of capital appreciation potential once its iron ore business takes off.
Now, I am often criticized for not being more specific as to when I expect a turnaround in, for instance, iron ore or aluminum prices. The honest answer is: I don't know. And I don't care. Forecasting price levels or any other form of macroeconomic data, is inherently unreliable, if not disingenuous, and is not helping investors at all. What I do know, though, is that Vale, which is trading at only seven times (yes, that is seven times) forward earnings, is a steal at current price levels. Since I am also following a contrarian investment philosophy, I find it highly appealing that Vale's share price has consolidated lately making the investment proposition so much more attractive.
I think a decent allocation of portfolio funds to cyclical companies in the basic materials industry makes a hell of a lot of sense. Commodity companies are usually classified as cyclical investments which do well when the overall economy does well.
Technical picture
Vale has had a tough year: It's high reliance on emerging markets and iron ore, has led to a 20% decrease in Vale's share price over the last twelve month. The stock has also been quite volatile, fluctuating heavily between $12.29 and $17.72 over the last year.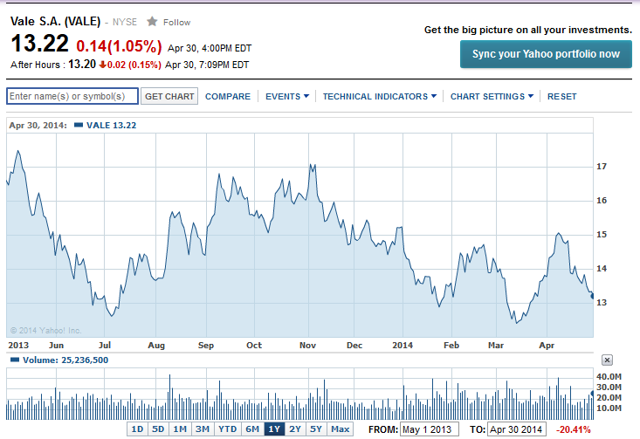 (Source: Yahoo Finance)
Background
The main reason I like Vale is because iron ore is a vital commodity needed for infrastructure upgrades -- a major investment theme in developing countries. The majority of infrastructure investments, therefore, is likely to happen in emerging markets such as China, India and Brazil. Vale produces a variety of commodities including manganese ore, copper, nickel, coal, phosphates and others but remains heavily dependent on iron ore -- its main profit and loss driver. With iron ore demand disappointing industry players in 2013, it now looks as if the market is about to see light at the end of the tunnel and higher prices for iron ore.
As Reuters reported on April 30, 2014:
(Reuters) - Iron ore prices are likely to rise in coming months as inefficient producers leave the market and some mines exhaust their output capacity, Vale Chief Executive Murilo Ferreira said on Wednesday.

The Brazilian mining company has no intention of delaying strategic investments even if prices of iron ore, its main product, stay where they are or fall further, Ferreira told reporters in a phone conference.

"For the first time in 10 years, supply is greater than demand," Jose Carlos Martins, head of Vale's ferrous metals division, said in the same conference. "At the same time, demand has risen slower than expected."

He added that 40 million to 50 million tonnes of iron ore capacity are leaving the market every year as mines are exhausted or because they are no longer economically viable.
While lower iron ore demand and higher supply levels explain the challenging pricing environment for iron ore in 2013, I think that Vale, as the dominant industry player will benefit from predicted consolidations in the sector. I also expect crucial tailwinds for iron ore producers in 2015 when I anticipate the Chinese economy to present stronger growth as well.
Are you likely to overpay at a forward earnings multiple of 7?
The chart below depicts the current forward P/E ratios of large-cap mining companies with significant scale and scope of operations. The peer group average P/E ratio stands at only 10.95 whereas Vale trades at 7.20 times forward earnings: This represents a 34% discount which is indicative of the market's skepticism with respect to Vale's high reliance on a troubling iron ore business.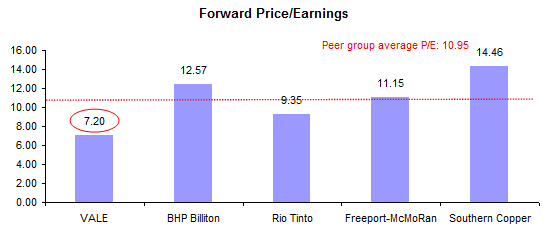 (Source: Achilles Research, Finviz.com)
Conclusion
At seven times earnings (and an earnings yield of approximately 14%) I think patient investors get a really good deal here with a respectable margin of safety. While it can certainly take a couple of quarters before higher iron ore prices translate into higher share prices of Vale and other commodity firms, I believe the long-term fundamentals favor an investment in cyclical basic materials businesses. If Vale manages to trade at just the peer group average P/E ratio of eleven (which also is fairly low), Vale has approximately 50% upside potential and probably even more when Vale's iron ore business benefits from cyclical upswings. Long-term BUY.
Disclosure: I am long VALE. I wrote this article myself, and it expresses my own opinions. I am not receiving compensation for it (other than from Seeking Alpha). I have no business relationship with any company whose stock is mentioned in this article.