Lumber Liquidators (NYSE:LL) is a specialized hardwood flooring supplier. The company has delivered great returns to shareholders over the past 5 years. Over that time, it has expanded its footprint from 186 stores in 2009 to 318 in 2013, and expects to grow by another 35 to 40 stores in 2014.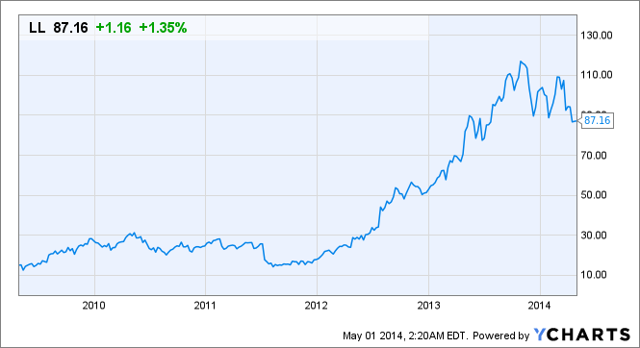 Over this period, net sales have grown at a CAGR of 16% per annum from $545M to $1B, and it expects to grow another 17.5%-20% in 2014, to $1.15-$1.2B. More impressively, gross margins have increased almost 6 percentage points in this period, driven by sourcing efficiencies as well as a higher mix of high-margin products. The sales mix by major product category is shown in the chart below: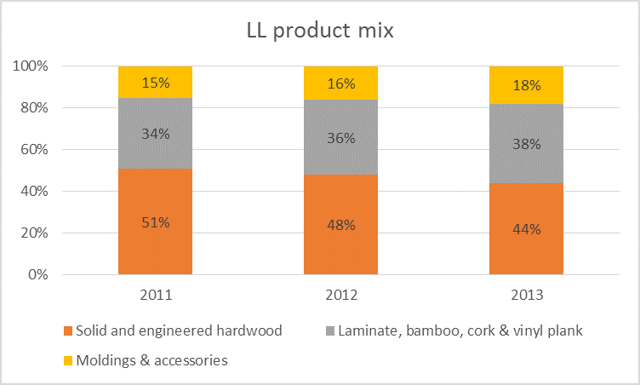 Source: LL 10-K
The mix of high-margin moldings and accessories has been steadily increasing, accounting for the bulk of gross margin expansion.
Store growth and sales/store growth
As with any retailer, store expansion and productivity are the drivers of top line revenue growth. Lumber Liquidators has been performing admirably along both dimensions. They have already opened 20 stores in the first quarter of 2014, and are well on track to achieving their full year goal of 35-40 store openings. I expect that LL, being a comparatively small player in a fragmented market, will be able to grow its store count by 10% YoY for the next 6 years, ending with 634 stores by 2020. Comparable sales per store, after a choppy few years, exploded in 2012 and 2013, with 11.2% and 15.8% YoY growth. In 2014, the growth rate will moderate slightly, but is still expected to be in the 8% range based on revenue guidance of $1.15-$1.2B. In my model, I have assumed sales/store growth to moderate in out years, slowing from 7% in 2015 to 6% in 2016-17 and 5% thereafter. If LL can continue its trend of store productivity, it could outperform these numbers. My assumptions for store growth and sales/store are below: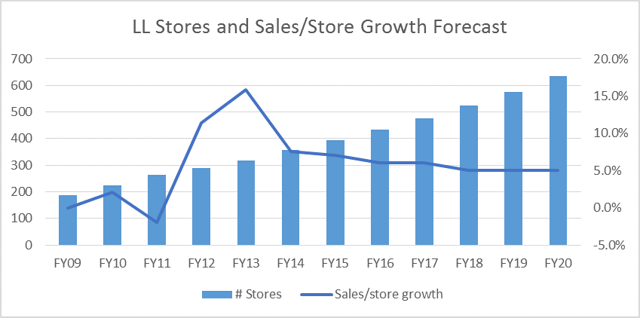 Gross Margin and operating expenses
LL has delivered almost 6 ppt growth in gross margins from 2009, from 35.7% to 41.1%. In 2014, it expects to continue the trend, and I have modeled FY14 gross margins at 42.0%. Going forward, I model a further 50 basis points of gross margin expansion to 42.5%, stabilizing thereafter at that level.
SG&A expenses have been fairly stable as a percentage of sales, in the 28-29% range. I am using a rate of 28.5% in my model - I do expect LL to keep advertising and selling expenses high in order to gain market share. A comparison to Home Depot (NYSE:HD) and Lowe's (NYSE:LOW) shows that LL spends significantly more as a percentage of sales on SG&A. As it matures, it might be able to find more operating leverage. The comparison in SG&A levels as a percentage of sales is shown below: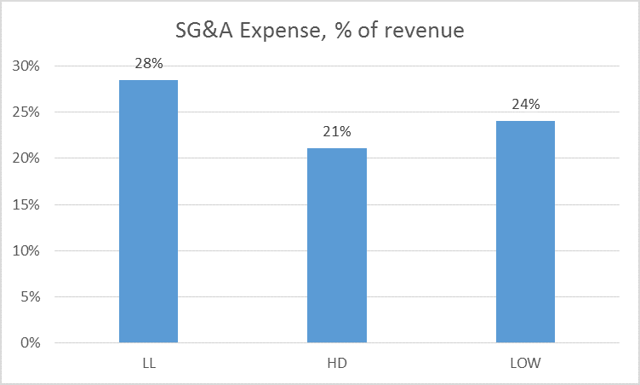 With these assumptions, I get to an operating margin of 13.5% for 2014, which is within the range the company has guided to on its latest earnings call. For out years, my assumptions result in a slight expansion to 14%.
Valuation
Using these assumptions, as well as a 10% discount rate and 3% terminal value growth rate, I get to a fair market value (FMV) of $97/share for LL, which is a 12% premium to the current share price. This suggests that LL is moderately undervalued, even though it carries a high trailing P/E of 31. The complete valuation model is attached: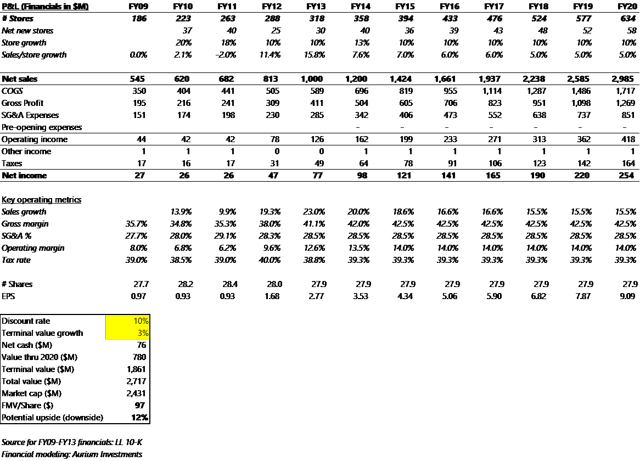 Risks and opportunities
A housing downturn is the major risk for specialty housing stores such as LL, however this does not seem to be on the horizon. If that happens, it would put pressure on both store growth and sales, as well as potentially on gross margins as customers navigate towards non-premium products. The share price is highly sensitive to gross margin - a drop to 40% levels results in an FMV of $81, or 7% downside to today's price. If store count slows to 5%, that would reduce FMV to $79. On the other hand, if LL were to reduce SG&A to around 25% of sales in line with HD and LOW, its shares could be worth as much as $115, a 32% premium.
Summary
LL has been a top-performing stock and is executing well against the factors in its control. It is still a relatively small player in a fragmented market, and its promise of great value coupled with highly trained staff appears to resonate with its customers. It has significant opportunities to expand as well as grow its operating leverage over the coming years. Shares are a buy.
Disclosure: I have no positions in any stocks mentioned, and no plans to initiate any positions within the next 72 hours. I wrote this article myself, and it expresses my own opinions. I am not receiving compensation for it (other than from Seeking Alpha). I have no business relationship with any company whose stock is mentioned in this article.
Additional disclosure: I am short LL put options.