In what could easily be classified as a comical three-ring circus for the company's first 16 years of existence, a relatively new CEO seems to have taken matters into his own hands, becoming the first officer or director of Integral Technologies, Inc. (OTCPK:ITKG) to have ever participated in the purchasing of company stock with his or her own money.
Before I disclose more about recent insider transactions and why I think "now" is the time for investors to at least take a "starter" position, let's take a brief look at the company and what shareholders have had to endure for many years. Hint: "It ain't pretty."
About the time Integral originally incorporated in early 1996, they struck a deal with West Virginia University through two of their subsidiaries to acquire the rights to develop and license six separate antenna technologies. These GPS-type, mobile communication and cell phone technologies were touted as having huge market potential, especially for military applications.
During the same era, a third subsidiary of Integral acquired rights from WVU for their 3D Machine Vision Colorimetry technology, a system whereby computers could be given "eyesight" to look for color inconsistencies, etc.
In what may seem like overkill all at once, this same Integral subsidiary also acquired worldwide commercialization rights from WVU for their RF Plasma Generation technology. It was thought that this technology could replace the conventional spark plug, with the company stating, "The patented ignition system for internal combustion engines is adaptable to virtually any existing internal combustion engine. It produces a larger "spark" area than conventional spark plugs, so it burns fuel more efficiently and is more effective at igniting lean-burn mixtures. The emitter would be manufactured to resemble the form factor of a conventional spark plug. The conventional electronic ignition system would be modified to activate the RF-generation system, which would then send energy to the emitters."
As you can see from above, Integral's initial strategy and business model was to acquire commercialization rights to promising technologies. While this may sound fine and dandy, you don't make money unless you sell something. By 2001 and after having burned through $9 million dollars with revenues equaling that of your children's lemonade stand, Integral had scrapped all of their ventures with the exception of the antenna technology. They failed miserably in attempting to license any of the described technologies to an OEM. In hindsight, Integral had no engineers, no data sheets or the know-how to explain the technologies to potential OEM partners.
During the next couple of years and still without any engineers on the team, Integral focused on developing their antenna technologies for many different applications, mainly concentrating on flat panel antennas for use in various wireless technology markets. In 2003 and in attempting to perfect their flat panel antennas, the company created what will ultimately turn out to be Integral's saving grace, ElectriPlast.
ElectriPlast is the utilization of the company's proprietary recipe of conductive materials, combined with a selection of resins to conduct electricity in multiple applications. Once again, a great sounding technology, but as another two years passed, still no sales or deal with an OEM.
It was in 2005 that Integral discovered ElectriPlast could be used for shielding, lighting circuitry, switch actuators, resistors, medical devices, thermal management, cable connector bodies, etc. By 2006, the company discovered that ElectriPlast could be used as an alternative to metal for use as an electrically conductive material. That same year, Integral finally hit the big time, entering into their first non-exclusive licensing deal with Heatron, Inc. for a whopping (sarcasm) upfront payment of $1.00, followed by non-exclusive $1.00 upfront deals with ADAC Plastics, Inc. and Esprit Solutions Limited. In 2007, Integral entered into yet another non-exclusive $1.00 upfront licensing deal with Knowles Electronics, LLC, all of these deals giving each company the right to use ElectriPlast in the manufacturing of their products. Not one of the above non-exclusive deals ever led to a penny more in revenue, as Integral could not provide any technical engineering support along with the fact that the $1.00 upfront fees meant that none of the licensees had any skin in the game. It almost seemed as if Integral simply signed licensing deals in an attempt to show shareholders they were actually making strides after years of fumbling the ball, yet in reality the business was still operating in limbo.
By 2008, Integral had developed over 100 applications for ElectriPlast with the number of patents up to 39 (51 today), as the company continued to spend heavily on intellectual property. In 2009, the patent count rose to 42, but most importantly, the company finally hired an engineer late in the year, as they brought in Mo Zeidan, Lear Corp.'s (NYSE:LEA) Chief Technology Officer and Director of Hybrid Engineering. Acceptance of this new position by Zeidan brought in a new level of confidence for shareholders. The hiring of Zeidan was seen as validation of Integral's Electriplast, as he left a very cushy job with Lear for a future that appeared to be very uncertain at Integral, a company that perpetually posted no revenues.
Continuing to struggle throughout 2010 into 2011, Integral finally thought they landed the deal that would set them free, an OEM supplier agreement late in the year with Lear Corp., a deal that was potentially worth millions of dollars to Integral. Lear had designed a new generation of electrical connectors made with ElectriPlast that were to be installed on all Fisker Karma cars, a new luxury sports sedan that was one of the world's first hybrid electric vehicles. As Integral's luck would have it, Fisker Automotive's battery supplier (A123 Systems) went bankrupt shortly thereafter and Fisker's hopes of what Tesla Motors (NASDAQ:TSLA) has today, quickly faded and resulted in Fisker filing bankruptcy itself. This was undoubtedly a temporary dagger in the heart of Integral and its shareholders after having spent years in trying to land a deal like this.
A change in direction after years of stagnation
In late 2012 and after 16 years of disappointment, a new CEO was named in hopes of turning around the ship once and for all, and sure enough, ever since the hiring of Doug Bathauer as CEO, Integral has become an entirely different company, as Bathauer has been cleaning house, eliminating waste and landing noteworthy deals that have stuck. Most notably, Bathauer signed a ten-year deal in June of last year with Korean giant, Hanwha L&C, giving Hanwha exclusive rights to manufacture, sell and distribute ElectriPlast in South Korea, as well as non-exclusive rights for Japan, Taiwan and China. The deal included an upfront payment of $250K to Integral and another $250K is due any day, here in the Spring of 2014. A royalty will be paid to Integral on all product sold for the next ten years. In late August, the Hanwha team traveled to the USA, whereby the hand-off of Integral's proprietary technology was completed. Just last week it was announced that Hanwha's ElectriPlast had officially been launched and will be used as a "lightweighting" material in both the auto and consumer electronics industries.
On the same day in June of last year when the Hanwha deal was struck, Integral announced a deal with Delphi Automotive (NYSE:DLPH) to jointly develop insulator technologies for wire and cable shielding. The resulting applications are expected to be lighter, less costly to manufacture and easier to install.
Just two months later in August, Integral signed a deal with the world's leading chemical company, BASF. The chemical giant is assisting Integral in approaching OEM's and Tier 1 manaufacturers with ideas for conductive thermoplastics as a lightweight material alternative to metals.
Now that multi-billion dollar companies are coming to sit at Integral's table, it became necessary for Integral to quickly expand and thus on January 6th, Integral announced the opening of the Detroit Tech Center, an area whereby Integral can offer engineering support and application development assistance. The company also has an extensive set of data sheets that walk through the various compounds associated with ElectriPlast. What's rather ironic about this Detroit opening is that in late February, President Obama announced there would be two new manufacturing innovation institutes in Detroit and an area of primary focus would be on "lightweighting," right up Integral's alley. I suspect Obama is wanting to get a jump on the CAFE (Corporate Average Fuel Economy) standard he announced back in 2011, requiring vehicle fleets to achieve 54 MPG by 2025. Obviously for that to happen, vehicles will have to be built much lighter and that's exactly where Integral's ElectriPlast comes into play.
On February 10th, Integral hired superstar engineer, Slobodan Pavlovic, a former Lear Corp. Vice President. Between Integral's two chief engineers that were lured away from Lear, Pavlovic and Zeidan, they hold approximately 50 patents. Pavlovic has been at the forefront of electric vehicle innovation and this brings me to a point of speculation as to his hiring. On February 21st, Integral held a Q2 earnings call in which the CEO was asked if a possible deal with Tesla might be in the works. Bathauer skirted a direct yes or no answer, but said (page 10) it didn't matter what electric vehicle company it is, as Integral is a perfect fit. That statement certainly elevated my curiosity, especially since Integral recently had big plans with Fisker Automotive.
On February 21st, Integral brought in Bart Snell as the new CFO, a former executive with IBM that had the necessary experience that's needed for a rapidly expanding business. Snell replaced the outgoing CFO and Co-Founder, William Ince. This move coincided with the elimination of Integral's Philadelphia office, an office that burned through almost $50K each month, establishing that financial efficiencies would be the new normal going forward.
What's remarkable about this story is that through the many years of failure until Bathauer's recent appointment as CEO, the share structure of the company wasn't destroyed. Today, the outstanding share count stands at just 88 million after the recent capital raise and through all the years, the company never once had to do a reverse split. Although the prior management team couldn't sell a dime for a nickel, they obviously were able to keep investors very interested throughout a lengthy period of time and the price of the stock was always high enough that capital raises didn't ruin the share structure.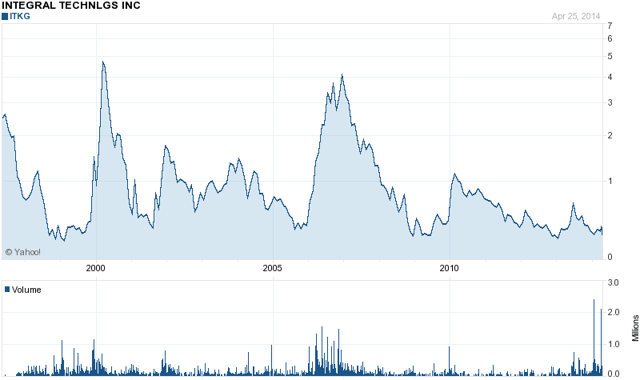 What I find extremely noteworthy is that the most recent capital raise of $1.1 million back on March 31st, stepped away from Integral's history of entering into convertible debt agreements and instead was executed via straight 6-month restricted equity and most notably, subscribed to by insiders. Integral's CEO participated, as did the CEO of Integral's subsidiary, ElectriPlast Corp. along with the former CFO and Co-Founder of Integral. This was a very unusual event and to top it off, Integral is using a portion of the proceeds to eliminate toxic debt, as on April 9th they paid off one of three convertible promissory notes and per the last earnings conference call, they intend to eliminate them all. These are very shareholder friendly actions executed by the new management team and those on the outside should take notice. This new display of confidence was also greeted by the new CEO making open market purchases this past week at .27 and .284 and while each open market purchase was for only 2,500 shares, I will continue to keep a close eye on SEC filings for more possible Form 4's.
Risks
Integral Technologies, Inc. has a long history of disappointments and although there's now an entirely new management team showing very distinct signs of a company that's rapidly turning around, the bottom line remains - show me the money. Even though Integral now has the interest of several multi-billion dollar companies, they themselves trade on the OTC and have a lot to prove. There's no forward guidance suggesting that ElectriPlast sales will be earth-shattering in the short term other than Integral's new CEO stating in the last earnings call that the company does expect to report positive net income later this year. Even then, that's no guarantee. The 18-year accumulated deficit is $46 million and even with impressive recent elimination of pork and waste that saves about $600K annually from the closing of the Philadelphia office alone, this number will continue to grow without the positive net income that the company is projecting for later this year. In the last five years, the company lost $3.7 million last year, $3.4 million in 2012, $2.8 million in 2011, $2.9 million in 2010 and $1.5 million in 2009. Based on this fiscal year Q1 $905K loss and taking into consideration the cuts in unnecessary spending that Bathauer recently made, it appears that cash needs for this year will fall somewhere between $2.7 million and $3.5 million. The 52-week range of the stock is .24 to .83 and since January 1st, the stock has traded between .24 and .39, but hovering in the .30 area for most of the time. Average daily volume over the last 3 months was 181K shares. The CEO's forecast of positive net income by later this year must be taken with a grain of salt based on the company's history, old management or not. The only evidence suggesting that the forecast is credible is the fact that Bathauer has come in and so far, executed on everything he said he would.
Conclusion
The stock is trading near historical lows and the enclosed chart along with presented evidence suggest that now may be an opportune time to get involved. With an annual cash burn around $3 million and the company stating that positive net income can be achieved later this year, I find initiating at least a small starter position rather compelling. The clincher was insiders and a former insider participating in the latest capital raise, a raise venturing away from the toxicity of convertible debt financing along with the new CEO buying stock in the open market, two events that are a "first" in the company's 18-year history. The new management team appears to be an entirely different breed than that of the old. When the new CEO stated in the latest earnings call that, "A tsunami is about to come crashing down on us now that our infrastructure support is in place," those are words that you have to pay attention to, especially when spoken by someone that's kept every promise since he was hired. He's not using the word "tsunami" as if the company's about to crash and burn, but basically saying these multi-billion dollar companies are sitting at Integral's table for a reason and they've brought more than coffee and doughnuts to the party.
Disclosure: I am long ITKG. I wrote this article myself, and it expresses my own opinions. I am not receiving compensation for it (other than from Seeking Alpha). I have no business relationship with any company whose stock is mentioned in this article.
Editor's Note: This article covers one or more stocks trading at less than $1 per share and/or with less than a $100 million market cap. Please be aware of the risks associated with these stocks.