Apple Inc. (NASDAQ:AAPL) is the world's most valuable company in terms of market capitalization, having now eclipsed the $500 billion mark and leaving former leader Exxon Mobil (NYSE:XOM) in the dust. It builds world-class products used by millions of people across the globe and enjoys tremendous loyalty to its brand by continuously churning out amazing, innovative products.
But there is a rumbling out there: can Apple continue to post higher and higher year-over-year revenue, or has the company reached a peak that will turn into a plateau, or even worse, a decline in sales?
Since the return of Steve Jobs to Apple during its fiscal year ending September 1997, the company has reported increased revenues every fiscal year through September 2013, when it reported more than $170 billion in revenue, its highest ever. Speculation by some analysts is that Apple will fail to eclipse that mark when it reports results for its fiscal year ending September 2014.
What's behind the speculation?
Is there a weak link in Apple's product mix that would cause their amazing growth story to fizzle out? Apple is the clear leader in the mobile phone category, with sales of the iPhone racking up an amazing $32.5 billion in the first quarter of its fiscal year 2014 (which includes the 2013 holiday season). The powerful business model for the iPhone appears to be intact, which consists of Apple releasing a new and improved version of the iPhone about every other year. Enticed by sweetened deals from mobile carriers such as Verizon, Sprint, and T-Mobile to get an upgraded, brand new iPhone at a very low cost, eager customers ensure Apple's iPhone heartbeat remains steady. With iPhone 6 rumors creating excitement that will result in another robust upgrade cycle later in 2014, this lucrative business model shows no signs of slowing down.
Apple's product mix contains several other strong contributors, including the desktop Mac and laptop MacBook offerings, the portable media player iPod, and various products and services such as iTunes and Apple TV. But the product that is causing the most stir is the iPad, the portable tablet which many analysts thought would eventually blow away sales of the iPhone. In the first quarter of their fiscal year 2014, iPad accounted for about 20% of Apple's revenue, or $11.5 billion. Clearly this is not an insignificant figure, but some analysts are predicting that Apple's second quarter fiscal year 2014 unit sales of the iPad will decline, compared to the same quarter last year.
iPads Not Yet Replacing Desktops, Facing Competition
This may be worrisome because the mobile iPad was supposed to eventually replace the desktop personal computer. As one of Apple's newest products so early in its life cycle, it is not a good sign that sales year-over-year are already predicted to be in a phase of decline.
The iPad is also running up against a ton of other tablet offerings by competition, and the rise of mobile phone/tablet "phablets" are also eating into interest of those considering the next new mobile computing gadget they will purchase. Essentially, the worry is that consumers will overlook the iPad, content with their mobile phone or phablet.
Other analysts dismiss concerns over the iPad, reminding investors that Apple has been on the cutting edge of technology for a very long time and will continue to impress customers with its products. Current Apple CEO Tim Cook confirmed this when he stated in the company's latest earnings call that their customers "are going to love what we're going to do" in the future. Indeed, along with the aforementioned iPhone 6 anticipated to be released in time for the 2014 holiday season, there are also big rumors surrounding Apple TV enhancements, as well as Apple's upcoming wearable mobile computing technology, iWatch.
For Now, Apple Still Looks Healthy At Its Core
In spite of concerns outlined above, Apple raised its dividend significantly and repurchased shares to reward shareholders.

(Nasdaq.com)
The company also recently sold $12 billion of debt, with varying maturities, and at comparable rates to US Treasury debt. Investors flocked to the offering and placed approximately $40 billion in orders. Along with these bonds being rated AA+, the enormous interest suggests the general public has more than temporary faith in the company.
Apple has also been on a voracious acquisition spree over the last year and a half, purchasing a total of 24 companies during that time frame.
Such factors should temper shareholder concerns regarding a plateau in revenues and keep Apple's growth engine running steady into the foreseeable future. We continue to believe that Apple will remain a core holding for growth investors.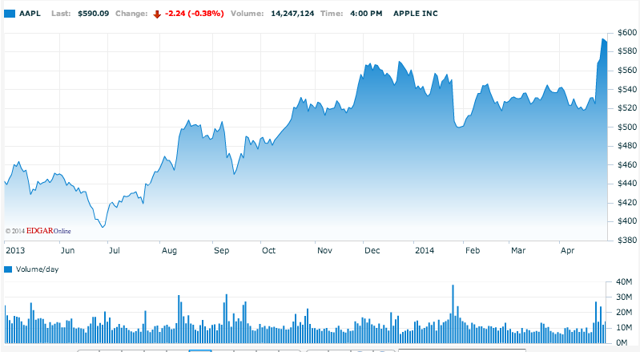 (Nasdaq.com)
We invite readers wishing to read and join the discussion about Apple to click the +FOLLOW button above the title of this article.
Disclosure: I have no positions in any stocks mentioned, and no plans to initiate any positions within the next 72 hours. I wrote this article myself, and it expresses my own opinions. I am not receiving compensation for it (other than from Seeking Alpha). I have no business relationship with any company whose stock is mentioned in this article.