By: Joshua Hong
Flying into Singapore's harbor is a remarkable sight. The green ocean is dotted with thousands of cargo boats in endless lines off the coast. At night, the lights from the boats reflect from the sea, creating a miniature city within the water. Singapore's thriving harbor is one of the many signs of its rapidly growing economy.
Singapore's Ministry of Trade and Industry announced in early July that economic growth has been much higher than its earlier estimates of 7 to 9 percent growth. According to the New York Times, Singapore is expected to be among the world's fastest-growing economies this year, after a growth spurt in the first half of the year prompted the government to project an expansion of as much as 15 percent for 2010 – more than four times the pace at which the U.S. economy is expected to grow. While Singapore's economic growth is impressive in comparison to America's, many have questioned whether it is sustainable.
The Asia-Pacific region's economic development is thriving. China and India are expected to grow by 10.5 and 9.4 percent respectively. Thailand has recently joined a number of other countries in South-East Asia in raising their main interest rates, indicating that many have begun to raise borrowing costs. Singapore lies at the heart of this growth for 2010. It is one of the region's most open economies, serving as a major financial center and an important production and research hub for pharmaceuticals and electronics. Singapore's GDP growth far surpassed what was originally estimated, and it represented the highest recorded increase in the country's history. Growth in the first half was primarily driven by exports, tourism, and a booming manufacturing sector. Fredric Neumann from HSBC in Hong Kong wrote in an e-mail to Bloomberg: "We have long been bullish on Singapore's growth outlook this year. But these numbers are running well ahead of even our estimates."
Another main driver of Singapore's economy is major government expenditures on infrastructure and buildings. This has lead to a cleaner and more tourist-friendly country. Within four months, the government built half of the new orange line for the country's public transportation system. Two new casinos, owned by Genting Singapore PLC and Las Vegas Sands Corp. (NYSE:LVS), and the first Universal Studios in South-East Asia opened in Singapore. In 2007, the country extended the transit system to Sentosa, an island off the coast of Singapore with beautiful beaches and amusement attractions. After a stressful day, Singaporeans can travel 20 minutes on the transit system and relax on Sentosa's white-sanded beaches for free. All of this development has led to a jump in the number of tourists visiting the country. Bloomberg reported that "[the] opening of the integrated resorts and higher visitor arrival numbers has contributed to growth in the tourism-related sectors."
Singapore is cautious of its economic growth and is keeping inflation in check by raising interest rates and allowing for currency revaluations. In the first quarter alone, Singapore's dollar rose by 1.3% against the U.S. dollar. Brian Jackson, a senior emerging markets strategist at the Royal Bank of Canada, wrote that "[we] continue to forecast further gradual policy normalization across the Asia-Pacific region over the rest of the year, including moderate appreciation in the Singaporean dollar."
In contrast, the U.S.'s economic growth is dwindling. Unemployment levels are high and consumer confidence is faltering. The U.S. Federal Reserve is considering whether new steps are needed to keep the U.S. economic recovery alive. A report from a meeting with officials from the Federal Reserve on July 14 indicated that the central bank needs to explore new options for bolstering the economy in light of Europe's debt crisis, a volatile Wall Street, a stalled housing market, and high unemployment. The report indicated that the Fed policy-makers have lowered their forecasts for U.S. economic growth this year.
New claims for U.S. unemployment benefits grew more than expected, hitting levels not seen since August of 2008. The Thomson Reuters and University of Michigan preliminary index of consumer confidence decreased to 66.5, the lowest since August of the same year. The report also indicated that more than 7 out of 10 Americans believe that the economy is mired in recession and just 1 in 6 believe that they are personally better off than they were 18 months ago, when President Barack Obama took office. In comparison to America, Singapore's economy is growing rapidly; however, is this growth sustainable?
Paul Krugman, an economics Nobel laureate, has criticized the East-Asian economic growth model by characterizing it as input-driven. It is based on increasing capital and labour, rather than growth in total factor productivity. In an article, he writes,
But it is only when one actually does the quantitative accounting that the astonishing result emerges: all of Singapore's growth can be explained by increases in measured inputs. There is no sign at all of increased efficiency. In this sense, the growth of Lee Kuan Yew's Singapore is an economic twin of the growth of Stalin's Soviet Union growth achieved purely through mobilization of resources…Singapore is closer to, though still below, the efficiency of Western economies.
Krugman's article demonstrates that while GDP numbers have drastically increased since the 1990s, Singapore's productivity growth has remained virtually stagnant, at around 0.7% from 2000-2008. Despite this lackluster growth in labour productivity, Singapore's manufacturing output grew at a rate of 4.3%. A major component in the growth of Singapore's economy is the labour input. This finding is supported by the Global Wage Report 2009, which found that Singapore workers had the longest work-week among the countries surveyed, with an average work-week of 46 hours.
The main concern is that stagnant or falling productivity will eventually lead to a static economy; an example of this is Japan's recession in 1989. To improve productivity, Singapore should invest more in education. As of now, Singapore invests roughly 2.9% of its GDP in education, a low number compared to other developed countries. The country tends to import foreign workers instead of investing in Singaporeans and nurturing talent. Consider this table on public education expenditure below: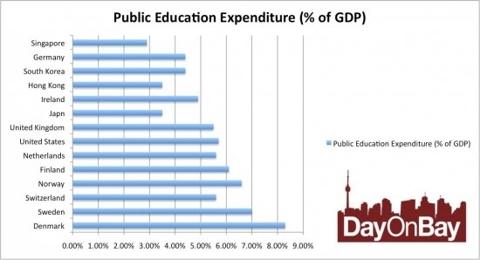 While Singapore's recent economic growth figures are impressive, be cautious as the numbers are not as rosy as they initially appear.
Disclosure: No positions