Company Overview: Noble Corporation (NYSE:NE) provides offshore contract drilling services for the oil and gas industry worldwide. As of December 31, 2009, it operated a fleet of 62 mobile offshore drilling units, including 13 semisubmersibles, 4 dynamically positioned drillships, 43 jackups, and 2 submersibles. The company also offers labor contract drilling services, and engineering and consulting services. Noble Corporation was founded in 1921 and is based in Baar, Switzerland.
Prognosis: The Company has been hammered by the aftermath of the Gulf oil spill and the offshore drilling moratorium that was put in place by the current administration as a result of the catastrophe. The stock has lost over 35% of its value since the incident.
Valuation: NE is selling at approximately 8 times this year's consensus earnings and 7 times next year's projected earnings. It is also selling at roughly 5 times the amount it made in 2009. Noble is selling at the bottom of its five year range by any valuation metric (P/E, P/S, P/B, P/CF).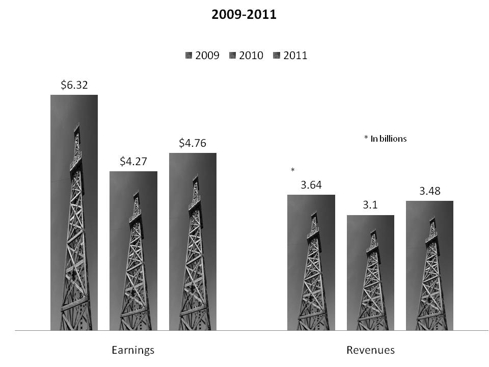 Catalysts: There are several factors that we believe should provide support for a higher stock price in the near and medium term:
1. The Gulf spill has been capped successfully. In addition, the leak is dispersing much faster than anyone had projected; which should lessen the visibility of this story
2. The shortsighted, boneheaded and possibly illegal moratorium imposed by the Obama administration will soon be overturned either by the courts, the current congress, or the new congress that will sit after the midterm elections
3. The acquisition of Frontier will be accretive to earnings and provide significant cost synergies
4. The force majeure imposed by Anadarko on one of Noble's best revenue producing rigs will eventually be settled either by legal means or settlement
5. Dividend rate is going up and the dividend yield with special dividend included will be approximately 3.5% for 2010 at these prices
6. NE has strong balance sheet giving it significantly flexibility. Company effectively has no net debt as cash is more than current debt.
7. The Mexican oil giant PEMEX should soon submit tender offer for new jackups. According to a Credit Suisse research report, this could result in work for an additional 10-12 jackups for Noble Energy
8. Even if the six deepwater U.S. based rigs are out of service through 2011, NE should still throw off positive cash flow in the neighborhood of 600m
9. Over 80% of NE's rigs and contracts are in international markets, so it positioned well regardless of impact from any additional fallout from the Gulf spill.
Recommendation(s): This is an extremely cheap stock by any measure of valuation. We feel the selloff caused by the Gulf spill has unfairly punished this equity and that the stock is currently way undervalued. In our opinion, the stock should be trading at a more reasonable rate of approximately 10-11 times next year's projected earnings of around $4.50. This $4.50 estimate is under the consensus earnings projection for next year to compensate for the political uncertainties. Our target Price is $45-$50, up from the current price of $32.50.
Disclosure: Long NE