When it comes to short recommendations, I have an excellent track record. To check it, go to my Seeking Alpha profile page, and see the last 14 stocks I wrote short reports for: YOD, LF, CPST, MVIS, ONVO, REGI, UNIS, STPFQ, IOC, AFFY, UNXL, NOW, OCZTQ, and FLO.
Look at the price of each stock the day before the article was published, and look at the price of it today. Every single one is lower today except for REGI, which is about the same price. This makes my record 13 for 14 on my latest short calls.
I'm happy with my recent performance on my short picks, but I always strive to get better. I want to only write articles that A: include information strong and obvious enough to immediately move the stock, and B: is a correct long-term prediction of the stock so I can look back and say: "Hey, I was right!".
VisionChina, An Easy Short For 2014
VisionChina (NASDAQ:VISN) is a Chinese company that puts ads on public transportation like buses and subways. Public transport advertising in China is a tough, low margin business. Take China MediaExpress (OTCPK:CCME), another Chinese bus advertiser, for example. Their business failed so they had to lie about their numbers.
VisionChina's revenues are declining, and its book value shrinks every year as its cash balance dwindles. This is a pretty easy short investment or trade. The thesis is simply that the company will continue to report bad numbers in the coming quarters, and the stock will gradually deflate as investors start to give up.
As my followers know, I thoroughly analyze current, past, and future revenues and income to value a company. VisionChina's current and past numbers have been bad, and there is no sign of a big revenue stream in the future.
Additionally, VisionChina recently settled with two venture capital firms and agreed to pay them $12M in cash and $58M in convertible promissory notes which will massively dilute shareholders.
Massive Runup This Year
VISN has had a huge runup starting in October, 2013, as shown in the following chart from Yahoo finance.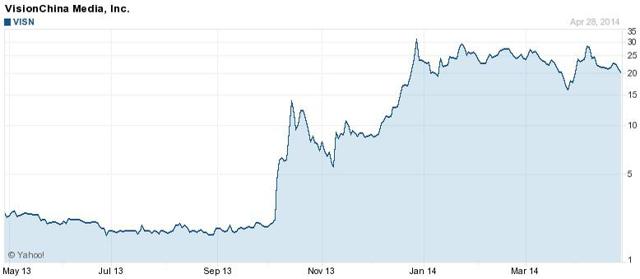 As shown, it started its runup in October 2013, right after it was trading around $2-$3 per share in September. Then the stock started 2014 trading at around $20 per share, where it's trading now. This is another lottery ticket stock that investors are buying in the hopes that something amazing will develop but in reality chances are slim. VISN does have revenues, so it isn't as bad as the last stock I wrote about, YOD, but it still is pretty bad.
The main reasons for the runup is because of a hot Chinese sector. It was also because the company experienced an increase in gross profit margins compared to 2012 (from negative gross margins in 2012 to 13% in 2013). Also there's talk of advertising expansion. Finally, the company has settled a court battle regarding a failed acquisition, but that is going to cause dilution of the stock by issuing convertible notes, and possibly cause a large selloff.
I don't think those reasons merit such a jump in the stock price. The company is losing money, but due to the lottery factor and since it does have some decent revenues I put the value at about $8 per share. I assume it will take several more bad quarters for the stock to get there.
VISN's investors are primarily retail. Looking at the company's SC 13G and SC 13D filings, the biggest shareholders are HSBC and BofA. Those are money from retail investors put into by stock brokers. Savvy institutional investors aren't investing in VISN. Oak Management and Gobi partners are large institutional shareholders due to a settlement of an ill-fated acquisition VISN made. More details on that later in this article.
The Bus Companies Are In The Driver's Seat In The Partnership
The reason why Vision China's gross margins are so low (13% in 2013), is because the public transport companies have a lot of negotiating power. This is because the demographic that VisionChina is going after, bus passengers, are completely enclosed within the bus. There are many other advertising networks that the bus company can go with. There's no value added for them to go with VisionChina instead. There's no way that VisionChina's gross margins will improve because this is a structural issue, it's just the hazards of its industry.
Compare VisionChina's industry to that of Focus Media Holdings, another Chinese advertising company, which got taken private last year for $3.5 billion. In its 2012 20-F filings it showed it had high gross margins of 65% for the year. Focus Media primarily puts ads on buildings in cities for the city goers to see. This is an easier strategy and brings more negotiating power. If the building owner asks for too high a fee in order for Focus Media to put an ad on the building, then Focus Media can just put its ad on an adjacent building instead.
Not so with Vision China. The buses have the customers confined to the bus, so if the bus owner says no, and goes with a competitor, then VisionChina has no other way to show its ads to the bus passengers.
Declining Revenues, Limited Future Growth Prospects
In order to ever become profitable, VISN needs to increase its revenues since its gross margin is so small. But it's difficult as there are only so many public transportation companies in China. VISN's sales force is shrinking, which shows that the company is not aggressively expanding.
Stated in the Q4 2013 conference call, VISN is now down to 372 sales personnel. Compared to previous years:
In the 2012 20-F, it says:
As of December 31, 2012, we employed an experienced advertising sales force of 434 employees
In the 2011 20-F, it says:
As of December 31, 2011, we had 530 dedicated sales and marketing personnel and 5 consultants to support our sales and marketing efforts.
This declining sales force means it won't find as many public transportation customers, nor as many new companies to advertise their products on the buses.
The following is VISN's income statement for the past five years before 2012, taken from the 2012 20-F: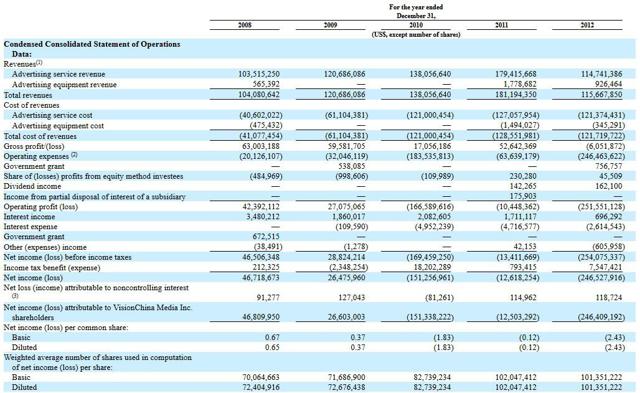 Every year, with the exception of 2008 and 2009, the company has struggled. Notice the difference between the advertising revenues and service cost in 2008, and that of 2012. Service costs represented 39% in 2008 and a whopping 105% in 2012 of total revenues. That's because in 2012 VisionChina had more competition and the public transportation companies got smart and are negotiating harder for a bigger piece of the advertising revenue pie.
The following chart represents VISN's income. For the last four years, it doesn't matter if its sales were high or low, its net income has been negative.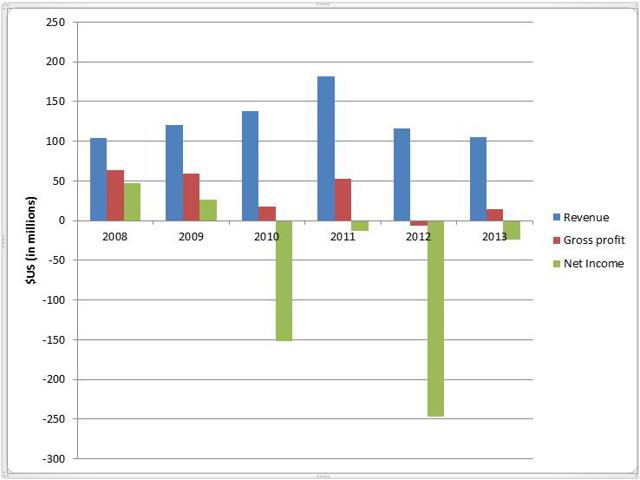 Starting In 2012, Revenues Started Falling Off A Cliff
As explained in this article, In July 2012, VisionChina had to lower its Q2 2012 guidance, causing a 20% drop in the stock.
The reasons, according to CEO Limin Li, were:
Several factors led to this revised guidance, including further declining contribution from the internet-based businesses sector, a slower-than-expected recovery in advertising spending by small- and medium-sized clients in reaction to rate-card increases across our network in the fourth quarter of 2011, and the cautious sentiment of the current advertising market," said chairman and CEO Limin Li.
The 2013 net loss to shareholders was $21M as shown here. VISN was slightly profitable in the 4th quarter because it's seasonally the best quarter because of the holidays.
For full year 2013, VISN's revenue decreased 9.4% from 2012 to $104.7M. This happened in part because the company lost some of its customers to competition. In the Q4 2013 conference call, the CEO said:
We have terminated several unfavorable high-cost exclusive agreements that were acquired previously and that had resulted in significant losses.
The termination of these exclusive agreements allows competitors to take the business.
There have been no indications that VISN will have better revenue results in 2014.
Attempts At Expanding To New Businesses
VisionChina has not been very good at acquisitions as the majority have failed. Acquisitions are a desperation attempt for VISN. The company needs to look elsewhere since they can't make any profits at their core business.
From the 20-F, in 2010 and 2012 they had a massive intangible asset and goodwill writedown of several of their acquisitions:
Included in operating expenses for the year ended December 31, 2010 and 2012 was a non-cash impairment loss of US$145.7 million and US$178.8 million made against the intangible assets and goodwill relating to our acquisitions of three out of the six advertising agency businesses in 2008 and our acquisition of Digital Media Group Company Limited ("Digital Media Group")in 2010.
Digital Media Group (DMG) was VisionChina's biggest acquisition failure. Because of this failed acquisition, Oak Management and Gobi Partners are now (reluctant) investors in VisionChina.
Wifi project. A couple weeks ago, VisionChina announced that it will be partnering with China Unicom (NYSE:CHU) to provide Wifi for public transport systems. I don't take this endeavor very seriously as a viable source of income.
A recent situation happened with GOGO that can be compared to this. GOGO is in the business of providing Wifi for airplane passengers. The stock dropped 20% upon news that AT&T is going into the same business. If providing Wifi on buses was a big deal for CHU, they could easily set it up and pay for it themselves without including VisionChina, similar to what AT&T is going to do for the airlines.
China Unicom is a huge multi-billion dollar company, yet they won't contribute any money to this project. They are making poor VisionChina, which is struggling for cash, foot the bill. This will increase VisionChina's expenses and hurt its cash balance even more than it already is.
VisionChina hasn't stated how they can make any money from the project. How are they going to make money from people using China Unicom's Wifi?
DMG Settlement Will Cause Massive Dilution For Shareholders
This report explains the DMG fiasco and following vicious court battle of VisionChina versus Gobi and Oak. From the report:
It's important to us," said Ren Riley, a general partner at Oak Investment Partners told Business Insider. "We're pursuing all our avenues and trying to do business the right way... If we're going to do business in China our investors want us to fight for their capital. The damages are approaching $100 million and possibly higher. It's our money."
Finally, the court battle is ending, as VisionChina's shareholders agreed on a settlement last week with Gobi and Oak. The settlement is US$12 million cash payment, and $58 million in six-year term convertible promissory notes. The interest rate on the notes weren't revealed.
If the interest rates on the notes ends up being high, then it could pose a bankruptcy risk for VisionChina. If the strike price of the convertible notes ends up being less than the current stock price, then I am sure Gobi and Oak will want to convert their notes and sell their VISN stock ASAP. They have been fighting with VISN for years, and believe they are getting ripped off. They look at VISN management as incompetent. I doubt they want to be long term shareholders. This selloff will put additional pressure on the stock price.
Disclosure: I am short VISN. I wrote this article myself, and it expresses my own opinions. I am not receiving compensation for it (other than from Seeking Alpha). I have no business relationship with any company whose stock is mentioned in this article.