One of the biggest lessons that I have learned in college is the principle that high risks equate to high returns. As a practical application, we all take risks in life - getting out of bed is actually a risk.
So as we analyze our investment strategies it's clear that our day-to-day decisions are based on risk tolerance. That is, how much risk should I take to generate adequate returns? Risk tolerance is simply the extent to which you as an investor are comfortable with the risk of losing money on an investment. If you're unwilling to take the chance that an investment that might drop in price, you have little or no risk tolerance. In basic terms, Ben Graham described risk tolerance as follows:
An investment operation is one which, upon thorough analysis, promises safety of principal and satisfactory return. Operations not meeting these requirements are speculative.
Frank Williams offered his version of risk tolerance in the classic book, If You Must Speculate, Learn The Rules:
Men and women certainly should not speculate until they have paid the landlord, the butcher, and the tailor. They should have no doctor's bills or insurance premiums overdue.
Risk tolerance as defined by Investopedia is that "degree of variability in investment returns that an individual is willing to withstand". There are a lot of factors that impact risk tolerance including time horizons, future earnings, liquidity, and many others. Risk tolerance simply describes whether you invest in real estate, stocks, the quarter slot machine, high stakes blackjack, or stay at home with a piggy bank - or maybe a combination of all of these.
What is your Risk Tolerance with American Realty Capital Properties?
On April 4th I wrote an article on Realty Income (NYSE:O) in which I compared this "bond proxy" REIT to American Realty Capital Properties (ARCP). As a one risk tolerance indicator, I compared Realty Income's dividend yield to American Realty Capital Properties: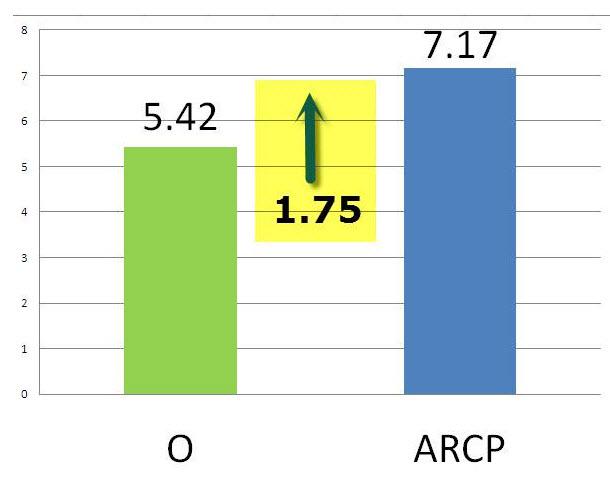 It seems that over the last few weeks the perceived risk levels for these two REITs has widened - Realty Income's yield declining by .37% and ARCP's yield increasing by .47%.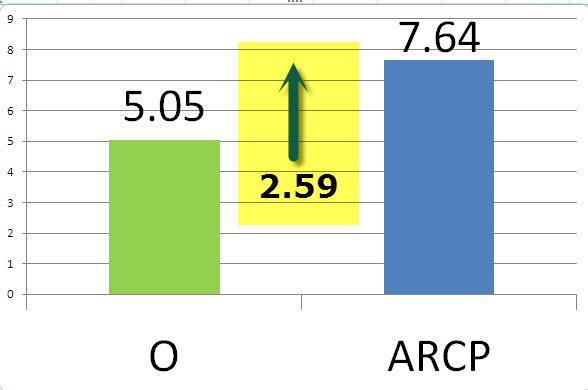 Both REITs have grown into dominant players with a combined market capitalization of almost $20 billion - representing around 50% of the peer group below.

ARCP and Gramercy Property Trust (NYSE:GPT) have sold off by more than 10% over the last few weeks (since March 1st).

In April ARCP took a nose dive as shares fell by over 6.5% an indication of higher perceived level of risk. Some of the share price decline was due to a rumor that ARCP was in discussions to acquire Northstar Realty Finance Corp. (NRF). That rumor was later shot down as ARCP said (in a press release) that "the company is not currently in discussions with NorthStar".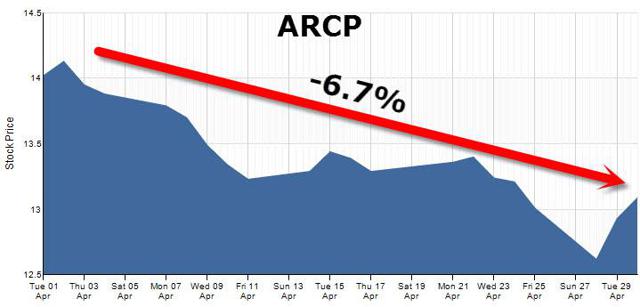 As evidenced by the snapshot below ARCP is the cheapest REIT in the Net Lease sector:

Conversely, ARCP is paying the highest return in the sector: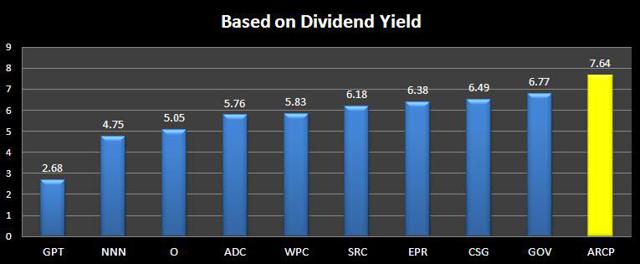 Should I Load Up the Truck?
I have been following ARCP since the company listed shares on September 2011 (see my first article here). Over the last 32 months I have watched ARCP transform into a dominating Triple Net REIT with a ferocious appetite for growth and over the course of a year ARCP has gobbled up Cole Real Estate (NYSE:COLE), Caplease (NYSE:LSE), American Realty Capital Trust IV (ARCT4); as well as portfolios owned by Inland , GE Capital, and Fortress. That's an incredible string of acquisitions and although the company has created an extraordinarily large REIT, the question remains: Does Size Really Matter?
Clearly the rumor this week that ARCP was pursuing Northstar was a sign that ARCP doesn't need more size. As I have argued in the past, what ARCP needs is a track record. The market needs time to digest the consolidation and integration of employees. By spinning off the shopping centers (see my article HERE) ARCP's should reduce risk and that should allow the shares to trade closer to the peer average.
I own shares in ARCP. Although the current share price is tempting, I'm not going to "back up the truck" until I see the first quarter results on May 8th.
Realty Income announced earnings today and in the first quarter the company's revenue increased 26.3% to $221.6 million and FFO increased 29.7% to $134.5 million. AFFO per share increased 6.7% to $.064. The company's occupancy increased to 98.3% from 97.7%.
I can wait patiently for one more week to determine how ARCP's first quarter unfolds. There is clearly an attraction to the high paying dividend but as we saw in the month of April, ARCP's share price decline of 6.5% offset any gains from the high paying dividend.
I believe that the market has demonstrated that ARCP has a high degree of risk and as we saw this week, a simple acquisition rumor caused shares to slide. That tells me that there is risk in a fast growing company and I intend to wait until I see more evidence of stability and dependability. I'm not swinging for the fences. My goal is to collect dividends and benefit from modest share price appreciation.
Frank Williams offered another heed of caution in his classic book, If You Must Speculate, Learn The Rules:
There is only one narrow trail leading to permanent success in the stock-market. Unless traders are prepared to climb that steep path with cautious steps, it would be better for them to stay out of Wall Street and to keep their money in the savings-bank.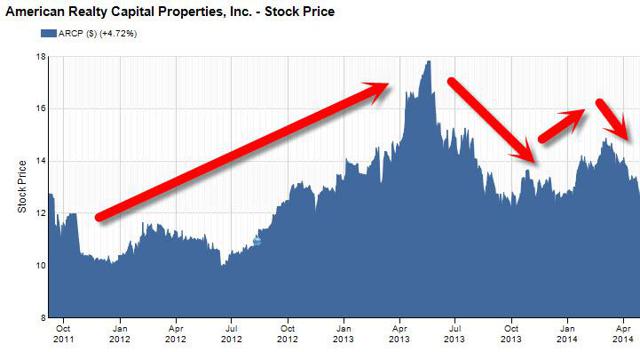 Source: SNL Financial
REITs mentioned: (NYSE:NNN), (NYSE:WPC), (NYSE:ADC), (NYSE:CSG), (NYSE:SRC), (NYSE:EPR), and (NYSE:GOV).
Disclaimer: This article is intended to provide information to interested parties. As I have no knowledge of individual investor circumstances, goals, and/or portfolio concentration or diversification, readers are expected to complete their own due diligence before purchasing any stocks mentioned or recommended.
Disclosure: I am long O, DLR, VTR, HTA, STAG, UMH, CSG, GPT, ARCP, ROIC, MPW, HCN, OHI, LXP, KIM, WPC. I wrote this article myself, and it expresses my own opinions. I am not receiving compensation for it (other than from Seeking Alpha). I have no business relationship with any company whose stock is mentioned in this article.