Paul Mueller (OTCPK:MUEL) might be a somewhat odd name for a company. It is an interesting one nevertheless and we first came across it here. We generally like small, specialist niche suppliers to business clients, as these often face less pricing pressures and can turn into global niche leaders. The economic success of countries like Germany and Japan is partly built on these kind of companies. Here is what they do:
Paul Mueller Company, centrally located in Springfield, Missouri, specializes in the design and manufacture of stainless steel tanks, processing systems and equipment for the food, dairy, beverage, chemical, biofuels, pharmaceutical, biotechnology and pure water industries. (Company website)
The company website is full of brochures of products they're manufacturing to get a feel for the company. The company did well until the financial crisis threw it into substantial losses and a precarious balance sheet. The latter was not only ravaged by steep losses due to the financial crisis (especially its pension liabilities), but also by the takeover of a couple of Dutch companies in 2008.
But a new CEO, David Moore, has embarked on a substantial restructuring that deserves more attention. The new boss divested some parts, suspended dividend payments, got the company back in the black and has greatly improved the balance sheet. The improvements in the last year are especially noteworthy - the improvements are accelerating.
Surprisingly enough, it has no analyst following whatsoever. This is slightly weird - as this is not an unsubstantial company. It achieved $181M in sales in 2013 (up from $154M in 2011). Set against that, its market cap of just $54M (at a share price of $44) suggests that this company either has problems or is simply overlooked. We think it's the latter. Not only are there no analysts following the company, the trading is very thin as well.
While the balance sheet was in bad shape after the financial crisis, there are no great alarms going off anymore from looking at the figures, and some considerable improvements (from the 20F):
While the company has negligible cash holdings ($179K), it has a substantial amount of accounts receivable ($24M). Against this, the accounts payable are $9.5M and there is a short-term debt of nearly $15M, with further long-term debt of $4M.
Working capital has been improved from a negative $3.6M to a positive $5.6M.
The company entered into a new domestic bank borrowing facility of $20M on which the balance was $4.9M at the end of 2013.
Shareholder Investment (equity) moved from a negative $1.4M to a positive $31.7M.
Unaudited backlog from $47.9M to $67.3M.
Sales rose from $154.1M (2011) to $179.5M (2012) to $181.2M (2013).
In 2013, consolidated net income rose to $18.9 million. Contributing to this increase was the reversal of a valuation allowance, established in 2010 as a reserve against the company's deferred tax assets due to the company's unprofitable performance. This year's reversal resulted in a one-time benefit to net income of $10.1 million. It affected the Provision for Income Taxes, and is included in the domestic result in the earnings release.
So it's perhaps instructive to look at operating income, which rose from $3.3M (2011) to $4.0M (2012) to $14.0M (2013), a substantial increase.
The company repaid $2.9M in short-term borrowings and $3.7M in long-term borrowings for a reduction in debt of $6.6M, on top of some $20M in debt reductions in the previous couple of years.
Long-term pension liabilities reduced from $34.3 to $20.6M.
Of the outstanding notes ($12.7M), $4M each has to be repaid this year and the next.
The share count has remained essentially unchanged at 1.23M.
It has a number of divisions, and most of these divisions and product sectors had considerable improvements:
Dairy farm equipment generated a pretax income of $7.5M. While that's a decline (of a mere 1.5% on 2012), demand is picking up and the backlog entering 2014 was twice what it was a year ago.
Industrial equipment produced a pretax income of $1.9M, turning a loss of $2.4M around. This is the first profit in quite some time from a division that has struggled for a long time, a very positive sign.
The domestic heat transfer product lines increased pretax profit by almost 120%.
Processing equipment increased pretax profits by a whopping $6.3M on revenues that were $4.6M lower compared to 2012.
The field fabrication segment eliminated a small loss and produced pretax profits of $1.7M and doubled the backlog.
Pyropure also eliminated a pretax loss and swung into a profit of $1.3M.
The exceptions were the components group (stayed in the black but declining results) and the over-the-road trailer product line, which is loss making. The same holds for the transportation segment.
So the company has improved performance significantly. Is this already reflected in the share price?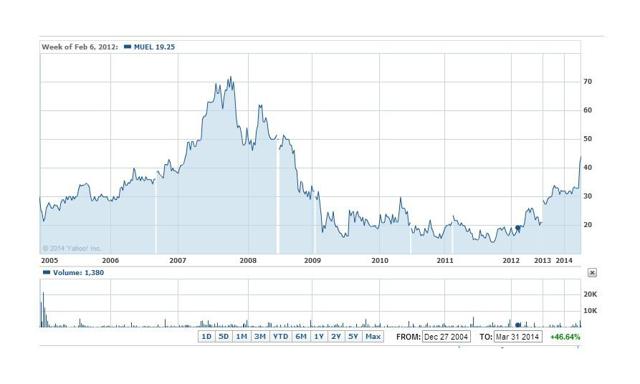 Well, it has to be said that the shares trade close to a 52-week high (although not an all-time high, which occurred in 2007 with a price above $60). On the other hand, things have materially improved and if they can sustain that, the shares are still surprisingly cheap. With the backlog rising steeply and exports starting to kick in to places like Vietnam and Uganda (from their Dutch production facilities), they are not lacking in opportunities.
Exports to Asia and the Far East seem to offer good prospects as these doubled last year, from $2.9M in 2012 to 6.0M in 2013. We think the shares have further to run, and when they do, they should perhaps be split in order to facilitate investors. About the only problem we see is that the market is too illiquid.
Why you should consider buying the shares
When corrected for the one-time gain, EPS are back to the levels of 2007, when the stock was selling substantially higher.
Operationally, the company has turned around significantly, most especially the turnaround in its long-term loss making division industrial equipment.
Most cash flow in the wake of the financial crisis has been used to substantially reduce debt, together with a good stock market improving the pension liability, and this has greatly improved the balance sheet.
The company produces substantial cash flows, which after having improved the balance sheet, could be used to start paying a dividend again (the company paid big dividends before the financial crisis).
There are substantial growth opportunities abroad, most especially in Asia.
Disclosure: I am long MUEL. I wrote this article myself, and it expresses my own opinions. I am not receiving compensation for it (other than from Seeking Alpha). I have no business relationship with any company whose stock is mentioned in this article.
Editor's Note: This article discusses one or more securities that do not trade on a major U.S. exchange. Please be aware of the risks associated with these stocks.