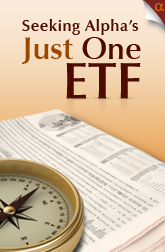 Several times a week, Seeking Alpha's Jason Aycock asks money managers about their single highest-conviction position - what they would own (or short) if they could choose just one stock or ETF.
---
Vedant "VK" Mimani is co-founder of Atyant Capital, an asset manager focused on Indian equities and precious metals, and lead portfolio manager for the firm's Global Opportunities Fund. Prior to the firm's launch, he specialized in equities, commodities and currencies at Vedant Mimani Trading.
Which single asset class are you most bullish (or bearish) about in the coming year? And what ETF position would you choose to best capture that?
In the short to intermediate term, we are most bearish on Brazilian large caps and consequently have a long position in ProShares UltraShort MSCI Brazil ETF (NYSEARCA:BZQ).

How does this ETF fit into your overall investment approach? Tell us a bit about your strategy and goals.
Long term, we are particularly bullish on the gold mining sector because the price of gold relative to the cost of extraction has increased substantially in the last three years and we forecast this profit margin expansion for the miners will be sustained for years to come thereby providing a nice tailwind for the industry as a whole. However, contrary to conventional wisdom, the precious metals complex is not always inversely correlated to risk assets.
At times, gold mining shares (as well as gold itself, and silver even more so) are tightly correlated to the broad market and so we find ourselves having to run a very active hedge book against our long book of various gold stocks to manage the market volatility thrown off by the business cycle and intermittent liquidity panics. Ironically, in the short term, it is from our hedge book where we expect the greater profits. BZQ is one of the positions in our hedge book.

Tell us more about the sector. What makes going bearish here your top pick?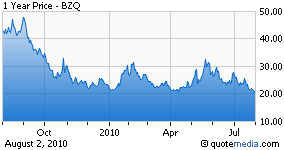 We think valuations of emerging market equities in general are too rich. Our outlook for the global economy is not as rosy as the market is pricing in. We see the best-case scenario for Japan, Europe and the U.S. as maintenance of the status quo while these economies continue their process of repair and realignment. In such a scenario, we do not think stock valuations of emerging markets whose economies are geared towards servicing the aggregate demand of the Big Three are justified.
We single out Brazil because that economy in particular is highly dependent on industrial commodities, which we are also negative on. The world is drowning in the excess supply of almost all commodities including oil, natural gas, coal, steel, iron ore, base metals, petrochemicals, etc. A slowdown in commodity prices will result in slower growth and consequent reduction in demand in countries like Brazil, Russia, Indonesia, Australia, Canada and the Middle East.
We are also bearish on non-U.S. dollar currencies, and so short Brazil allows us to be short emerging market equities, short commodities and short non-dollar currency, all rolled up in one.
Are there alternative ETFs that could be used to capture the same theme? What makes this specific ETF your first choice?
Shorting the iShares MSCI Brazil Index ETF (NYSEARCA:EWZ) would be another option, but we prefer using the inverse ETFs because it is easier on our stock loan department, and we are not hit with sudden surcharges or getting bought in when it becomes difficult to borrow a security.

Does your view differ from the consensus sentiment on this sector?


It is difficult to tell what is contrary opinion these days, but we think we are in the minority. We think emerging markets like Brazil are appealing to the majority of investors because it seems like everyone falls into one of three camps: 1) Everything is just fine and global GDP growth is poised to come back just as strong as before the financial crisis of 2008; 2) central banks will destroy the purchasing power of their money and so investors need to protect themselves via tangibles; or 3) the sun has set on the U.S. and the greater opportunities are in other markets. We don't subscribe to any of these theses.
We think the global economy needs more time to repair and realign. We think the credit markets are too developed, as least in the U.S., to entertain hyperinflation as a threat in the immediate term, and we think the best days for the U.S. are ahead.
What catalysts, near-term or long-term, could move the sector significantly?
At the end of the day, the short- to intermediate-term outlook for the Brazilian economy (and industrial commodities in general) are dependent on the Chinese economy. Of course, we cannot be certain how things will play out for China, but we do not like that all the economic variables of the Chinese economy are controlled by the government.
In the immediate term, we see a slowdown in China's pace of fixed asset investment. This, combined with the weak outlook for demand in Japan, Europe and the U.S., creates a poor demand outlook for commodities.
After falling in May on euro concerns, the Brazilian real is on another rally. It was the best-performing major currency last year (up 33%), so it's prone to some big movement; what effect would another pullback in currency have on your thinking (say, on Brazil's exports)?
Brazil is mostly an exporter of raw materials, not finished goods. Raw materials are priced in U.S. dollars. A pullback in the real will have some effect on the economy, but we think it will be muted as it relates to their export industries.
What could go wrong with your pick?
There are so many things that can go wrong with our pick. If any of the following are true, our trade will not work:
Beijing is better at managing the Chinese economy than we are giving them credit for;

Global GDP growth has resumed pre-2008 levels and we are underestimating the demand for industrial commodities;

Industrial commodities production is limited and we overestimate supply;

Hyperinflation rears its head and investors seek to protect their purchasing power via equities and industrial commodities;

Brazil develops its domestic economy faster than the decline in their export economy.
Thanks, VK, for sharing your choice with us.
Disclosure: At the time of writing, Atyant Capital owned the ProShares UltraShort MSCI Brazil ETF (BZQ) for hedge funds managed by Atyant Capital Partners LLC. Atyant Capital Partners LLC may in the future dispose of or purchase additional shares in the ProShares UltraShort MSCI Brazil ETF (BZQ).
Read more Just One Stock articles »
If you are a fund manager and interested in doing an interview with us on just one stock or ETF position you'd hold, please email Rebecca Barnett.