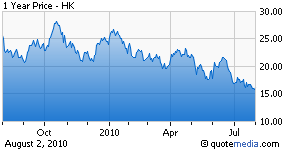 Small (mid) cap independent producer Petrohawk Energy Corp. (NYSE:HK) offers a concentrated investment in the new Haynesville Shale natural gas field in Louisiana. Though McDep Ratio is on the high end at 1.07, it is down from 1.25 when we began coverage in April. The resource potential is great as HK thinks Haynesville may be the eighth largest oil and gas field in the world. The company's Haynesville volume jumped to 400 million cubic feet equivalent daily (Mmcfe/d) in just two years.
With current stock price near NPV, investors are paying for no more than currently proven reserves and the near-term level of operations. Nonetheless, further rapid growth appears likely beyond 700 Mmcfe/d we project from Haynesville and other fields for the next few quarters. There are caveats to growth expectations. Moderately high debt presents some risk to the rate of expansion. Moreover, natural gas price remains below its 200-day or 40-week average as we await a resumption of an uptrend.
Also, Petrohawk stock has been in a downtrend with current price at the lowest ratio to 200-day average of any stock in our Income and Small Cap coverage. Yet, when Petrohawk introduced investors to the Haynesville Shale in the second quarter of 2008, it electrified the market with a stock price climb to $48 from $20 a share in three months. That move may repeat itself, but more gradually, over the next few years. We see favorable prospects for Petrohawk and its peers.
Originally published on July 9, 2010.