The basics of retirement investing are simple for the vast majority: supply a reliable level of high income to fund a quality life during retirement and pay for medical/caring costs. Now retirement can last for 20-30 years (and maybe longer), so long-term considerations are more important than in the past. Making matters more difficult is the low interest rate policy from the Federal Reserve. In April, Janet Yellen, the new Fed Chair, discussed the history of the low interest rates since the recession in 2009, and said the Federal Reserve does not see full employment until late 2016. That's all but a guarantee that low interest rates will last until then (at a minimum).
The days of investing in investment grade bonds as a major source of income for retirement are long gone. With the rise in the stock market from the lows 5 years ago (the Dow has soared 150% off its lows), earning a satisfactory yield from stocks without accepting higher risk has become challenging.
There are smarter ways to earn attractive yields when investing today. The Dividend Aristocrats, with track records of raising annual dividends for at least 25 years, demonstrate management is committed to reward shareholders through thick or thin. In the last 25 years, there have been very brutal recessions; the dotcom boom in 2000-2001 and the 2009 recession were very brutal. This is a limited group with only a little more than 50 companies that qualify out of thousands of stocks. I selected 2 high-yield Dividend Aristocrats: HCP Inc (NYSE:HCP) with a 5.2% yield and McDonald's (NYSE:MCD) with a 3.2% yield. They have been rewarding shareholders for decades by increasing dividends, a key for successful retirement investing.
HCP
HCP is the only REIT in the S&P 500 Dividend Aristocrats Index, and it has been raising the annual dividends for 29 years. The first page in the 2013 annual report shows a graph of dividend growth, demonstrating management's commitment to increase shareholder value. The dividend was $1.70 in 2006 (the year prior to the collapse of REIT stocks) and has been raised to $2.18 presently. Also, the stock has an impressive compound annual return of 15.4% since 1985.
HCP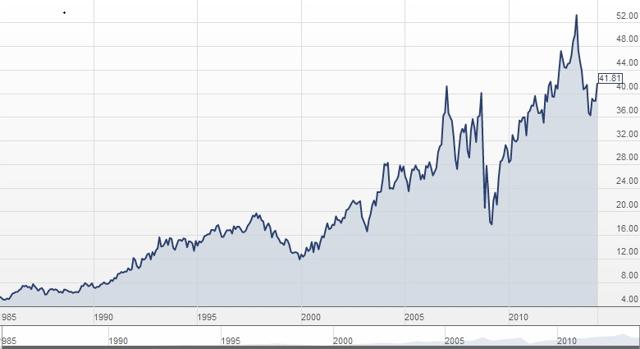 HCP is a diversified healthcare REIT. The company has $22 billion invested in more than 1100 properties for businesses that supply housing and services for seniors. Revenue last year was a record $2.1 billion.
The Centers for Medicare and Medicaid Services forecast national health expenditures will grow 6.1% in 2014, 5.8% in 2015 and projects an average compounded annual growth rate of 6.2% in 2015-2022. The Census Bureau projects the U.S. population over 65 is estimated to double to 80 million by 2040 (from 40 million in 2010). Such growth will bring virtually unlimited demand for more real estate projects by businesses supplying services to seniors. HCP has operated in the healthcare industry for decades and stands ready to fund future capital requirements.
For HCP, most rents are triple-net leases (leases that provide for a substantial recovery of property operating expenses, such as real estate taxes, repairs and maintenance, property management fees, utilities and insurance). Investments are divided into 5 categories (with the share of income for each group):
Senior Housing - 36%
PostAcute/Skilled Nursing - 32%
Life Science - 14%
Medical Offices - 13%
Hospitals - 5%
The key metric for successful operations is Same-Store Net Operating Income [NOI] Growth which is necessary for dividend growth. Below is same store net operating income growth in recent years:
2009____3.2%
2010____4.8%
2011____4.0%
2012____4.2%
2013____3.1%
2014____3.5% Company forecast
REITs have 2 measures of earnings. Classical EPS is reported, but that is not used to set dividends. Instead, FFO (Funds From Operations add cash items such as depreciation to earnings) is used. In addition, HCP reports FAD (Funds Available for Dividends) to narrow the focus on funds for dividends.
In 2013, HCP achieved 8% growth in FFO (as adjusted) and 14% growth in FAD. For 2014, the company projects FFO per share of $2.99 and FAD of $2.50 (easily covering the $2.18 dividend along with an increase next year). Company history of guidance has been excellent. In the last 3 years, management guidance for FAD per share was 5-10¢ under actual results. As is common for REITs, the entire dividend is not taxed. Of last year's $2.10 dividend, $1.81 was classified as ordinary income. Company finances are conservative, with a credit rating of BBB+ on January 31, 2014.
MCD
McDonald's is easy discuss because almost all readers have eaten at MCD restaurants and understand the business model. For more than half a century, these restaurants have been offering value meals to consumers. Currently MCD has more than 35,000 restaurants serving 70 million meals daily in over 100 countries. Between 2008-2013, total revenue went up almost 20%. EPS went from $3.76 to $5.55, and dividends rose from $1.63 to $3.12.
According to Euromonitor International, there are 2 million units global informal eating out establishments with $1.2 trillion in revenue. MCD has 0.4% of outlets and 8% of total sales.
The company's IPO was in 1976, and it has been raising annual dividends since then, easily qualifying as a Dividend Aristocrat. While stock growth has been excellent, it has been uneven, with big sell-offs in 1998-2003 and during the last recession.
McDonald's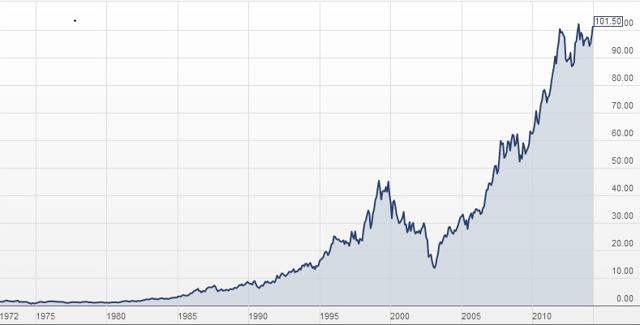 Company revenue is divided in 2 categories: company operated sales (2/3 of revenue) and franchised revenue (1/3 of revenue). In addition worldwide sales are divided in 4 regions:
Europe__40%
US_____31%
APMEA__23% Asia/Pacific, Middle East and Africa
Other___6% Canada, Latin America and corporate
Almost 3500 restaurants were added between 2008 and 2013, largely in developing countries, accounting for 90% of new restaurants. Almost 1700 new restaurants were opened in APMEA, about 450 in Latin America and 1000 in Europe. The numbers were only marginally higher in the U.S. and Canada. Capital expenditures have been running about $3 billion annually over the last 3 years and should continue at $3 billion in 2014. Dividends and share repurchases are forecasted at $5 billion in 2014 (similar to the last 6 years).
MCD just reported bland Q1 results. Global comparable sales increased 0.5% from higher average checks, but traffic was lower in the U.S. and APMEA. Comparable U.S. sales decreased 1.7%. Total revenue increased 1% (3% in constant currencies) and operating income decreased 1% (a 1% increase in constant currencies). Diluted EPS of $1.21 was down from $1.26 last year and 3¢ below the estimate. The company returned $1.2 billion through dividends and share repurchases. This type of report by MCD has been common for 2 years. As a result, the stock has been flattish, trading near $100, even though dividends were increased. MCD said global store sales may be "modestly positive" in April for the second straight monthly gain.
Higher revenue comes from increased same store sales and adding more stores. Same store sales get a lot of attention, because they are reported monthly, and this shows organic growth. In recent years, same store sales by region and globally have been flattish. When there is growth, a 1% increase is considered substantial. Management is trying to increase same store sales by bringing back classics (Big Mac, Egg McMuffin), improving service, providing more affordable food items and refurbishing restaurants. But there is just so much MCD can do with so many restaurants around the world operating in varied economies.
Higher revenue also comes from more stores, and MCD keeps opening new locations. In 2008-2013, new restaurants almost doubled to about 2000 in China, doubled in India to only 339, doubled in Russia to 413, and there are only a handful in the remaining countries that were in the former Soviet Union. This area has half the world's population, an enormous market for future growth. MCD expects capital expenditures to be about $3 billion in 2014. Over half is for new restaurants, which would add 949 net new restaurants. In APMEA, the company will open 800 new restaurants, including 300 in China.
Both stocks have disappointed investors in the last few years, with little capital appreciation, as the Dow Jones Industrial and S&P 500 set new records. HCP at $41.81 is below the record $54 set last year, but has had a partial recovery this year. Investors were attracted by the highest yield for an S&P 500 Dividend Aristocrat. MCD's stock has had a good run over the last 10 years. At $101.50, it's only $2 below the record set last year. Both have outstanding long-term charts. Investors appreciate decades of growing dividends. Even among the most famous companies, not all can make that claim after the high market volatility in the last 15 years.
However capital growth is less important than income growth when building a retirement account or for retirees who need income currently. Recent sluggish stock performance by these stocks gives investors high yields in a low-yield environment (that has no end in sight). Current yields for HCP and MCD are near their highest in history, which is more meaningful at a time where 10-year Treasury yields are not far above their lowest yields in history. Their stock charts are compelling evidence of growing dividends for decades. Retirees want income for the rest of their lives (measured in decades) to enjoy their later years. The companies' track records indicate they can deliver.
Disclosure: I have no positions in any stocks mentioned, and no plans to initiate any positions within the next 72 hours. I wrote this article myself, and it expresses my own opinions. I am not receiving compensation for it (other than from Seeking Alpha). I have no business relationship with any company whose stock is mentioned in this article.