McDonald's Corporation (NYSE:MCD) is a fast-food chain giant that operates 35,000 restaurants worldwide and 81% of these are franchised. The company recently released fairly weak results for the first quarter. McDonald's is facing several challenges and intense competition when it comes to the breakfast business. The company has struggled to attract diners in the last year as a complicated menu slowed services while rivals created new products and offered discounts to effectively capture customer attention. Burger King Worldwide (BKW) has introduced $1 sandwiches, while Taco Bell began selling breakfast fare such as sausage burritos and cinnabon bites. Starbucks (NASDAQ:SBUX) has also been adding new bakery items and egg sandwiches. The difficult market conditions in the U.S., sharp competition, and weather conditions negatively affected the company's top and bottom line growth in the recent quarter.
To fight back, McDonald's offered free McCafe coffee at its more than 14,200 domestic stores from late March into April and also introduced a new Clubhouse burger. While March same-store sales fell 0.6% in the U.S., the fifth straight monthly decline, it was the best result since a 0.2% gain in October and marked the third straight month that the drop shrank. The improvement was not enough because in the first quarter the sales declined 1.7% due to lower guest traffic compared to the same quarter of the previous year. Primarily the sales declined 1.4% due to severe winter weather conditions during the quarter.
The net income declined 5.1% to $1.2 billion from $1.27 billion in the previous year's quarter. The earnings per share declined to $1.21 from $1.26 and failed to meet analysts' earnings estimate of $1.24. Despite a 1.4% increase in revenue to $6.7 billion McDonald's missed analysts' revenue estimate of $6.72 billion for the quarter.
Apart from the weak quarter, McDonald's still has the strength to compete for the sake of its earnings growth. McDonald's is focusing its attention on four priority markets that include the U.S., Germany, China, and Australia because they have experienced declining sales, The informal eating out market in the U.S. is relatively flat and customer preferences include breakfast, balancing new and core menu products and store operations. The company's breakfast items account for 25% of sales in the U.S and the highest margins of any segment. McDonald's earnings growth is likely to come from its breakfast business, however the growth will remain restricted due to its stiff competition and pricing policy.
To improve store efficiency and service times, the U.S. stores are undergoing what the company called a "reset." This is a focus on staffing, scheduling, and positioning to make sure crews are ready especially during peak hours. The new high density kitchen preparation tables the chain has talked about for the last year will be in all the U.S. units by mid-year. These should help speed up preparation and allow for future addition of new toppings for sandwiches. The improved services are key factors that are needed to drive revenues for a big chain like McDonald's.
Europe is Where McDonald's is Improving
McDonald's generates about 40% of its revenue from Europe. In Europe, the company's performance is improving due to the number of important initiatives it is enacting. In the first quarter, the comparable store sales improved 1.4% in Europe and 0.8% in the Asia Pacific, Middle East and Africa regions. As a whole, McDonald's global comparable store sales increased 0.5%. The business improvement in Europe is backed by the introduction of new items such as blended ice drinks in the U.K. and advertised value deals in France.
Compelling Dividend Yield
The dividend stocks are important to investments because they provide stable and growing income for investors. McDonald's is amongst those good dividend yielding stocks which is one of the solid reasons to love this stock.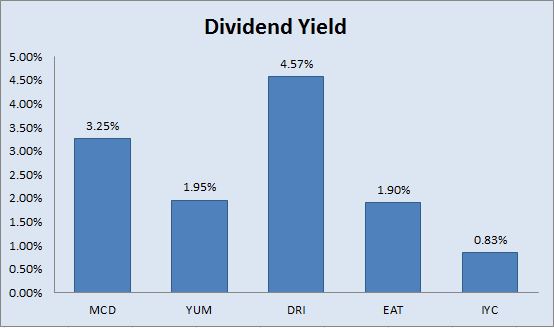 Source: finviz
The graph above compares the company's dividend yield with its competitors such as Yum! Brands (NYSE:YUM), Brinker International (NYSE:EAT), and Darden Restaurants (NYSE:DRI). McDonald's is one of the better options for safer dividends. Darden's dividend yield is higher than McDonald's but over the next five-year McDonald's EPS is expected to grow by 7.58% each year and this is much higher than Darden's EPS growth. Since 2009, the dividends have increased at an average growth rate of 11.07% which is quite good; however, the recent quarterly increase of 5.2% is slow. With the current share price McDonald's is trading at $98.96 per share and company is currently paying out a quarterly dividend of $0.81 per share that translates into an annual dividend of $3.24 per share for fiscal year 2014 and a yield of 3.25%. Most likely McDonald's will maintain its dividend growth on the back of good global results.
The following graph shows the dividend and dividend growth.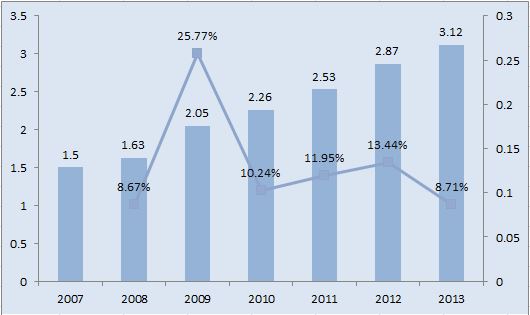 Source: Morningstar
McDonald's Outlook is Reasonable with Mid-Single Digit Growth
The company's focus to improve operational performance in its key markets like the U.S., Germany, Australia and Japan would help the company to reaccelerate its sales growth. For the month of April McDonald's expects positive and modest global comparable sales. Analysts are confident about McDonald's performance in the second quarter and expect the company to report earnings per share of $1.46 reflecting an increase of 6% and revenue of $7.33 billion reflecting an increase of 5% compared to the second quarter of 2013. Full-year estimate for EPS and revenue stand at $5.81 and $29 billion.
Valuation and Conclusion
This stock is valued the cheapest amongst close competitors as it is trading at a forward P/E of 15.74X while in comparison Yum! Brands is trading at a forward P/E of 18.47X, Darden is trading at a forward P/E of 17.68X and Brinker is trading at a forward P/E of 16.49X. The average target price for this stock is $103.92 with an upside potential of 4.6% on its current price. Although the recent quarter's results were disappointing for some investors, McDonald's is quite an opportunity for safer long-term dividends.
Disclosure: I have no positions in any stocks mentioned, and no plans to initiate any positions within the next 72 hours.
Business relationship disclosure: The article has been written by a Gemstone Equity Research research analyst. Gemstone Equity Research is not receiving compensation for it (other than from Seeking Alpha). Gemstone Equity Research has no business relationship with any company whose stock is mentioned in this article.