Long-suffering Arena Pharmaceutical (NASDAQ:ARNA) shareholders are basking in the warm glow of vindication this week. After years of disappointing performance, the company's share value has more than doubled since June 30. With its lead product candidate Lorcaserin widely dismissed as the least effective of the three obesity drugs currently in late stage development, Arena's share price actually dropped the day it announced the results of its first successful phase 3 clinical trial. With the events of the last few weeks, Arena's market capitalization now exceeds that of its competitors by a wide margin (Table 1), and the recent share price trajectory suggests that Arena could become a billion dollar company well in advance of an FDA decision on Lorcaserin.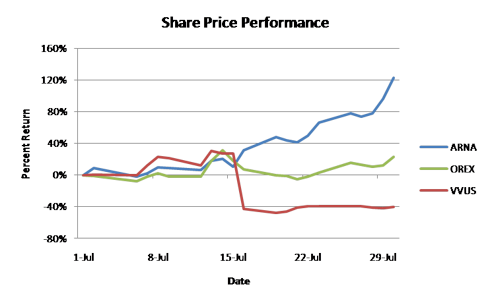 Table 1. Market Capitalizations

Company

Product

Market. Capitalization

Arena

Lorcaserin

$805M

Orexigen (NASDAQ:OREX)

Contrave

$246M

Vivus (NASDAQ:VVUS)

Qnexa

$457M
The market's increased valuation of Lorcaserin arises mainly from the outcome of the July 15 Qnexa FDA advisory committee meeting. Market perceptions in the aftermath of this meeting include:
An increased recognition of the stringency of the safety standards expected for obesity drugs
A belief that lorcaserin is the best positioned of the three agents currently under review to meet these standards, and
A belief that Qnexa, formerly viewed as Lorcaserin's most formidable potential competitor, is unlikely to reach the market, leaving lorcaserin a dominant position within a multi-billion dollar weight loss drug market.
This article is the first of two examining Arena's valuation and its potential for further appreciation. In this article I examine the case for a favorable regulatory outcome for Lorcaserin. A future article will address the potential market, and Lorcaserin's ability to generate sales that will support a continuing high market capitalization for Arena.
Will Lorcaserin be Approved?
The FDA Qnexa panel gave investors their first recent view on how stringent the safety standards for new anti-obesity drugs are likely to be. Prior to voting 10-6 to recommend against approval, committee members expressed concerns about the cardiovascular safety of Qnexa and its potential to cause birth defects. To a large extent, it appeared that Vivus lost the day not because a majority of panel members believed Qnexa is not safe, but rather because they felt that the company had failed to collect enough data to prove that it is. At least two committee members who voted against approval expressed a degree of ambivalence about their vote, suggesting that Arena can obtain a positive advisory committee vote by presenting a case that is only slightly more compelling that that presented for Qnexa.
The relatively benign side effect that has been observed for Lorcaserin and the size of the Lorcaserin safety database suggest that Arena's case will be more compelling than that presented by Vivus (1,2). Nearly 8000 patients participated in the Lorcaserin phase 3 clinical trials, including approximately 1725 who completed a full year of treatment with Lorcaserin and 425 who completed a second year of treatment. Overall, the Lorcaserin safety database includes approximately twice the number of patient-years of exposure than that of Qnexa. Unlike Vivus, Arena has data from its 2 year extension trial in advance of its FDA advisory committee meeting.
There is a striking contrast between the frequency and severity of adverse events observed in the recently published BLOOM trial and those disclosed for Qnexa and observed historically for Qnexa's components (1,3). Adverse effects known to be associated with Qnexa or its components include mood disorders, cognitive disorders, increased pulse and and increased blood pressure. In contrast, the BLOOM trial found a well-balanced distribution of adverse events across the treatment and placebo arms. The most common adverse events seen with greater frequency among the lorcaserin-treated patients were headache, dizziness, and nausea, all with a relatively modest incidence.
Table 3. Phase 3 Clinical Trial Programs for Qnexa and Lorcaserin

N
(total)a

N
(treatment)b

Completers
@ Highest Dose

N
(2nd Year of Treatment)

Qnexa

3764

2246

865

585

Lorcaserin

7190

3988

1795

500?

a Trials of 12 month or greater duration only.
bAny Dose

One possible overlapping area of concern between Qnexa and lorcaserin is the issue of birth defects. In the case of Qnexa, the committee's concern about this issue was prompted by strong evidence that topiramate causes birth defects in animals, and a more modest level of evidence that it also causes a very low incidence of birth defects in people. Unfortunately, published reproductive toxicology studies do not appear to be available either for Lorcaserin or other 5-HT2C agonists. The 5-HT1D agonist imitrex has been demonstrated to cause birth defects in animals, and the SSRI paroxetine has been associated with cardiac birth defects in humans in epidemiological studies4. Overall, this issue seems unlikely to affect Lorcaserin's prospects for approval provided that the animal reproductive toxicology data isclean. Unfortunately, this information does not seem to have been publicly disclosed, so this issue remains a bit of a wild card.
With the possible exception of reproductive safety, Lorcaserin clearly scores very well on the issues raised in the Qnexa advisory committee meeting. Other issues that might impact Lorcaserin's potential for regulatory success include its theoretical potential to cause cardiac valve damage and the absence of safety data for Lorcaserin in combination with phentermine.
Lorcaserin exhibits very weak binding to the 5-HT2B receptor that is believed to mediate the cardiac valve damage that was observed in patients treated with fenfluramine, the "Fen" component of the infamous Fen-Phen weight loss combination. Because of this, the Lorcaserin phase 3 clinical development program incorporated FDA guidance that the trials should be powered to exclude a 50% increase in the incidence of cardiac valve damage with 80% certainty. While the FDA is not bound by its previous guidance concerning clinical trial design, the apparent absence of a signal for cardiac valve damage in Lorcaserin-treated patients suggests that this issue is unlikely to be a barrier to approval.
Phentermine is the most widely prescribed anti-obesity agent in the US, with over 1.6M prescriptions written in Q2 2008 (5). Many of these prescriptions are written by specialized weight loss clinics, which adopt a relatively aggressive stance in their use of anti-obesity drugs. This aggressiveness is exemplified by an anonymous survey of weight loss clinics performed in 2005, which showed that these clinics routinely prescribe phentermine for longer periods and at much higher doses than those that are FDA-approved6. These clinics are likely to make widespread use of lorcaserin as a component of a "Lo-Phen" combination therapy for which no safety data is available. Arena may be able to reduce this threat by proactively presenting a plan to minimize the use of lorcaserin in this combination.
Overall, Lorcaserin's prospects for a favorable FDA advisory committee meeting outcome and eventual FDA approval do not fall in the "slam dunk" category, but they do appear to be quite good. Provided that there are no surprises on the reproductive toxicology front, the key limiting factors are the limited therapeutic benefit offered by the compound and its potential for widespread use in an untested combination with phentermine. An overall conclusion regarding the attractiveness of Arena as a speculative investment will require an in depth evaluation of lorcaserin's market potential, which will be the subject of a future article.

[1] Smith SR, Weissman NJ, Anderson CM, Sanchez M, Chuang E, Stubbe S et al., Multicenter, placebo-controlled trial of lorcaserin for weight management. New England Journal of Medicine 2010; 363(3): 245.
[2] Arena Pharmaceuticals press releases of March 30, 2009 and September 18, 2009.
[3] Tucker, JA. Challenges and questions for Vivus Pharmaceuticals at the July 15 FDA advisory committee meeting. June 28, 2010. seekingalpha.com/user/649507/instablog.
[4] Bakker MK, Kerstjens-Frederikse WS, Buys CH, de Walle HE, de Jong-van den Berg LT. First-trimester use of paroxetine and congenital heart defects: a population-based case control study. Birth Defects Res. A: Clin Mol Teratol. 2010. 88(2): 94-100.
[5] Arena Pharmaceuticals investor presentation at the Barclay's Capital 2010 Healthcare Conference, March 23, 2010.
[6] Hendricks EJ, Rothman RB, Greenway FL. How physician obesity specialists use drugs to treat obesity. Obesity 2009; 17(9):1730.
Disclosure: Long OREX