Young people can't stop chattering about the dating app Tinder these days, an idiotically simple interface that presents a face on your smart phone and invites you to accept or reject it, based on which way you swipe. From Tinder's FAQ page:
I accidentally left-swiped someone, how do I get them back?
You can't, you only swipe once, Tinder on!
The app won Best New Startup of 2013 from TechCrunch and seems a particular obsession of young writers on Huffington Post.
How Tinder comes by the faces a user sees - from their Facebook (NASDAQ:FB) accounts, and the looker designates a geographic area - is almost beside the point. The looking and swiping - yes, yes, no, no, no - is said to be addictive. If you see a young person swiping away at his or her phone on the subway or bus or walking along, there's an excellent chance it's Tinder.
Which would seem to cast a pall over the planned IPO of Zoosk, another online dating company and app whose interface is nearly as crude and addictive - but not quite. It will be fun to see if the underwriters, led by Bank of America Merrill Lynch (NYSE:BAC), Citigroup (NYSE:C) and RBC Capital Markets can get Zoosk the $100 million it wants in the offering. Especially in this iffy market, colored by steep declines in consumer-ish tech stocks like Yelp (NYSE:YELP), HomeAway (NASDAQ:AWAY), Netflix (NASDAQ:NFLX), TripAdvisor (NASDAQ:TRIP) and Pandora (NYSE:P).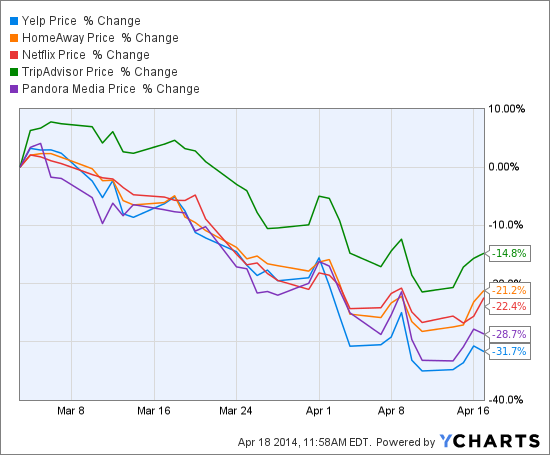 After all, who wants to buy stock in the dating app people aren't talking about?
True enough, Zoosk has encouraging financials. Its 2013 revenue was $178.2 million, up 63% from $109.1 million in 2012. Its loss narrowed sharply to $2.6 million in 2013 from $20.7 million a year earlier. Its advertising and marketing costs - the biggest expense item - as a percentage of revenue is on the decline. There may be a sustainable and profitable business in there. At 168 employees at December 31, revenue per employee is about $1 million.
Zoosk was founded in 2007 by Shayan Zadeh and Alex Mehr, two graduates of Sharif University of Technology in Iran, in San Francisco and has attracted more than $60 million in VC backing from the likes of Canaan Partners (32.4% stake pre-IPO), ATA Ventures (17% stake pre-IPO) and Bessemer Venture Partners (16.3% pre-IPO). Messrs Zadeh and Mehr each hold 12.4% of the shares pre-IPO, so those five entities control about 90%.
They plan to list the shares on the New York Stock Exchange under the symbol ZSK. The initial S-1 filing was made Wednesday, April 16, and the offering isn't yet priced. Zoosk isn't alone. Plenty of companies are hustling to get their IPOs out before a crummy market slams the window shut. Investors would therefore be well advised to be especially vigilant right about now.
Both Zoosk and Tinder take notice of users' likes and dislikes, they say, and use that information to better funnel photos of new potential mates along. The app operators don't go into the gory details, but one imagines an apparent preference for redheads or men with uni-brows would be duly noted. I think you get the idea. It's just like Amazon (NASDAQ:AMZN) using your purchasing history to suggest new books to buy, Pandora using your declared music tastes to construct play lists, and Netflix using your movie watching history to suggest new films.
About half of Zoosk's users are outside the U.S. And the company, in the S-1, goes through the usual motions of explaining the amazingly large market it aims at and the fabulous network effect it achieves as more and more people sign up to have their faces seen.
Parts of the S-1's business description, however, are just plain annoying. The U.S. online dating market is $1.4 billion we're told. And now we need to learn that it's fragmented -- right? -- so our friends at Zoosk can gobble it all up. The statistic they trot out is that "the majority of dating services companies had less than 1% market share." Well, duh. My iPhone is offering nearly 2196 dating apps as I write this.
But that doesn't mean there aren't big players, and in fact Fortune reported a year ago data that is much more helpful (unless you're Zoosk):
Right now, Barry Diller's IAC (IACI) controls 41% of the market, thanks in large part to its properties Match.com and OkCupid.com. eHarmony is next with 23.5% of the market. In third place is Zoosk at 7.7%, followed by Spark Networks (NYSEMKT:LOV) (owner of JDate, Christian Mingle, LDS Mingle and more) at 4.9%.
Golly, that doesn't sound so fragmented, does it? Does little Zoosk have to beat Barry Diller's brains out to win this market? All the while fending off the likes of Tinder?
More S-1 annoyance: on page 1, Zoosk tells us it has more than 26 million members, including 650,000 subscribers. What's that mean?
*For a definition of members and subscribers, see 'Management's Discussion and Analysis of Financial Condition and Results of Operations - Key Metrics.
Why keep us waiting for what is surely among the most crucial information? Some 42 pages later they finally cough up the fact that all but the 650,000 are free riders, and we aren't provided a breakout of revenue per subscriber (seems worth knowing, eh?).
The crudest math - the $178.2 million in 2013 revenue divided by year-end total subscribers of 650,000 - gives us not quite $275 per user. That's quite a commitment for looking at pretty faces.
Zoosk offers subscriptions for 1-to-6 months. Also users can buy chits to have their profile displayed more prominently or have their messages to potential dates appear more prominently. Sort of like coach and business class seating.
At these prices, what the churn's like? We're treated to a bar chart of cohorts - 2008 through 2012 - and what percentage of subscribers from each of those years were still - or were once again - subscribers in 2013; 48% of 2012's group was still around last year. A not altogether useful way to address the churn issue. How many months do people hang around, on average?
I'll leave you with this final S-1 annoyance (emphasis added), which raises more questions than it answers:
The numbers of members and subscribers presented in this prospectus are based on internal company data. While these numbers are based on what we believe to be reasonable measures of our member and subscriber base for the applicable balance sheet date, there are challenges in measuring certain metrics. For example, historically, we did not record our number of members at each balance sheet date. Accordingly, we calculated our number of members in this prospectus as of December 31, 2010, 2011, 2012 and 2013 using reports that were generated from our system in January 2014. However, due to historical system limitations, these reports exclude from our number of members those members whose profiles were deactivated between the balance sheet date and January 2014. Accordingly, the number of members reported for past dates may be understated as compared to the number that would have resulted if we had run the report as of the balance sheet date due to subsequent deactivations, which may imply higher growth rates than what actually occurred. In the future, we intend to calculate our number of members using reports generated on each balance sheet date. In December 2010, we refined our methodology for tracking the long-term engagement of our subscribers, as presented in "Management's Discussion and Analysis of Financial Condition and Results of Operations-Subscriber Analysis." Due to system limitations, we are unable to apply the refined methodology to prior periods. Accordingly, actual rates of long-term engagement for our pre-2011 subscriber cohorts may differ from those presented. We regularly review and may adjust our processes for calculating our operating metrics to improve their accuracy.
Jeff Bailey, The Editor of YCharts, is a former reporter, editor and columnist at the Wall Street Journal and New York Times.
Disclosure: None