The struggles continue for industrial tire-maker Titan International Inc. (NYSE:TWI). This Zacks Rank #5 (Strong Sell) recently withdrew 2014 guidance after a difficult first quarter which was impacted by the brutal North American winter.
Titan International supplies wheels, tires and assemblies for off-highway equipment used in agriculture and earthmoving/construction.
What Went Wrong?
When agriculture and mining was booming, tire sales were too. In 2011, the farmers took home record income and Titan's earnings jumped 253%.
But excess inventory that has been dropped into the aftermarket from the mining industries has impacted pricing.
Titan's current outlook for mining tires continues to be negative. On Apr 24, in its first quarter press release, the company said the price of tires continued to drop and it saw further drops in the foreseeable future.
In agriculture tires, which is its larger segment, the aftermarket and OEM farm business declined in the first quarter and the OE construction business was also below the company's forecast.
In the first quarter, total sales fell 6.8% to $538.9 million from $578.4 million a year ago. Gross profit also fell to 10.1% of net sales compared to 16.7% in the first quarter of 2013.
International Outlook
Titan is moving forward with its international expansion plans despite the risks. Titan ITM, which makes tracks for construction and certain agricultural machines, is growing in South America but Europe remains weak. It doesn't expect improvement in Europe in 2014.
It also holds a 30% interest in a Russian tire operation, which is moving forward even with the geo-political challenges due to the Ukraine situation.
Estimates Slashed After Guidance is Withdrawn
On Apr 24, Titan missed the Zacks Consensus in the first quarter by 31 cents. It reported $0.04 compared to the consensus of $0.35.
It also withdrew its previous full year 2014 guidance and said it was being "reconsidered."
The analysts wasted no time in cutting full year estimates.
4 estimates have been cut in the last week, with the 2014 Zacks Consensus falling to just $0.60 from $1.05.
Titan made $0.78 in 2013 so that is an earnings decline of 24%.
The analysts also slashed 2015 estimates to $0.97 from $1.40.
Is Titan a Deal?
You'd think with all of this bad news, that shares would be pretty cheap. But investors are already well versed on Titan's struggles so shares haven't done much in the last year.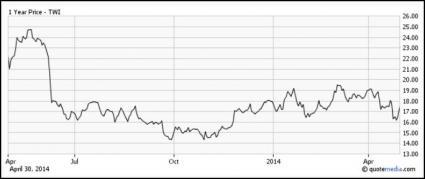 Titan is trading with a forward P/E of 18.7, which is still well above the average of the S&P 500 of 16. I wouldn't exactly call that a deal when the 2014 outlook remains unknown.
If you really want to own something in the farm machinery industry, you may want to consider AGCO Corporation (NYSE:AGCO). It actually makes the farm machinery itself but it's a Zacks Rank #3 (Hold) and is a better value, with a forward P/E of only 10.