Last week, in the midst of a generally positive week for economic data and earnings, investors received a bit of a shock on the home data front.
Investors digested news that existing home sales slipped in March to their lowest since July 2012. In addition, the U.S. Census Bureau reported that new home sales collapsed to a seasonally adjusted annual rate of 384k from 449k in February, the biggest monthly drop since last summer.
Despite pending home sales data earlier this week that came in better than economists' estimates, the magnitude of last week's home sales drop, coupled with concerns over affordability and rising rates, have many wondering if last year's housing rebound is already fizzling.
While I would agree that higher rates and rising prices are likely to slow future home sales gains, I still believe housing will be additive to the U.S. recovery in 2014 for two reasons.
March's print may have been distorted by last winter's unusually cold weather. More recent economic data has generally been coming in at, or above, expectations.
While higher mortgage rates are likely to slow housing activity, overall affordability remains reasonable and credit conditions are loosening. While down substantially from the 2011 peak, housing affordability is still significantly above the 25-year average.
That said, even if the housing market continues to heal, an improving housing market doesn't necessarily translate into a profitable investment thesis for homebuilding stocks. Despite the recovery in housing, I've been cautious on the homebuilding industry for some time.
The stocks, as measured by the S&P 500 Homebuilders Select Industry Index, underperformed the broader market significantly in 2013, rising roughly 12% versus a 30% gain for the broader market, as measured by the S&P 500 Index. Year-to-date, despite falling interest rates, which generally support the industry, homebuilders are down more than 5%.
In my view, homebuilding stocks have struggled for two reasons: stretched valuations and vulnerability to rising real rates.
While valuation is less of an issue today, the stocks are not so cheap as to be unaffected should rates start to rise again. Historically, homebuilding stocks have traded at around a 45% discount to the broader market. This discount reflects the very cyclical nature of the business and the volatility of the earnings stream.
However, by early 2013, optimism over a housing recovery pushed valuations to a 14% premium to the broader market. This left the stocks exposed when rates started to rise last spring. While valuations have come in considerably – the industry now trades at a 35% discount to the market (using the same indices for measurement as I mention above) – the stocks are still not particularly cheap.
If real interest rates start to rise again, as I expect they will, these stocks should be more vulnerable than most sectors. In the past, the level of real long-term interest rates has explained roughly 60% of the variation of the homebuilder industry's value relative to the broader market (see the chart below). In other words, when and if real rates start to rise, the industry's valuations may not provide enough of a cushion. For now, I'd look for an even bigger discount before recommitting to this sector.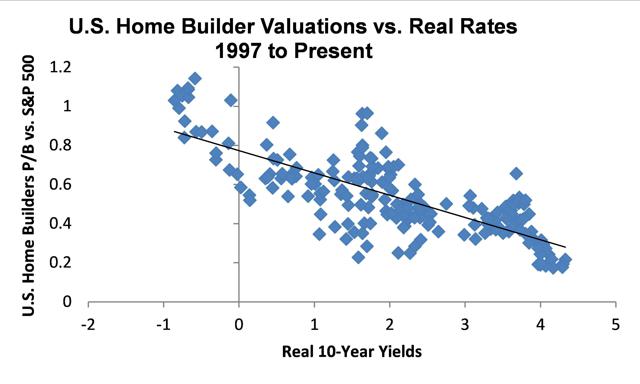 Sources: Bloomberg, BlackRock research
Russ Koesterich, CFA, is the Chief Investment Strategist for BlackRock and iShares Chief Global Investment Strategist.

Funds that concentrate investments in a single sector will be more susceptible to factors affecting that sector and more volatile than funds that invest in many different sectors.