By Todd Shriber & Tom Lydon
The arrival of the fifth month of the year marks the start of the historically weak six-month period for stocks. "Sell in May and go away" is more than a catchy phrase. Data prove equities can disappoint during the May through October period. Said S&P Capital IQ in a new research note:
On a seasonal basis, the six-month stretch from May to October is historically a weak period for the S&P 500 Index, dating back to 1990.
However, not all sectors wilt when the calendar turns to May. While S&P Capital notes consumer discretionary, industrial and materials names traditionally exhibit weakness in the May through October stretch, others, including consumer staples, prove durable. Add health care to the list of sectors that do not need to be sold in May.
Health care strength in the May-October time frame could spell opportunity with the SPDR S&P Health Care Services ETF (NYSEARCA:XHS), which S&P Capital IQ rates overweight. According to the research firm:
However, the Health Care sector, rising 4.7%, was the best performing sector and it has the second highest frequency of outperformance, at 65%, just behind Consumer Staples. Within sub-industries, Health Care Services (4.8% average gain), Pharmaceuticals (4.7%) and Health Care Distributors (4.4%) were on average some the brightest spots within the sector.
Now that the Affordable Care Act, also known as Obamacare, is rolling out, XHS could see an even more favorable fundamental picture next year as more Americans obtain health coverage.
XHS, which has almost $71 million in assets under management, allocates over 31% of its weight to health care facilities managers, bolstering the ETF's status as a hidden gem play on Obamacare. Reports Eric Balchunas for Bloomberg:
Hospitals are the big winners in the Affordable Care Act because more people - up to 27 million - could end up buying insurance and going for procedures. Unlike in times past, the hospitals won't have to do a lot of those procedures for free.
Adding to the bull case for XHS is impressive estimated earnings growth for the health care sector this year. Said S&P Capital IQ:
Thus far, health care companies within the S&P 500 Index generated and are expected to generate stronger first quarter earnings growth than initial Capital IQ consensus forecasts. As of April 28, first quarter earnings were expected to grow 4.2%, much better than the 0.8% expected decline as of the beginning of April. Full year 2014 earnings are now expected by Capital IQ consensus to climb 9.7%, higher than the 7.6% for the broader S&P 500 Index.
XHS, which charges 0.35% per year, is an equal weight ETF where no holding accounts for more than 2.44% of the fund's weight. Top-10 holdings include Select Medical (NYSE:SEM), Tenet Healthcare (NYSE:THC), Community Health Systems (NYSE:CYH) and Universal Health Services (NYSE:UHS).
SPDR S&P Health Care Services ETF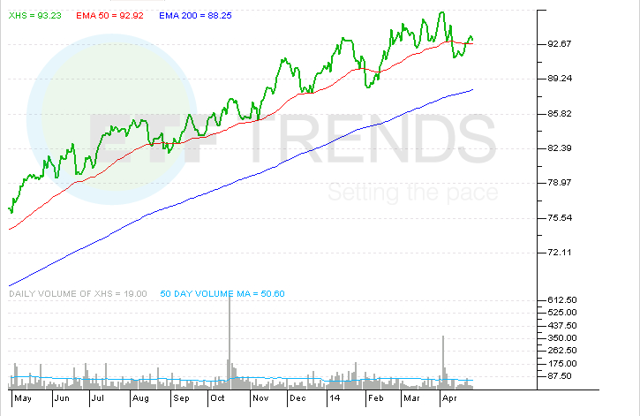 Disclosure: I have no positions in any stocks mentioned, and no plans to initiate any positions within the next 72 hours. I wrote this article myself, and it expresses my own opinions. I am not receiving compensation for it. I have no business relationship with any company whose stock is mentioned in this article.