By Todd Shriber & Tom Lydon
Last month, 29 of the 30 U.S. banks subjected to the Federal Reserve's stress test passed. Shareholders of the iShares MSCI Europe Financials ETF (NASDAQ:EUFN) are hoping that fund's holdings ace similar stress tests by European regulators. According to Bloomberg, European banks, including some that comprise EUFN's 103-member lineup;
"will be ranked on how well they can withstand a 21.2 percent slump in home values, coupled with a surge in unemployment and plummeting economic growth, as part of the bleakest scenario in the most severe EU stress test to date."
Stress tests for European banks come as EUFN is showing strength against some of its U.S.-focused counterparts. For example, the $498.8 million EUFN is up nearly 3% over the past month while the Financial Select Sector SPDR (NYSEARCA:XLF) is down 1%.
The European Central Bank is expected to conduct stress tests on 124 banks in the European Union, but the Bank of England will conduct its own tests on British banks, Bloomberg reported.
The U.K. is by far EUFN's largest country weight at 30.1%, nearly two and a half times the allocation given to France and nearly triple the weight the ETF has to Germany.
Last month, the Fed block plans for higher dividends and increased share repurchase programs by the U.S. units of HSBC (NYSE:HSBC), RBS (NYSE:RBS) and Santander (NYSE:SAN), citing weakness in the capital plans of those banks. HSBC and Santander are EUFN's two largest holdings, combing for 15% of the fund's weight.
The ECB said banks will have six to nine months to address any capital shortfalls revealed by the stress tests, Bloomberg reported.
Europe's stress tests, like their U.S. equivalents, could prove pivotal to the efforts of EUFN holdings to return capital to shareholders. Although the ETF has a trailing 12-month yield of just 1.57%, it was expected payouts by European banks, led by French and Swiss firms, would drive dividend growth in Europe this year. France and Switzerland combine for almost 23% of EUFN's weight.
iShares MSCI Europe Financials ETF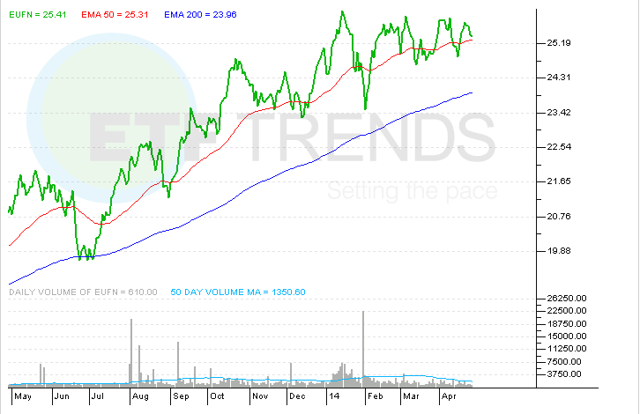 Disclosure: I have no positions in any stocks mentioned, and no plans to initiate any positions within the next 72 hours. I wrote this article myself, and it expresses my own opinions. I am not receiving compensation for it. I have no business relationship with any company whose stock is mentioned in this article.