"I'm going to be completely clear here: I'm quite bearish and I think the market's going significantly lower," Richard Ross, global technical strategist at Auerbach Grayson, CNBC interview May 1, 2014.
The markets as measured by the Dow and the S&P 500 have stalled into a holding pattern for the last two months. Yes, the Dow hit a new high on Wednesday April 30 but as May dawned it cooled down.
Richard Ross' quote from the interview should give investors some important historical and technical points to ponder. I encourage you to watch it and draw your own conclusions as to the possibilities.
If you read my recent article you're aware of what I call "first year fallout syndrome" (FYFS). In the first year of a new Fed chair, going back almost 30 years, the stock market corrected before moving up.
Friday, May 2, we get the Labor Department's nonfarm payrolls report for April, as well as the March factory orders. If the numbers aren't perfect, which I don't believe they'll be, that correction may begin.
Or will the worsening situation in Ukraine be the excuse for the market to sell off? Acting Ukrainian President Oleksandr Turchynov said on May 1 that "...there is a real threat of Russia starting a continental war, our army is on full combat alert" according to a Bloomberg report.
The International Monetary Fund, which approved a $17 billion bailout for Ukraine early Thursday, said "a significant recalibration of the program" might be required if the situation worsens.
The U.S. and the European Union accuse Russia of provoking the turmoil, which worsened even after increased sanctions on Russia in the worst confrontation since the Cold War.
What Does this Mean for Johnson & Johnson (NYSE:JNJ)?
Although JNJ is one of only 3 companies rated AAA by Standard & Poor's Rating Services as I mentioned in another recent article, it has also hit overhead resistance slightly above the $101 level.
Fundamentally, I think the company is one of the best, as Carla Fried pointed out in her article titled "Johnson & Johnson: Why Top Funds are Buying." But there are reasons I anticipate a stock price correction.
1. The share price has moved up too far and too fast. Since 2014 feels a lot like 2011 (as the Ross interview pointed out), the 5-year chart below demonstrates that JNJ tends to correct with the market.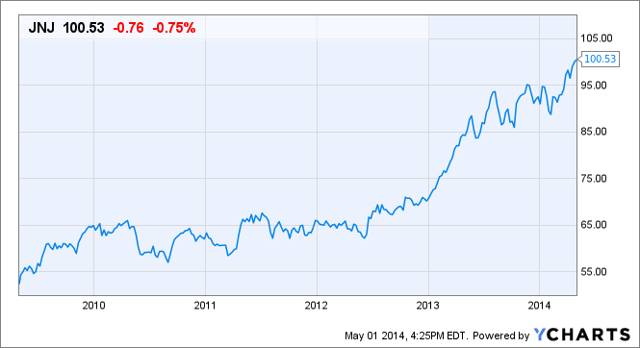 Every time JNJ hits a new 52-week high, it tends to be the resistance that allows it to move down before climbing higher. Next, let's see a 5-year chart of the S&P 500 as represented by the SPDR ETF (NYSEARCA:SPY).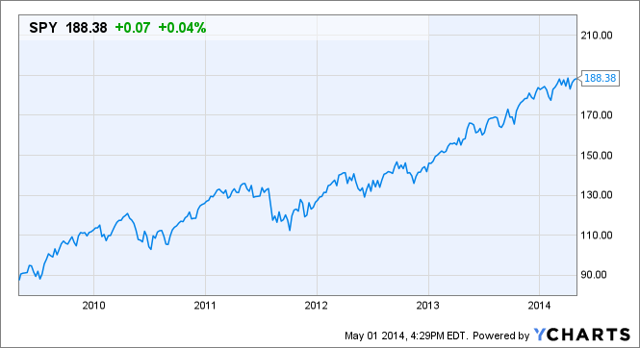 If we experience a 2011-style market correction, those who want to own JNJ at a lower price level may have the opportunity. This leads to my next point.
2. At a price of $100 or better, the dividend yield drops below the 3% level. As an analyst and investor, why would I want to own JNJ at nearly $101, with a 2.77% yield and 4% upside (1-year) target price when I can own Verizon (NYSE:VZ) with a 4.5% dividend yield and a 14% upside price target?
When the price of JNJ drops to $92, then the dividend yield is 3.04% and with a target price of $105, we would then have a shot at a 14% gain.
3. Then there are the headwinds Johnson & Johnson faces. The company has some serious legal battles with its products. One I anticipate concerns the company's decision to halt sales of devices used to remove growths in the uterus following a government warning that the electronic surgical tools can inadvertently spread cancer to other parts of the body.
According to an Associated Press story, JNJ "...said in a statement that its three power morcellators have always included language cautioning doctors about this risk. The company said the sales suspension applies to its Gynecare Morcellex, Morcellex Sigma and Gynecare X-Tract devices."
This comes on the heels of a report that the company lost its first lawsuit concerning its Ethicon line of vaginal surgical mesh. The report noted "Hit with a mountain of more than 12,000 Ethicon mesh lawsuits over its continued design difficulties with its vaginal insert products, Johnson & Johnson finally agreed to stop selling certain lines of the flawed inserts in 2012.
"The allegations follow a similar theme-the design of the inserts is flawed and the patients who received them are suffering as a result." The more research I do on these legal issues, the more concerned I become from an investment perspective.
Yes, the first quarter 2014 earnings report for JNJ showed both a 3.5% sales growth and an almost 7% EPS increase over the year-ago quarter. The company also raised its annual dividend by 6.1% on April 24.
Even so, I believe the good news is already baked into the stock's price. From the March 3 low of $90.83, JNJ shares are up over 11% in less than two months.
There are good reasons to believe that the nearly 284% move that the S&P 500 has experienced from the March 2009 lows of about 666 to over 1,888 on May 1 leave the markets ripe for a correction.
My conclusions point towards a chance of a 2011-style correction, partially as a function of the historical idea of FYFS. A healthy correction of at least 10% would create buying opportunities.
One of them is likely to be Johnson & Johnson. If you like it at $101 with a yield of 2.77%, you're going to love it at $92 with a yield-to-price of 3.04%. All arguments to the contrary, I prefer $92, shouldn't you?
Disclosure: I am long VZ. I wrote this article myself, and it expresses my own opinions. I am not receiving compensation for it (other than from Seeking Alpha). I have no business relationship with any company whose stock is mentioned in this article.