The returns of recent IPOs have turned in mixed results to date. In last week's IPO Update we looked at the difference in returns between the offering price and the open price on the first day of trading. Today we'll take a look at returns to date, plus new companies set to hit the major exchanges this week.
There is lots to cover so let's get started.
From now on I'll use the 1st day open price to calculate an IPO stock's return. More often than not, it will be difficult to get shares at or close to the offering price on the IPO date (the price institutional clients get) - so you'll end up purchasing shares at the market price.
I want to show you three returns for each stock: (1) the return since IPO through last Monday (in blue); (2) the return since IPO date through yesterday (in red); (3) and last week's return (the difference between the two returns).
For example, as of last Monday Qlik Technologies (Nasdaq: QLIK) had a return-to-date of 15.2 percent and as of Monday's close had a return of 23.2 percent. So it gained 8 percentage points last week - not bad for one week. But not all have done as well. Take a look for yourself.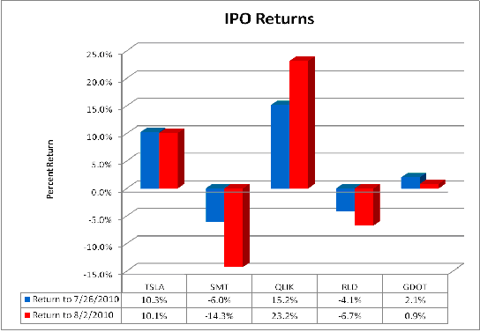 Tesla Motors (Nasdaq: TSLA) has leveled out with around a 10 percent gain, whereas Smart Technologies (Nasdaq: SMT) is falling behind with every passing day - last week alone it lost 8.3 percent. RealD (NYSE: RLD) has also faltered, and had it not been for a superb gain of 7 percent on Monday, the stock's losses would have been similar to those for Smart Technologies. Green Dot (NYSE: GDOT) is essentially flat since going public.
Three more companies hit the major exchanges last week - let's see how they've done so far.
Natural gas gatherer Chesapeake Midstream Partners (NYSE: CHKM) sold 21.3 million shares to the public at $21 a share - at the high end of its pricing range - raising $446 million in the offering. The stock closed yesterday at $23.08, 3.7 percent higher than its first day open price of $22.40 a share.
Web-based investment-services provider Envestnet (NYSE: ENV) is up 12.3 percent since going public last Thursday. The company priced shares at $9 a share, after lowering its original price range from $12 to $14 per share to $9 to $10 per share.
And finally, Molycorp (NYSE: MCP), which specializes in rare-earth metals, also reduced the size of its offer after underwriters struggled to find enough buyers for the $15 to $17 a share price range. The company sold 28.13 million shares at $14 per share, but has dipped to $13.30 as of Monday's close.
The chart below shows the returns of these three stocks since going public (calculated from the open price on first day of trading).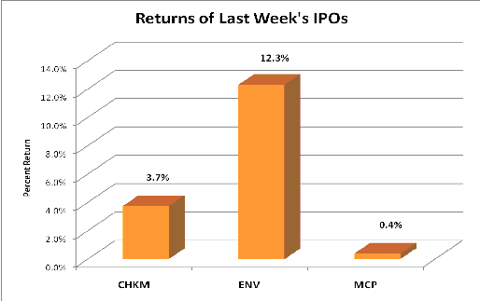 Two others companies were scheduled to go public last week but their offerings were postponed. SurgiVision Inc. (SRGV), a developer of medical equipment and software, postponed the offering after reducing its size by roughly 40 percent, according to Bloomberg Businessweek.
Antibiotic developer Trius Therapeutics (Nasdaq: TSRX) slashed its expected price on shares on Monday, after the company struggled to go public last week. With little interest in the offering, the company cut down its size to 6 million shares from 10 million shares. The company also reduced the price to $5, after it originally hoped to raise $12 to $14 a share. Using the middle of this range, Trius's proceeds from the IPO will decrease 36 percent.
There are six other companies expected to go public this week including pharmaceutical company NuPathe (PATH) and Ambow Education Holding (AMBO) - a company that provides education and test preparation services in China. D. Medical (DMED), which develops and manufactures insulin pumps, is the smallest of the offerings with expected proceeds around $30 million.
Gordman Stores (Nasdaq: GMAN) is a low-price fashion retailer that has 68 stores in the Midwest. The company expects to raise $75 million in the offering, selling 5.4 million shares at a price range of $13 to $15 a share.
IntraLinks Holdings (NYSE:IL) specializes in online document management security and has over 4,300 customers. The company expects to raise $165 million by offering 11 million shares to the public at a price range of $14 to $16 per share.
Diversified global semiconductor NXP Semiconductors (NASDAQ:NXPI) is expected to be the biggest offering this week, with the company offering 34 million shares at $18 to $21 per share.
Many of these companies are testing the IPO market as it continues to improve since last year. By the end of the first two quarters this year, there were 37 effective IPOs, up significantly from last year's 10.
Jackie Kelley of professional services firm Ernst & Young says, "Small Companies found in all industries are gaining confidence that they can succeed in the capital markets and are ready to deliver on their promises".
But just because more companies are going public does not mean they're all good investments. Be sure to look into these IPOs closely, examine the prospectus, and decide if they're right for you.
I'll continue to update you to current developments in the IPO market in next week's IPO Update.