A company's mission statement that reads "to continually provide our members with quality goods and services at the lowest possible prices," clearly has the right methodology in the discount retail business and belongs to no other than Costco Wholesale Corporation (NASDAQ:COST). With strong membership renewal rates at 87%, Costco had 527, 512, and 488 warehouses in 2009, 2008, and 2007, respectively. Plus, not included in that total is Costco Mexico, 50%-owned joint venture, which operated 32 warehouses in 2009 and accounted for under the equity method in their consolidated financials.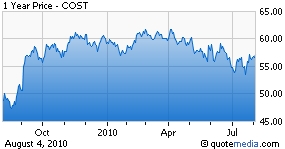 In regards to inventory and operations management, Costco has only 3,800 active stock keeping units (SKUs) per warehouse in the core part of the business as opposed to 50,000 to 150,000 SKUs at most discount retailers. Many of these consumable products are sold in case, carton, or multi-pack quantities only, and in doing so, more inventory can be moved faster and managed more efficiently. In addition, by controlling the entrances and exits of their warehouses, Costco limited inventory losses (shrinkage) to less than 0.02% of net sales for the last several fiscal years, which seems to be well below industry standards.
Furthermore, all Costco executive officers have 25 years or more of service with the company, except two who have 24 years of service. James Sinegal and Jeffrey Brotman, co-founders of Costco and company directors, actively stand for core business principles,
As Costco's founders, we have always maintained that we are in business for the long haul, and we believe that our strong emphasis on fiscal responsibility, coupled with operating efficiencies and creative merchandising, are the fundamentals of Costco's success.
To top it all off, Costco is conservatively financed with little long-term debt and plenty of room to grow in this industry. With warehouses from Mexico to the United Kingdom, there is little doubt that Costco will be ready to expand (although Costco has never expanded too aggressively) once the economy improves. Costco is a buy for all long-term investors.
Disclosure: The author has no positions in COST at the time of writing.