Commodities have been a hot topic for financial bloggers this year. All Star Charts goes as far as to proclaim this year, as the year of the commodities. It's not that hard to come to such a conclusion after looking at his chart explaining that it's the grains, meats, and softs markets showing major signs of life, compared to the usually sought after metals.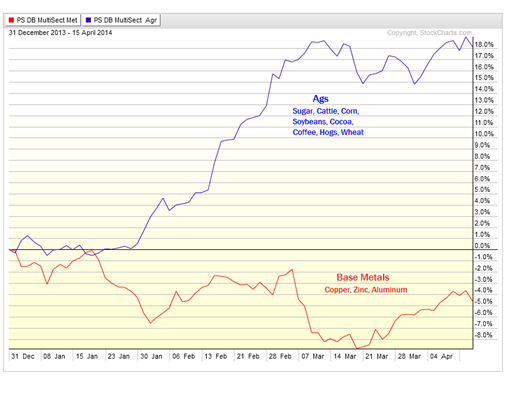 (Disclaimer: Past performance is not necessarily indicative of future results)
Chart courtesy: All Star Charts
18% in a couple months might just convince any performance chaser to reallocate funds that way, and according to M6 Capital in their recent newsletter, that's just what many investors did, with a heavy inflow into the Ag Markets. But will performance chasers be rewarded? M6 says people seeking to make money when commodity prices are rising might want to think again, suggesting that some of the "food" Commodities are overweighted due to the massive inflow of funds in the Ag markets this year.
We have seen one of the largest periods of investment capital inflows ever into Ag commodities recently (see Figure 1 below). These inflows have been fueling dramatic price rallies.

A sizable portion of this speculative buying was reallocation of capital away from equities into "food" commodities. It is interesting to note that stocks of many "food" companies are currently at or near highs (Tyson (NYSE:TSN), Pilgrim's Pride (NYSE:PPC), ADM, Bunge (NYSE:BG)), thus providing impetus for the idea of putting investment capital into "food" commodities. The resulting impact of this inflow of investment capital has caused prices to go much higher than fundamentals would indicate. M6 believes that current price levels are not sustainable unless we have surprisingly large and unexpected supply disruptions.

(Disclaimer: Past performance is not necessarily indicative of future results)
Digging into the details, M6 provides two ways in which there are large price distortions in first, soybeans, and then, with the live cattle market.
(Disclaimer: Past performance is not necessarily indicative of future results)

As you can easily see in the chart above, when USDA issues their next grain supply/demand balance tables in early May, they are expected to show 2014/15 soybean (commodity code SX) ending stocks at 360 million bushels. A similar forecast in recent years resulted in a November soybeans trading range $8 to $9. Soybeans are currently trading $12.35, several dollars higher than implied by the chart above. This high price seems even more out of line as highlighted by the fact that September 2014 stocks of soybeans in South American are expected to be huge this year, reaching a new all-time record. According to the CFTC, the speculative long position is 150,000 contracts, not record large, but historically a very large.
Over in the meat markets, Lean Hogs have dominated the conversation, but M6 Capital says it's the Live Cattle market which has a large price distortion. M6 Capital says typically, placement of cattle drives futures prices down, and it's quite the opposite this time around, with prices reaching back to their all time highs.
(Disclaimer: Past performance is not necessarily indicative of future results)

Cattle slaughtered in June each year are typically placed (placement) into feed yards in the previous January and February (slaughtered 4-5 months after entering the feed yard). January and February 2014 placements were very large thus implying a very large supply of slaughter-ready cattle in June. The chart above shows a very large year-over-year increase in placements. Large year-over-year placements would typically result in a year-over-year decline in price. This is not the case this year. Currently, the June live cattle contract is trading at $136.50/cwt, $16 above the average price during May-June period last year. This begs the question….WHY? In fact, we have seen cash cattle and beef prices firm over the last 2 months. However, here we sit with both elevated prices with a record speculative long position (135,000 contracts).
No doubt the leader board of the futures markets has been Ag commodities. Interestingly enough, Thursday was one of the biggest down days in grains across the board that we have seen in some time. A sign, perhaps, that ag prices are indeed ready to revert to the mean as M6 speculates. Cattle prices continue to climb with June Live Cattle futures settling on a new contract high. If nothing else it sure seems like it will be more expensive to throw a couple of steaks on the grill this summer.


(Disclaimer: Past performance is not necessarily indicative of future results)
Courtesy: Finviz
P.S — If you would like a copy of the entire M6 newsletter, please email us at invest@attaincapital.com and we would be happy to forward it to you.