Some market reactions are difficult to comprehend. Realty Income (NYSE:O), the Monthly Dividend Company, presented very solid first quarter results yesterday -- and the stock hardly reacted. Somehow, it seems that the market is never satisfied with the accomplishments a company presents.
Realty Income had a great first quarter. The Real Estate Investment Trust reported:
Revenues rose from $175.5 million in the first quarter of 2013 to $221.6 million in the most recent quarter -- an increase of 26.3% y-o-y.
Net income available to common stockholders of $47.2 million ($0.23 per share) compared to net income of $62.7 million ($0.36 per share) in the year ago quarter.
Funds from operations (FFO), a key metric of success for Real Estate Investment Trusts, came in at $134.5 million ($0.65 per share) vs. $103.7 million ($0.60 per share) in the first quarter of 2013 -- an increase of 29.7% (8.3%).
Adjusted funds from operations (AFFO) were reported at $132.7 million ($0.64 per share) in the most recent quarter compared against $104.0 million ($0.60 per share) in the year ago quarter -- an increase of 27.6% (6.7%).
Other noteworthy operational accomplishments in the first quarter include:
Same store rents were up 1.5% to $131.4 million.
Already industry-leading occupancy rates increased further: At the end of the first quarter Realty Income reported a portfolio occupancy of 98.3% -- up from 97.7%.
Realty Income's first quarter results were once more the result of its acquisition-centered growth strategy. The REIT also invested another $656.7 million in 337 new properties in the first quarter and issued 13.8 million common shares in an equity offering in April to pay down its acquisitions credit facility. Increases in Realty Income's share count are also the reason why y-o-y growth rates on a per share basis appear comparatively low.
Realty Income's Chief Executive Officer, John P. Case, commented on first quarter results:
"Acquisitions again contributed to these positive first quarter results. We completed $656.7 million in acquisitions this quarter, making it our second most acquisitive quarter in our company's history. These acquisitions include $274.3 million of the previously announced $503 million transaction with Inland Diversified Real Estate Trust, Inc. We expect the majority of the remaining properties to close during the second quarter of 2014. The properties acquired during the quarter are leased to 22 different tenants in 15 industries, and located across 35 states. Retail properties comprised the majority of acquisitions accounting for 88%, while industrial and distribution accounted for 8%. Approximately 84% of the revenue generated by these acquisitions is from investment grade-rated tenants. We are pleased to have continued to add to the portfolio's credit quality and diversification through these acquisitions, while achieving a weighted average lease term of 14.2 years and an initial average lease yield of 7.0%."
I cannot help but like Realty Income: Its management is competent and aggressively growing its real estate portfolio. I have previously argued that Realty Income has a very convincing portfolio growth record underpinning distribution growth and it is good to see that management continues to execute its growth strategy. Realty Income also presented another quarter of high occupancy rates which indicates that properties are efficiently managed. Positive y-o-y same store rent growth is another big positive for shareholders considering that the retail market is everything but easy.
Having said that, I agree with SA contributor Charles Lewis Sizemore's assessment about Realty Income:
There is nothing to dislike about Realty Income as a retirement REIT. At current prices, it yields an attractive 5.2%. And its track record has proven it to be a reliable payer with a long history of keeping pace with inflation. The fact that the REIT pays its dividend monthly rather than quarterly is a nice bonus as well, as most of our living expenses in retirement will come on a monthly schedule.
Technical picture
Real Estate Investment Trusts experienced a sharp sell-off in May 2013 after investors started to bid up prices of high-yield equity investments. Since the bursting of the mini-bubble in the REIT space, the stock price of Realty Income has done little for shareholders: The stock remains in the low $40s. However, investment gains will likely come from dividends and, more importantly, from compounding effects if investors opt for immediate dividend reinvestment.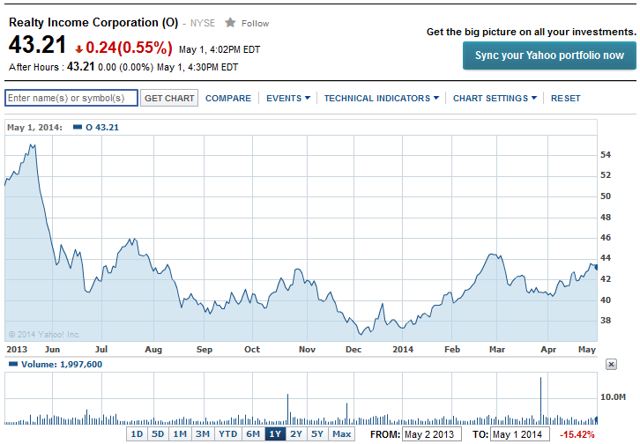 (Source: Yahoo Finance)
Conclusion
Some time ago I have wrote an article about the importance of the cash flow yield as part of total return. I was making a point that, despite Wall Street's pervasive attempts to coerce investors into trading, investors who sit back and hold on to high-yield equity investments like Realty Income have a good shot at achieving superior portfolio returns. Trading sounds exciting (and maybe is), holding on to dividend champions is considered boring. However, the opposite is true: While I love the current 5% yield and regular income I receive from Realty Income, I love even more that I have 'locked in' a 5.5% yield and that I am looking at growing yields in the coming years.
I would also advocate for investors to reinvest Realty Income's monthly dividends and benefit from the power of compounding. Realty Income is one of the best compounding machines in the REIT sector in my opinion. While the market may be disappointed or indifferent to Realty Income's solid earnings results, I believe the Monthly Dividend Company is one of the highest-quality income vehicles in the entire REIT space. Long-term BUY. Strong long-term BUY below $40.
Disclosure: I am long O. I wrote this article myself, and it expresses my own opinions. I am not receiving compensation for it (other than from Seeking Alpha). I have no business relationship with any company whose stock is mentioned in this article.