On May 1, 2014, CVR Refining, LP (NYSE:CVRR) announced first quarter 2014 net income of $265.4 million on net sales of $2,375.3 million, compared to net income of $275.4 million on net sales of $2,274.0 million for the 2013 first quarter. Adjusted EBITDA, a non-GAAP financial measure, for 1Q, 2014 was $194.1 million compared to adjusted EBITDA of $309.9 million for 1Q, 2013.
In a previous article I penned on CVRR, written on February 23, 2014, and titled, "CVRR Pays Solid Distributions to Unit Holders", I pointed out that CVRR's previous 2 quarters were less profitable due to an accident last fall. On August 26, 2013, the company announced damage to the Fluid Catalytic Cracking Unit (FCCU) at the Coffeyville Refinery. Production continued in other parts of the refinery, but that part of the refinery was under repair until September 11, 2013. The 3Q, 2013 financial state was hit extremely hard with a reduction of production and overall loss of income. 4Q, 2013 demonstrated a recovery and covered most of the costs on the repairs. By the company's projections of the amount of increased throughput, the distribution for 1Q, 2014 should increase. At that time I projected a total distribution close to $4.00 per unit, annualized.
Below is a processing display on the company's website that displays the Fluid Catalytic Cracking Unit in the Refining Process.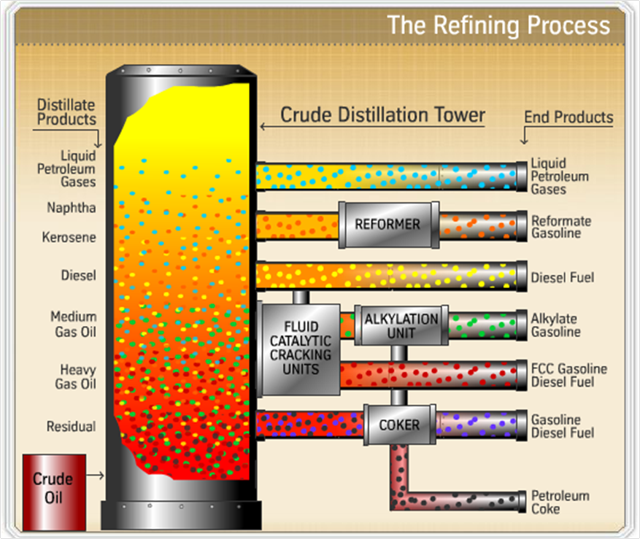 Production was up at the Coffeyville and Wynnewood refineries, as they posted record quarterly combined crude throughput of 201,902 barrels per day (bpd). Refineries basically pay the market cost of crude, add their charges and sell on the market for the best price they can receive. The increase we consumers have felt at the pump is not a direct increase from the refineries charging more. The market opportunity that CVRR enjoys is that most large refineries are on the gulf coast, and there are less shipping charges to send crude to the coast and then back to the Midwest.
The company anticipates total crude throughput of 190,000 to 205,000 bpd for 2Q, 2014. This goal should keep income and profits in line with 1Q, and return a similar distribution looking forward for all of 2014.
Recommendation for 2014
Due to the unit price increase that occurred on May 1, with the company's announcement, I recommend you hold and don't buy at this time. The unit price jumped $2.03 from $23.93 to $25.96 on May 1, 2014 and may climb into the $26-27 range over the next 10 days. This is over the $0.98 distribution the company will pay on May 19, 2014 to unit holders on May 12. My recommendation is you wait until after the ex-dividend date passes, usually 30 days past as the price retreats and you can buy at a better price than now, and focus on getting the next dividend 90 days from now. If you buy in now and the unit price drops more than the $0.98, you will have lost value in your purchase.
Listen to the Call
CVR Refining hosted its first quarter 2014 Earnings Conference Call for analysts and investors on Thursday, May 1, at 12 p.m. Eastern. The Webcast will be archived and available for 14 days here. A repeat of the conference call can be accessed by dialing (877) 660-6853, conference ID 13580571.
Disclosure: I am long CVRR. I wrote this article myself, and it expresses my own opinions. I am not receiving compensation for it (other than from Seeking Alpha). I have no business relationship with any company whose stock is mentioned in this article.
Additional disclosure: I hold CVRR and plan to purchase more after the price drops after the ex-dividend date.