By Stuart McPhee
GBP/USD for Friday, May 2, 2014
Over the last couple of weeks the GBP/USD has been placing significant pressure on the resistance level around 1.6850 only to be rejected again and again. However in the last couple of days it has been able to break through this key level and in doing so move to a new four-year high just above 1.6920 recently. The last month has seen a steady climb higher from a one-month low below 1.65. About a month ago the resistance level at 1.6750 became important as the pound was struggling to make any break above it. This level eventually led the pound to fall to its one-month low before the recent resurgence. The 1.6650 level also became important as it provided reasonable support during that period. Throughout the last couple of months the GBP/USD has received solid support from the key 1.66 level after it retraced strongly from the resistance level at 1.68.
In early February, the pound enjoyed a very healthy time moving well from the support level at 1.6250 through 1.6450 before pushing on to the then multi-year high above 1.680. In late January the pound fell sharply and experienced its worst one-week fall this year which resulted in it moving to the six-week low near the support level at 1.6250. Over the last few months the pound has established and traded within a trading range roughly around the key level of 1.6450, whilst moving down to support at 1.6250 and up to 1.66 and beyond.
The 1.66 level has become quite significant and has loomed large throughout this year providing some resistance to higher prices. This level has resurfaced again as one of significance and it is now providing solid support. In late November it did well to break through the long-term resistance level at 1.6250 which had established itself as a level of significance over the last few months. This level continues to play a role in providing support. In early November, the pound bounced strongly off the support level at 1.59 to return back to above 1.6250.
The pound has hit a near five-year high against the dollar after a survey suggested that UK manufacturing grew faster than expected in April. Sterling hit $1.6921, before falling back to $1.6906, and against the euro it rose 0.1% to 1.2184 euros. The gains came after the Markit/CIPS Manufacturing Purchasing Managers' Index (PMI) ticked up to 57.3 from a revised 55.8 in March. A figure above 50 indicates expansion, and economists had expected 55.4. The PMI figure, the highest for five months, maintained the sector's "robust start to the year", CIPS said. "Growth improved across the consumer, intermediate and investment goods sectors, as companies responded to rising new order inflows, new product launches and efforts to clear backlogs of work," it added. Rob Dobson, senior economist at Markit, said the survey suggested that manufacturers were creating jobs at a pace of about 10,000 a month at present, with employment in the sector expanding for the 12th month in a row.
(Daily chart / 4-hourly chart below)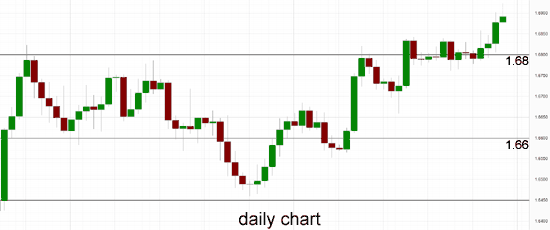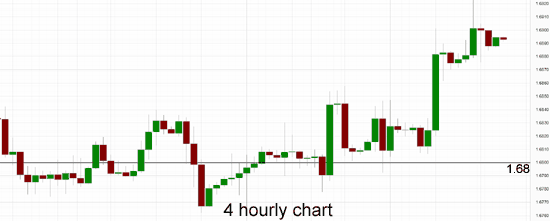 GBP/USD May 2 at 01:05 GMT 1.6892 H: 1.6923 L: 1.6875
GBP/USD Technical
| | | | | | |
| --- | --- | --- | --- | --- | --- |
| S3 | S2 | S1 | R1 | R2 | R3 |
| 1.6600 | 1.6300 | 1.6250 | 1.6900 | - | - |
During the early hours of the Asian trading session on Friday, the GBP/USD is trading in a small range right around 1.6890 after moving to a 4-year high above 1.69. Current range: Trading just below 1.6900 around 1.6890.
Further levels in both directions:
• Below: 1.6600, 1.6300, and 1.6250
• Above: 1.6900.
OANDA's Open Position Ratios
(Shows the ratio of long vs. short positions held for the GBP/USD among all OANDA clients. The left percentage (blue) shows long positions; the right percentage (orange) shows short positions.)
The GBP/USD long positions ratio has moved back below 30% again as the GBP/USD has surged higher to a 4-year high above 1.69. Trader sentiment remains in favour of short positions.
Economic Releases
23:30 (Thu) JP Unemployment (Mar)
01:30 AU Building approvals (Mar)
01:30 AU PPI (Q1)
08:00 EU Manufacturing PMI (Apr)
08:30 UK CIPS/Markit Construction PMI (Apr)
09:00 EU Unemployment (Mar)
12:30 US Non-farm Payrolls (Apr)
12:30 US Private Payrolls (Apr)
12:30 US Unemployment (Apr)
14:00 US Factory Orders (Mar)
*All release times are GMT