"The combination of Time Warner Cable and Comcast creates an exciting opportunity for our company, for our customers, and for our shareholders," said Brian L. Roberts, Chairman and Chief Executive Officer, Comcast Corporation.
Is it really?
It is expected to create a massive subscriber base of 30 million for Comcast (NASDAQ: CMCSA) (NASDAQ: CMCSK), with instant sales proceeds of $7.3 billion from the divestment of 1.4 million subscribers to Charter Communications (NASDAQ: CHTR).
The two-third share from the new company to be formed with Charter should be ignored since it is just a part of the total acquisition, and not to be treated as EXTRA.
Now although the merger does place Comcast as the leader in the cable communication world, the question is if it is worth it or not, speaking from a business and finance standpoint.
Not focusing on the voice and video business
Cable TV is fast becoming a thing of the past. All the major TV providers lost a collective 113,000 subscribers in Q3FY13, with Time Warner Cable losing a whopping 306,000 TV subscribers. Tom Rutledge, CEO of Charter Communications, was "surprised" that 1.3 million of his 5.5 million customers opted out of the TV option!
In fact, the video and voice businesses have shown the slowest growth for Comcast, while Time Warner Cable's video and voice business shrank in 2013. It can be safely concluded that, with the massive $45.2 billion deal, Comcast was not looking to improve its cable TV business. So, what is it looking for?
Net broadband subscribers additions slowing down
Time Warner Cable is apparently a leader in the deployment of community Wi-Fi, with over 30,000 hotspots, primarily in Los Angeles and New York City. The only effective step towards the trend of online video streaming is a far stronger presence as a major internet service provider. With the merger, Comcast mainly aims to magnify its market position in the internet world. In fact, as reported on Wednesday, the company intends to put up 8 million Wi-Fi hotspots in the United States by the end of 2014.
But strangely, the net additions of broadband subscribers have slowed down for Comcast for the last two years. To add to that, it has been worse for Time Warner Cable. Are US internet subscribers gradually moving on to better options? Check the image below.

If you notice carefully, there are several better options available for US internet consumers these days, when we think about the internet speeds offered.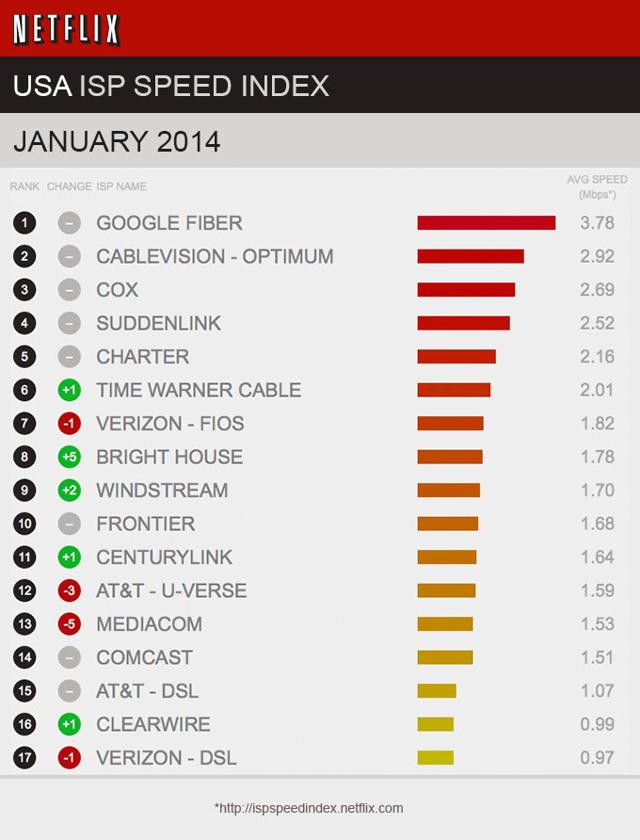 On top of that, fiber optic internet connections are progressively gaining market share in the United States. Google (NASDAQ: GOOG, GOOGL) fiber is gaining ground since the launch of Google fiber in Kansas City in March 2011. With the recent additions of Austin, Texas and Provo, Utah, it has already listed 34 cities as candidates for future expansion.
There are other companies such as US Internet and Cable One that are slowly climbing up the ladder. With almost 200 times faster internet connections along with almost a third of the price rates charged by the regular cable companies, fiber optic internet service providers might take away a lion's share of the US internet market in due time.
Will the Wi-Fi hotspot maneuver really do the trick for Comcast?
High debt, not enough cash in hand
Time Warner Cable comes with $23.3 billion in long-term debt and only $525 million in cash, as reported in end of FY2013. In addition to that, Comcast only has $1.7 billion cash in hand, as reported in FY2013. In fact, the book value per share of Time Warner Cable has been pretty stagnant, with debt-to-EBITDA ratio consistently worsening since the last couple of years and was estimated to increase even further with time.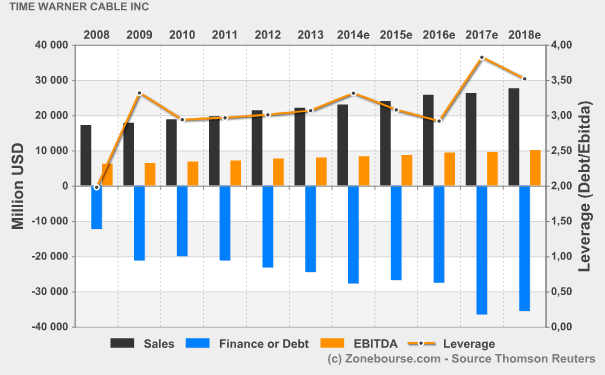 It can be concluded that Time Warner Cable was certainly not in its peak condition. Was buying Time Warner Cable really a good decision? I am doubtful. Comcast would have got a better price if it would have waited a bit more.
Further mergers in line
If this deal goes through, we can expect a few more acquisitions to go through as well. Google is already in talks with Dish Network (NASDAQ: DISH) on a new wireless service. AT&T (NYSE: T) is focusing on an almost $40 billion worth acquisition deal with DirecTV (NASDAQ: DTV). Verizon Communications (NYSE: VZ) is also not far behind with its acquisition of Cincinnati Bell for $210 million on 7th April this year. In short, if we think Comcast has scored a home run with Time Warner Cable under its belt, many more are going to follow.
Alpha Conclusion
Considering the weak financial health of Time Warner Cable, the high price paid by Comcast and the stiff business competition likely to be experienced in the coming couple of years, I am somewhat neutral about the Comcast-Time Warner Cable deal.
Disclosure: I have no positions in any stocks mentioned, and no plans to initiate any positions within the next 72 hours. I wrote this article myself, and it expresses my own opinions. I am not receiving compensation for it (other than from Seeking Alpha). I have no business relationship with any company whose stock is mentioned in this article.
Additional disclosure: This article includes my independent opinion and the information herein is at one's own risk. Please consult your personal financial adviser before you make any investing decision.