(Editor's note: Investors should be aware of the risks in transacting in securities with limited liquidity, such as FOLGF. Falcon's Canadian and London listings, FO.V and FOG.L respectively, offer better liquidity.)
The market nearly gave up on Falcon. On July 1st, 2013 Falcon Oil and Gas Limited (OTCPK:FOLGF, FO.V, FOG.L) rejected a late request by Hess Corporation (NYSE:HES) for more time to Farm into their massive Beetaloo basin, Australia after they spent a cool US$80 million shooting seismic over the licences. Those "of little faith" began to doubt the management and whether they could go and get their own Farm in. Like the final scene in the World War II film "Ice Cold in Alex" Falcon's thirst for a better farm out deal was quenched with dramatic effect today. Very much "worth waiting for," Falcon's farm out announcement was almost a phoenix-from-the-flames type moment for stockholders as Origin Energy Limited (OTCPK:OGFGF, ORG.AU) and Sasol Limited (NYSE:SSL), two multi-billion dollar integrated oil companies agreed to carry Falcon for up to a staggering NINE wells and pay Falcon A$20 million (US$18.6 million) in cash in return for 35% each of licences EP-76, EP-98 and EP-117. For Philip O'Quigley, CEO and John Craven, Chairman, the farm in deal represents 100% vindication for their confidence in the acreage. My first article on Falcon (co-written with Dennis Beaudet - read here) gave an overview of the company from its Beetaloo acreage in Australia to the Karoo in South Africa and the Makó Trough in Hungary. In this article we will discuss today's farm out, the partners involved and the clear path to pre-development mapped out by the well programme therein.
A$200 million Farm Out with TWO massive partners
Australia's Origin Energy Limited and South Africa's Sasol will carry Falcon in a nine well programme structured to take the Beetaloo project towards commerciality. The farm in partners have the right to walk away under certain conditions, after each phase shown by the red broken line. What excites me about the deal is the fact that Falcon have chosen TWO massive partners in Origin and Sasol and the programme of wells is technically designed to test the two big known shales (the Velkerri and the Kyalla) for their ability to flow gas or liquids.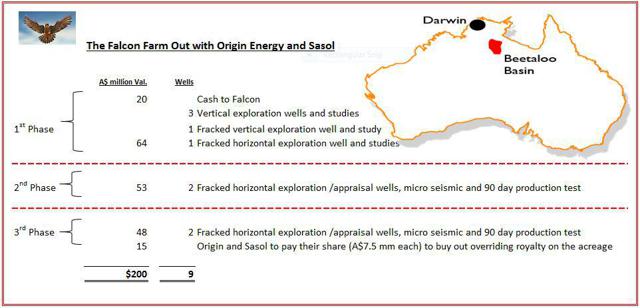 The first three vertical wells will aim to target the sweet spot of the Beetaloo Basin and find the thickest section of the shales. They will then drill a fourth vertical well which will be fracked. They will follow that up with a fifth well which will be the first fracked horizontal well. If this goes as hoped, the partners will embark on four more horizontal, fracked and 90 day flow-tested wells. By this stage the partners will have a pretty good view on the acreage and its potential for a major commercial development. The deal leaves Falcon with 30% which, if the exploration wells and flow test wells work out, is still a huge stake in a field aiming for commercial production. As Falcon is primarily explorer, they will probably look to cash out before or around the time of Final Investment Decision (FID) and let the big boys continue on with development and production. And when I say BIG….. Check out the stats on Sasol and Origin below:
Sasol Limited

Market capitalization: US$ 35 billion (ZAR 381 billion)
Exploration / Development: Sasol has mastered the Gas-to-Liquids (GTL) market, with integrated GTL facilities and projects in South Africa, Louisiana, Nigeria, Qatar, Uzbekistan, and British Columbia. The Group consists of an international energy cluster, a South African energy cluster, a chemical cluster and another business cluster which contains new tech developments and renewable energy segments.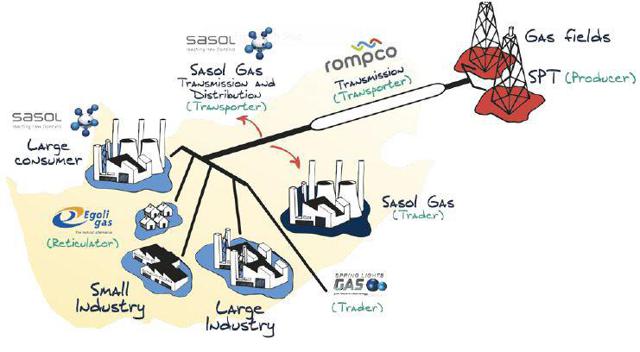 Source: Sasol Limited company presentation
Sasol is right for the Beetaloo project because they can build pipelines and LNG plants and have the expertise to take the project right through development should the shales produce enough gas or liquids.
Origin Energy Limited

Market capitalization: US$ 14.5 billion (A$ 16 billion)
Exploration / Development: Bowen, Surat, Cooper, Eromanga basins in Central Australia, the Otway and Bass basins in Southern Australia, as well as interests in the Perth Basin in Western Australia and the Bonaparte Basin (Offshore Darwin) in the Northern Territory. Other exploration assets include New Zealand, Lao PDR, Thailand, Kenya and Vietnam. 6010 MW power generation and Queensland Coal Seam Gas APLNG plant coming on-stream in 2015
Fully Integrated: 4.5 million electricity customers and A$ 2.9 billion in E&P assets
The APLNG- An Australian example of what Origin can bring to Beetaloo
The Australia Pacific Liquefied Natural Gas (APLNG) project is a Queensland based Coal Seam Gas (CSG) to Liquefied Natural Gas (LNG) project involving Origin, ConocoPhillips and China's Sinopec. The project area extends over an area of over 3.1 million acres and peak production is expected to reach 1.7 billion cubic feet (BCF) per day. Origin is operator of the project and have drilled more than 300 exploration / development wells to mature 2P reserves of approximately 14 trillion cubic feet (NYSE:TCF).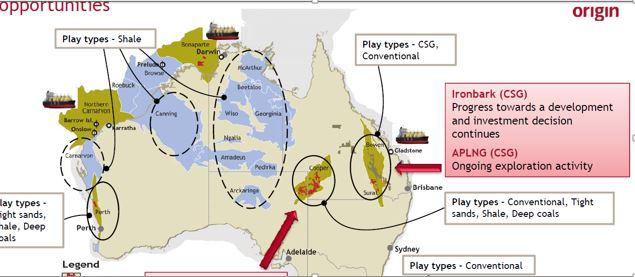 Source: Origin Energy company presentation
Darwin - a world class LNG hub
Origin will operate the new Beetaloo partnership. The Beetaloo basin lies 600kms south of Darwin and has two Darwin-bound pipelines running through it as shown below. The Darwin LNG plant is operated by ConocoPhillips, who is a partner of Origin Energy on the APLNG project.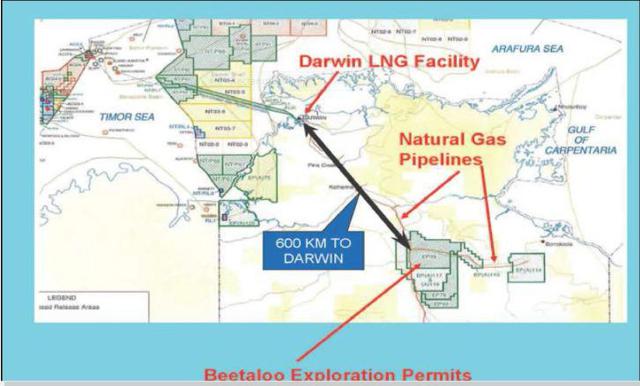 Source: RPS Report of Falcon January 2013
A little geology - The Beetaloo shales
Although there have been fourteen previous wells in the Beetaloo basin with depths ranging from 777 metres (Balmain-1) to as deep as 2,714 metres (Shenandoah-1 July 2007), the Shenandoah 1A well (September 2011) was the only attempt to flow-test the basin. Falcon's RPS report 2013 (available on SEDAR, page 57) provides some useful information on the Shanandoah-1A test.

Source: Silverman 2005
High rates of production were not expected because the objective was a Diagnostic Fracture Injection Test (DFIT). The DFIT provided much needed hydraulic fracturing design parameters that will be helpful in optimizing future hydraulic frac designs…..testing equipment was not properly suited for unconventional well testing and could not properly handle the high water rates with the low gas rates…..Condensate with API 43 degrees was collected (from the Middle Velkerri)…After posting a post-frac DFIT the well flowed unassisted with measureable rates of 60Mscfd (60,000 standard cubic feet per day)

Source: RPS Report January 2013
The Japanese company INPEX are developing the "Ichthys" project under construction, will involve an 889 kilometre pipeline from the Browse basin to a new LNG plant in Darwin. The point is that Darwin is rapidly becoming a world-class LNG hub and with Origin Energy at the helm and Sasol lending an experienced eye to proceedings, Falcon is standing on the shoulders of giants and they may become a giant one day themselves.
What could Falcon's Beetaloo be worth?
All they have to do is frack the Kyalla and the Velkerri shales and hope for good results right? The below graphic shows the current farm in value per acre and the potential value per acre on a success case, using previous comparable pre-development transactions as a guide.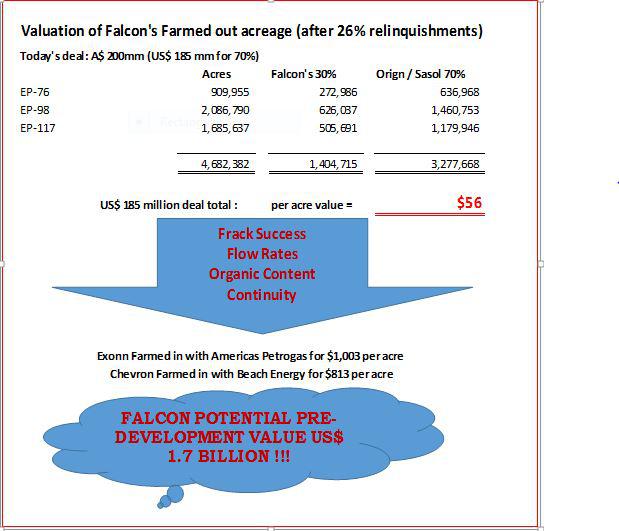 Risks to the Beetaloo play: (source - RPS Report page 71)
Although the Velkerri and Kyalla shales are known to be in the basin, the risk that they are thick enough and have sufficient areal extent is the primary obstacle to commerciality.
Basin Risk: Basin risk is the risk that the necessary sedimentary deposition has occurred under stable conditions over time, thus creating the target shale rock.
Burial risk: Burial risk is the risk that Beetaloo shales have been buried under sediments over time, deep enough to create the right pressure environments to result in oil/gas generation within the Beetaloo shales and that the right burial conditions continue across a big enough expanse of the basin.
Organic content: Organic content risk is the risk that the partners will not find shales of the required richness in organics or that continuity of a rich organic section will be big enough.
Summary
As I write this article, Falcon is up 25% in London (FOG.L) but in my opinion today's deal could immediately value Falcon's risked NPV at US$350 million (taking 25% chance of success on the first five wells) and an un-risked NPV of $1.4 billion at $1,000 per acre. If the next four 90-day-production-tests went well, the value approaches $4,000 per acre in a development scenario. I expect the Canadian and US markets to receive the news better. The multiples are mouth-watering. The programme of wells announced in today's farm out is specifically designed by world class farminee partners Origin Energy Limited and Sasol Limited, to get the very best from the Beetaloo by targeting the deepest part of the basin, finding the thickest part of the Velkerri and Kyalla shales, drilling the vertical wells to find the sweet spot and then the five horizontal fracks which will be 90-day production tested and you can bet Origin Energy will be doing it right, with Sasol looking over their shoulder adding their expertize at every turn. The evidence garnished from the basin so far is tantalizing and is what probably brought Origin and Sasol in - good TOC (organic content) values, apparent continuity of thick sections of Velkerri and Kyalla shale and some gas flow rates from the 2011 Shenandoah 1A well which did not even have the right equipment to cope with the high water flows in a fracked well. If this is not classed as a transformation deal, then I don't know what is. A nine well carry and A$20 million in cash, the deal total approaches A$200 (US$185 million), not bad for a company with a market cap at Thursday's close of business of US$138 million (CAD$147 million). More importantly the potential path to commerciality is mapped out in the farm out programme of wells and production tests - and they've got the right partners with deep pockets and great experience. Last Friday April 25th, Falcon's share price dropped 17% from US$0.17 to US$0.14 (CAD$0.18 to CAD$0.145) on volume of 10 million. The company released a statement on Monday saying they were unaware of any matter that would cause the drop. It could have been someone who just gave up waiting. For me this one was "worth waiting for."
Disclosure: I am long FOLGF. I wrote this article myself, and it expresses my own opinions. I am not receiving compensation for it (other than from Seeking Alpha). I have no business relationship with any company whose stock is mentioned in this article.
Editor's Note: This article covers one or more stocks trading at less than $1 per share and/or with less than a $100 million market cap. Please be aware of the risks associated with these stocks.