Company Info
Founded in Ennis, Texas in 1909, Ennis Inc. (NYSE:EBF) primarily manufactures business forms and a line of activewear. Ennis Inc. began as a single print shop, but the company is now one of the largest private label printed business product suppliers in the United States. Ennis has over 50 production and distribution facilities located throughout North America. The company employs almost 6,000 people and has over 40,000 distributors. Ennis divides their operations into two segments: Printing and Apparel. These segments are fairly self explanatory. The print segment sells custom and semi custom business forms through a network of independent distributors. The apparel segment sells t-shirts, tank tops, and fleece goods under the name Alstyle Apparel. Almost all apparel revenue comes from the sale of t-shirts. Ennis's most recent earnings announcement has revealed significant improvements in apparel sales, which had been lagging behind print for some time. While the market for printed goods may be shrinking, Ennis has been attempting to grow their share through acquisitions. The success of these acquisitions, coupled with strong performance from the apparel segment, will drive Ennis's future success.
Financial Information
Ennis appears to be a poor investment at first glance, but a deeper look reveals that this may not be the case. In the fiscal year ending February 28th, 2014, Ennis reported net income of $13.2 Million. As seen below, this was a sharp decline from the previous year's $24.7 Million in net income. However, during the most recent fiscal year, the company recognized a goodwill and trademark impairment charge of $24.2 Million in their apparel division. Without this non-cash charge, EPS would have increased 42.1%. In the most recent fiscal year, Ennis's sales grew modestly from $533.5 Million to $542.4 Million. The percentage increase in sales was similar for both divisions. In a promising piece of information, the company's consolidated margin rose from 23.3% to 26.5%. Print margin increased slightly, but the apparel division dramatically grew their margin from 13.2% to 21.1%. Investors should also note that Ennis saw its Operating Cash Flow decline significantly in the most recent year. Their most recent earnings announcement contained only a consolidated statement of cash flows, but it is likely that a good portion of this decrease can be attributed to a build-up of inventory. Ennis's most recent earnings announcement was far better than a cursory glance at the numbers would indicate.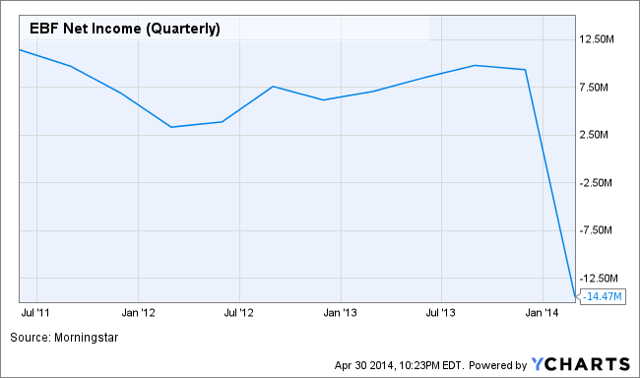 Once adjustments are made for the impairment charge, the company appears to be a much more attractive investment. Based on reported income and at current prices, Ennis trades at a P/E of just over 29. However, excluding the impairment, their PE based on the past twelve month's earnings is a mere 11.10. The company currently pays a 4.7% dividend. This dividend has been well covered by free cash flow in the past. Analysts estimate that Ennis will grow their earnings at 14.00% for the next five years. When combining the non-GAAP EPS, growth rate, and dividend Ennis has a dividend adjusted PE, also known as a PEGY, of 0.59. The PEGY is calculated by dividing the PE by the sum of the growth rate and dividend rate. When using the PEGY, typically any number under 1.00 indicates that the stock is undervalued. At 0.59, Ennis has a large margin for error with earnings growth estimates. This margin of safety is especially important when dealing with smaller companies that are not as widely covered. Once the impairment charge is excluded, Ennis seems attractive when using popular earnings ratios.
Ennis's balance sheet looks strong, though the recent impairment charge raises some doubts. To start, Ennis has net working capital of $172.27 Million and a current ratio of 5.11. When removing inventory from current assets,their quick ratio is 2.01. Finally their debt to equity stands at 0.48. While not ideal, this is hardly excessive. Ennis has and continues to have a sizable portion of Goodwill relative to its total assets. In Ennis's last full filling, Goodwill was valued at $145.67 Million and the company had $557.59 Million in total assets. Their recent impairment charge should cause investors to question the true value of their goodwill. Since 2005 there has been only one other instance of an impairment charge, but investors should become concerned should other impairments occur in the future. Ennis's inventory levels also stand out when looking at the balance sheet. As mentioned earlier, Ennis's inventory has built up considerably. While they by no means have an abnormal amount of inventory, should inventory continue to increase significantly, it may be indicative of sales problems. Finally, investors should keep an eye on Ennis's debt. As of February 28th, 2014, Ennis carries around $105 Million in long term debt. Their debt is in the form of a line of credit from a group of lenders led by Bank of America. Their line of credit provides them with up to $150 Million, and that number may be increased to $200 Million in certain circumstances. For what its worth, this seems to indicate that their lenders believe that they can handle borrowing more money. Ennis's balance sheet reveals that the company is in good financial health.
Catalysts
-Improvements in Apparel
The past year has seen an improvement in Ennis's apparel segment. From 2011 to 2013 the percentage of sales coming from the apparel segment declined from 50% to 37%. After these continuous declines, apparel held steady at 37% of sales in 2014. More importantly, the apparel division has seen its margins expand in 2014. This can largely be explained by decreased input costs and increased production levels. Having apparel comprise a larger portion of the earnings mix is promising for the future because t-shirts will not be displaced by technology and, as such, they can be a reliable source of future profits. Growth in apparel is crucial for Ennis because they will not be able to rely on current levels of sales of paper products continuing indefinitely.
-Print Acquisitions
It is no secret that the demand for paper goods is declining. However, Ennis has been growing their sales of paper products through acquisitions. Ennis made two key acquisitions in the 2013 calendar year. In September, Ennis acquired Folder Express for $14.6 Million. In 2012, Folder Express had sales of approximately $20 Million. This acquisition is expected to expand the company's geographic presence in folder products. Ennis also acquired the WISCO Envelops and National Imprint Corporation brands from Cenveo (NYSE:CVO). WISCO and NIC had over $40 Million in sales in 2012. This acquisition will strengthen Ennis's envelop offerings. It is important to note that the company had to borrow money in order to complete these purchases. The cash paid for these acquisitions is a significant component of the increase to Ennis's debt. These recent acquisitions come on the heels of other purchases by Ennis in the past two years. In 2012 Ennis acquired PrintXcel and Printegra from Cenovo. These acquisitions expanded Ennis's pressure seal and high color commercial printing businesses. Finally, in 2011, Ennis purchased PrintGraphics, LLC. In their 2013 annual report, management mentioned that print sales increased by 26.6% due to acquisitions. This would indicate that their past acquisitions have had their desired effect. In their Q4 2014 earnings report, management mentioned that the impact of their more recent acquisitions will be seen in next years operational results. Management went on to say that the prospect of additional acquisitions remains strong. Past acquisitions have been responsible for the increase in print sales and this trend seems poised to continue in the future.
Risks
-Commodity Prices
Ennis requires cotton or paper to manufacture a majority of its products. The price of cotton has a major impact on Ennis's apparel division and the price of paper can impact the print division. Since most of their clothing is cotton based, cotton is a critical raw material for Ennis. High cotton prices in past years have had a noticeable effect on the apparel segment's margins. Higher cotton prices had a negative impact the profitability of the apparel segment by greatly driving up the cost of goods sold. In recent quarters, the price of cotton has declined. This has helped spur the recent margin increases in the apparel segment. The past few years have demonstrated the effect of changing cotton prices. Ennis's has been negatively impacted by commodity prices in the past, and this could occur again in the future.
-Shift to Paperless Society
Ennis also faces risks relating to the future demand for paper products. This will be felt on the printing side of the business. There has been a widespread trend towards going paperless. However, this does not mean that sales from Ennis's print segment will fall to zero overnight. To start, there are many different types of paper products within the print industry and each of these may or may not have a viable paperless alternative. Even if the demise of paper products occurs tomorrow, Ennis's printing division also produces other goods. For instance, they manufacture branded promotional products for advertising campaigns. However, it is far more likely that the shift away from paper will take some time. While one should not put too much stock into analyst estimates, Ennis is expected to post double digit growth for the next five years. This type of growth would be impossible if the print segment had a significant decrease in sales. Fear about the future of paper is a key reason behind Ennis's current undervaluation.
-Small Cap Risks
With a market cap of around $390 Million, Ennis is a relatively small company. Due to this, Ennis has risks that are nearly universal in small cap equities. Liquidity can be a concern with shares of smaller companies. Fortunately, Ennis has the benefit of being listed on the NYSE and this helps with liquidity. It may not be as liquid as some big name stocks, but Ennis still trades regularly. Shares of smaller companies can also be more volatile than their larger counterparts. This volatility can be seen first hand when looking at a price chart for Ennis. I do not consider volatility to be the same as risk, but it is important that those considering Ennis be comfortable with watching the price of their holdings fluctuate. Ennis has an elevated risk profile by virtue of being a small cap stock.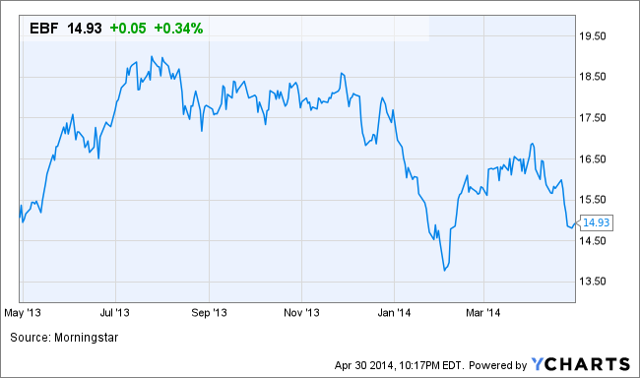 Conclusion
Even when accounting for the risks facing the company, Ennis appears undervalued. Ennis's earnings have declined significantly in the past year, but this was the result of a large impairment charge. When excluding this charge, Ennis had a major improvement in net income. While there is no doubt that the use of paper products will decline, recent acquisitions are expected to enable Ennis's print division to grow in the future. Regardless of the future of paper, clothing will always be necessary and Ennis's apparel division is showing significant margin improvements. Ennis also has a fairly strong balance sheet even after the recent impairment. Ennis faces risks, but improving sales and margins suggest that these concerns are overblown. Shares of Ennis have languished since their most recent earnings announcement, but given the current valuation, the stock should be poised for better days going forward.
Disclosure: I have no positions in any stocks mentioned, and no plans to initiate any positions within the next 72 hours. I wrote this article myself, and it expresses my own opinions. I am not receiving compensation for it (other than from Seeking Alpha). I have no business relationship with any company whose stock is mentioned in this article.