I apologize to my regular readers for not getting to the stellar earnings report from one of my biggest growth positions and a stock that I write about often. It has been a busy week. However, it is time to take a look at the recent results from Las Vegas Sands (NYSE:LVS).
Simply put the report was outstanding. Let's first go over some of the many highlights contained within the report.
Earnings Highlights:
The headline earnings per share number came in at 97 cents, three cents above the consensus.
The company booked revenue of ~$4B in the quarter some $130mm above expectations.
Casino revenue grew better than 38% Y/Y to over $1B, driven of course by surging Macau.
On the hotel side, RevPAR (Revenue per day per available room) grew almost 20% to $252. Occupancy rose almost 3% to 94.4%. It is almost easier to find an atheist in a foxhole than a room at the company's Asian properties.
I first bought shares in Las Vegas Sands in the summer of 2012 and that position has roughly doubled over that time span. Despite the huge rally, LVS remains a core holding in my growth portfolio. It is in my opinion the best play on the continuing explosive growth in Macau.
Overall gambling and hotel revenue came to $45B in Macau last year. CLSA estimates this will double to $90B by 2018. Goldman Sachs is also very positive on the long-term gambling revenue growth in Macau over the long term (See Chart).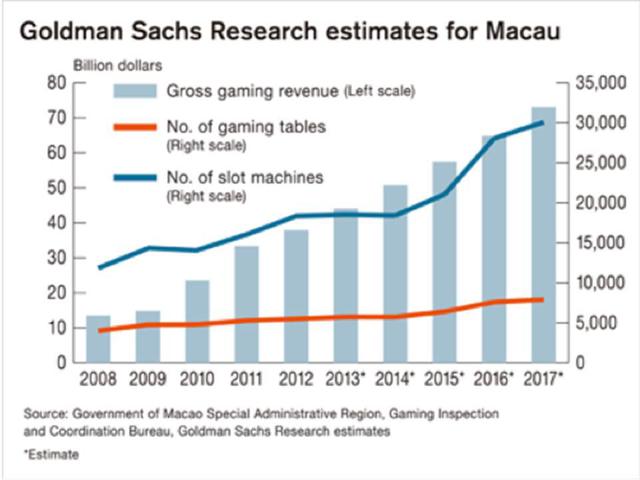 Contrast this to Las Vegas where this revenue number was $24B last year and the gambling destination is exhibiting much slower growth trends than Macau. Las Vegas Sands' name really is a misnomer as the vast majority of its revenues & earnings come from Asia mainly from Macau.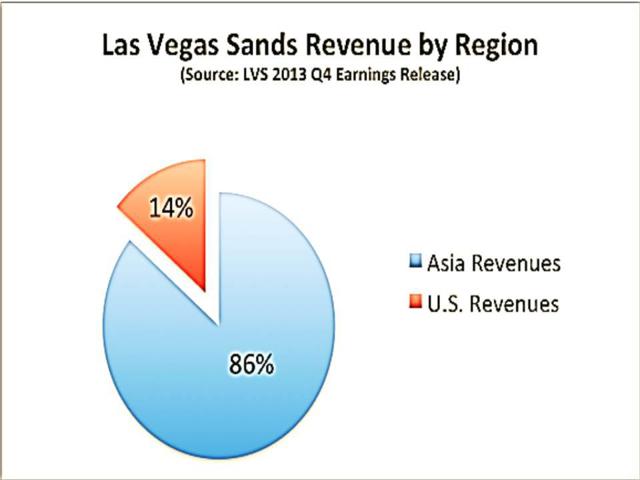 Las Vegas Sands is the market leader in Macau with just under one quarter of the overall market share and continues to expand in the former Portuguese enclave. Its properties are well positioned as the gambling Mecca moves to more of a mass market destination rather than relying on VIPs or "whales." In addition, the company has some high retail properties that could fetch up to $10B if sold or spun out in a separate entity.
Yes, the stock is more expensive than the overall market. The S&P 500 is currently going for 16x to 17x forward earnings and is projected to deliver 4% year-over-year sales increases in 2014. Las Vegas Sands fetches roughly 20.5x forward earnings. However, revenues also should grow in the high teens this year. The stock also initiated a dividend in 2012 and now yields 2.5%. I would expect the company to continue to grow its payout over the next few years.
I have a nice stake in the company within my portfolio. However, I continue to add to that stake every time the market pulls back. Equities did this recently and LVS dropped some $10 a share to under $75 a share as investors temporarily dumped growth plays. ACCUMULATE.
Disclosure: I am long LVS. I wrote this article myself, and it expresses my own opinions. I am not receiving compensation for it (other than from Seeking Alpha). I have no business relationship with any company whose stock is mentioned in this article.