Lululemon Athletica Inc. (NASDAQ:LULU) is a designer and retailer of technical athletic apparel operating primarily in North America and Australia. On March 27, 2014, the company reported fourth quarter earnings of $0.75 per share, which beat the consensus analysts' estimates by $0.03. During the past year the company's stock price is down 40.5% and is losing to the S&P 500 (NYSEARCA:SPY), which has gained 18.21% in the same time frame. I've already purchased a batch of the stock for my growth portfolio and am down 33.39% on the batch. With all this in mind, I'd like to take a moment to evaluate the stock on a fundamental, financial, and technical basis to see if right now is a good time to purchase more of the stock for my portfolio.
Fundamentals
The company currently trades at a trailing 12-month P/E ratio of 23.55, which is fairly priced, but I mainly like to purchase a stock based on where the company is going in the future as opposed to what it has done in the past. On that note, the 1-year forward-looking P/E ratio of 20 is currently fairly priced for the future in terms of the right here, right now. The 1-year PEG ratio (1.24), which measures the ratio of the price you're currently paying for the trailing 12-month earnings on the stock while dividing it by the earnings growth of the company for a specified amount of time (I like looking at a 1-year horizon), tells me that the company is fairly priced based on a 1-year EPS growth rate of 19.06%. The company has great near-term future earnings growth potential with a projected EPS growth rate of 19.06%. In addition, the company has great long-term future earnings growth potential with a projected EPS growth rate of 16.56%.
Financials
On a financial basis, the things I look for are the dividend payouts, return on assets, equity and investment. The company does not sport a dividend to speak of, but is sporting return on assets, equity and investment values of 28.5%, 32.3% and 25.0%, respectively, which are all respectable values. In this particular instance, I will skip the dividend aspect of the financials because the stock is in my growth portfolio, and in the growth portfolio a stock does not have to have a dividend.
The really high return on assets value (28.5%) is important because it is a measure of how profitable the company is relative to its assets, telling us how efficient a management team is at using its assets to generate earnings [for comparison purposes, Lulu has the highest ROA in the industry followed by Gildan Activewear Inc. (NYSE:GIL) which sports an ROA of 15.9% and Zuoan Fashion Limited (ZA) which sports an ROA of 13.7%].
The really high return on equity value (32.3%) is an important financial metric for purposes of comparing the profitability, which is generated with the money shareholders have invested in the company to that of other companies in the same industry (for comparison purposes, Lulu is third in the industry trailing behind American Apparel, Inc. (APP) which sports an ROE of 199.3% and Ever-Glory International Group, Inc. (NYSEMKT:EVK) which sports an ROE of 36.5%).
Technicals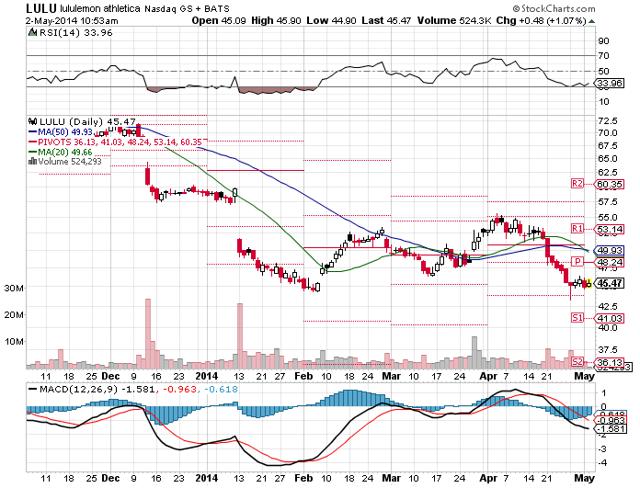 Looking first at the relative strength index chart [RSI] at the top, I see the stock in oversold territory with a current value of 33.96. I will look at the moving average convergence-divergence [MACD] chart next. I see that the black line is below the red line with the divergence bars increasing in height, indicating bullish momentum. As for the stock price itself ($45.47), I'm looking at $48.24 to act as resistance and $41.03 to act as support for a risk/reward ratio which plays out to be -9.76% to 6.09%.
Recent News
The company's analyst day seemed to be a dud as analyst's walked out without any hard guidance numbers. As a result of the lackluster analyst day the stock dropped 5%.
Lulu won a dismissal in federal court over the transparent yoga pants issue from about a year ago. The judge found that the "corporate mismanagement" wasn't close to violations of federal securities fraud.
Conclusion
The stock has definitely fallen on some hard times recently having fallen for seven straight days and coming to its 52-week lows. Fundamentally the company is indeed fairly priced based on future earnings estimates and based on next year's earnings growth potential. Financially, there isn't a dividend to speak of but the company boasts one of the best ROA's and ROE in the industry. On a technical basis I believe the stock is near a bottom here and may be due for a pop. Due to the bullish technicals, best in class ROA, and excellent ROE I will be pulling the trigger here right now. But remember what they say about bottom picking, "bottom pickers may get stinky fingers."
Disclaimer: This article is meant to serve as a journal for myself as to the rationale of why I bought/sold this stock when I look back on it in the future. These are only my personal opinions and you should do your own homework. Only you are responsible for what you trade and happy investing!
Disclosure: I am long LULU, SPY. I wrote this article myself, and it expresses my own opinions. I am not receiving compensation for it (other than from Seeking Alpha). I have no business relationship with any company whose stock is mentioned in this article.