Investing has long been an exercise in individual philosophy. Each investor, being of his or her own approach, must decide where their values lie, what their objectives are, and how to best honor those values and meet those objectives. Investing is, in and of itself, a very personal experience. Whether one is a stay-at-home trader, a buy-and-hold retail investor, or a professional fund manager responsible for considerable assets, the perpetually influential presence of individuality is always crucial in the decision-making process. It is this individuality which allows the market to exist. Without it, there would be no disagreement, no serendipitous entry points, no bulls, and no bears. Everyone would agree, no shares would trade hands, and the stock market would be little more than a theoretical enterprise defined mostly by stagnancy, banality, and tedium. Fortunately for investors, speculators, and capitalists alike, such is not the case.
Instead, the market is very real, and each day, it personifies the very best and the very worst of all things human. The market is fueled by hope and despair, providence and pride, and humility and greed. Fear is always present, courage is always needed, and history seems to always lie just ahead. Its nature is cyclical. Its potential is boundless. Its value is elusive. The market is like the ocean; and each investor a wayward sailor. Some are the captains of ships, whereas others are apprentice fisherman. Some are only comfortable when the shoreline is in sight, whereas others embrace the rolling waves and are immune to its unknown depths. The market is whatever our individualism makes it out to be, and therefore, each investment can easily be seen through a similar lens. Where one investor sees opportunity; another sees only misfortune.
In consideration of these differences, this article with explore the investment opportunity which exists at the Repligen Corporation (NASDAQ:RGEN). Over the last two years, Repligen shares have experienced significant appreciation. Since the late summer of 2013, share price has grown from $4.00 to as high as $16.20. Currently sitting at $16.06 per share, one cannot help but wonder what lies ahead for shareholders. The company employs a sustainable and responsible business model, maintains a healthy cash position, and operates largely in a niche market with evolving needs. Institutional ownership is considerable at nearly 58%, and insider holdings are noteworthy as well. The company is highly capable, and worthy of admiration. The question remains, however; at these levels, after such an impressive run, is Repligen an enticing investment vehicle for new investors today?
Who is Repligen?
Repligen is a life sciences company operating in the biotechnology manufacturing chain. The company is focused on the development, production, and commercialization of high-value consumable products used in the process of manufacturing biological drugs. These "bioprocessing" products are sold to a vast array of major life sciences and biopharmaceutical companies across the globe. The companies include, or have included previously, the likes of Pfizer (NYSE:PFE), Bristol-Myers Squibb (NYSE:BMY), and BioMarin (NASDAQ:BMRN).
So, what is a "bioprocessing" product? The answer is actually quite simple. These products simplify and expedite the manufacturing, production, and commercialization of drugs, therapeutics, and other biological products. Need further clarity? No problem. Take, for example, the company's production of recombinant Protein A. Repligen has been the world's leader in this field for over 20 years. Through the provision of multiple proprietary products in this area, the company utilizes state-of-the-art manufacturing, optimal purification processes, and constantly evolving science to supply its partners with the most advanced recombinant Protein A in the world. Since the Protein A products supplied by Repligen are so meticulously produced, the results are products which maintain the same amino acid sequence and molecular mass as native, or naturally occurring, Protein A. What this means, in the simplest terms, is that the Protein A being provided by Repligen is as safe and efficacious as the naturally occurring product. However, in being manufactured for specific needs, products such as the company's Protein A Ligands are actually improving the target protein binding abilities of the protein. In other words, the company is producing a bioprocessing product which actually, in some ways, improves on nature by optimizing an already natural process. The next question is, of course, why is this important? What does Protein A do for customers and partners?
Protein A is used in multiple commercial products, and has a long track record of regulatory support and scientific acknowledgement. The protein is versatile and controllable; making it ideal for biological applications. It can bind antibodies, strengthen protein bound domains, and disrupt or support natural bodily processes based on need. In pharmaceutical and medical applications, it has been employed in each of these ways. However, most notably, Protein A is used in the development, production, and commercialization of monoclonal antibodies; a crucial therapeutic instrument which is continuing to gain traction in mainstream medicine. In order to ensure clarity, let's take a moment to understand monoclonal antibodies in order to further emphasize the importance of Protein A and the value of Repligen's Protein A products.
Monoclonal antibodies are monospecific antibodies which are made from cloned immune cells derived from a specific parent cell. These cells are gathered, reformulated, cultured, and then harvested for their antibodies. Those antibodies, monoclonal antibodies, can then be used to detect, target, purify, or treat antigens and disease. For visual learners, a simplified diagram can be seen directly below.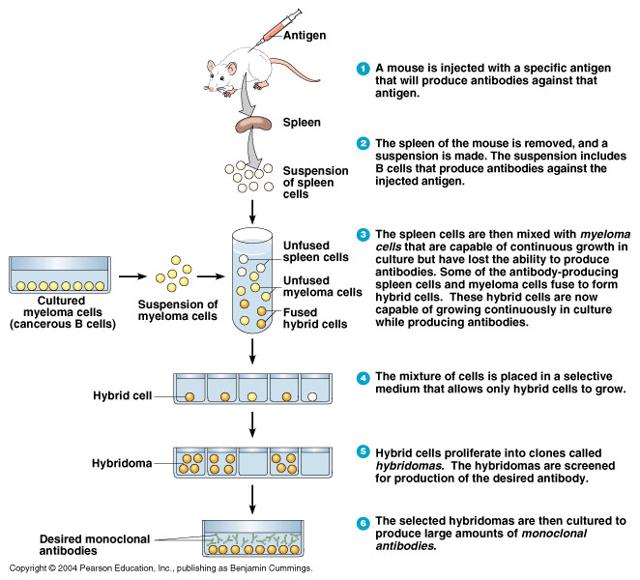 This process is an innovative one, and it is gaining further mainstream traction among the scientific and pharmaceutical communities. Current progress in the field includes companies such as Xencor (NASDAQ:XNCR) and Immune Pharmaceuticals (OTCQX:IMNP) developing innovative treatments for autoimmune disorders, allergic diseases, and cancer. In many instances, the candidates in development at such companies include partnerships with larger pharmaceutical entities, such as Amgen (NASDAQ:AMGN), Merck (NYSE:MRK), and Alexion (NASDAQ:ALXN). The interest in commercializing further therapeutics which utilize monoclonal antibodies is already strong and growing considerably.
Now, this process detailed above would not be possible without Protein A. Protein A stabilizes, purifies, and encourages the proliferation of monoclonal antibody production. Thus, this is what Repligen does; it supports scientific innovation and therapeutic production by ensuring the tools and resources needed to do such are provided in the safest, purest, and most effective way possible. Repligen makes the supply chain possible and ensures that the end results are capable of meeting, if not exceeding, expectations. Without companies such as Repligen, biopharmaceutical production and commercialization would cease to exist.
Product Overview
Repligen is a pure-play bioprocessing company, and has been since 2012. In 2012, the company elected to divest its therapeutic development programs and focus solely on its bioprocessing. This decision proved ingenious, and in reducing the costs of product revenue by lowering spending on R&D and clinical development, the company's margins instantaneously improved. This was just one of the many effects of refocusing corporate direction, which served as catalyst for momentous upward trajectory.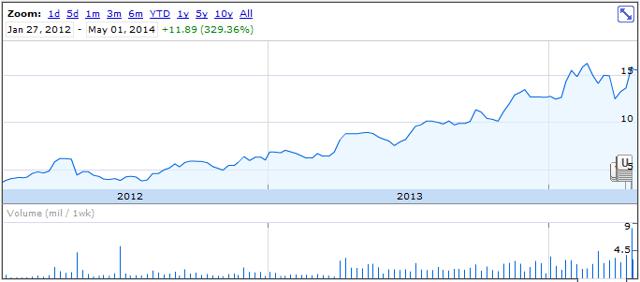 In focusing its energy on bioprocessing, the company managed to become leaner and meaner. As a result, Repligen grew to be more productive for shareholders. Today, all of the company's principal products are focused on this bioprocessing market niche.
This article has already referenced, in considerable depth, the value of Protein A. Specifically, at Repligen, the company offers products which each play various roles in supporting the execution of Protein A as a therapeutic support instrument. The value of the Protein A Ligands has already been referenced herein. However, four other products have not been specifically referenced yet.
First, there are the Protein A ELISA Kits.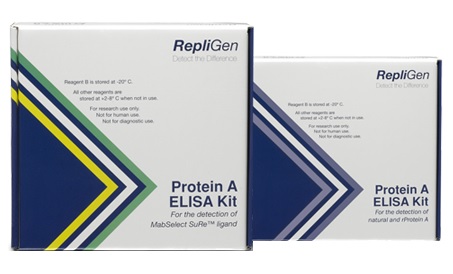 These kits are essential for laboratory efficiency and process in the accurate detection and quantitation of Protein A. They are designed to ensure that stability, consistency, and measurability are all absolute.
Secondly, there is the company's CaptivA PriMab product.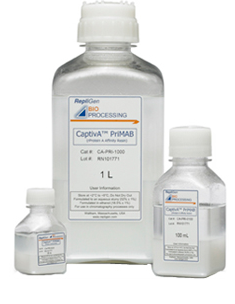 This product is a Protein A affinity resin, which is the first agarose-based resin that matches natural resin abilities. Once again, Repligen is managing to improve on nature. This agarose-based product is available at a fraction of the cost of traditional resins, and delivers exceptional binding capacity, process stability, and a high loading capacity. The product is superiorly designed, and costs one-third of what other industry-leading Protein A resins cost.
Thirdly, there are the company's OPUS Pre-packed Columns.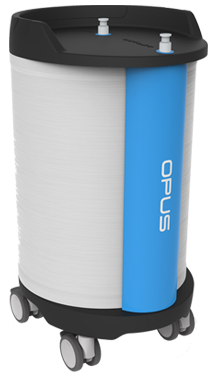 Once again, here is another product which supports the Protein A supply chain. These pre-packed disposable columns enables user-specified inputs tailored to specific applications. This means end-users are easily able to replace self-packed glass columns with OPUS pre-packed columns for disposable manufacturing processes. These are configurable to any resin in any application. Thus, the product is versatile and targeted. Since the bioprocessing industry favors standard platforms which offer versatility and interchangeability, the OPUS columns are well-received, and should continue to be.
Lastly, there are Repligen's highly regarded cell culture growth factors.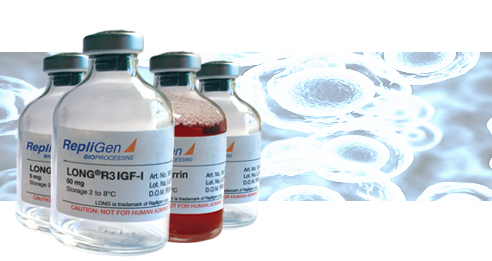 These growth factors are stable, reliable, recombinant, animal-free, and fully compliant. They were designed specifically with the implicit objective of offering the benefits of serum-derived supplementation, while maintaining a defined, consistent, and environmentally-friendly process.
Market Overview
The recombinant protein market really emerged in the late 1970s. The hypothesis was that the use of recombinant proteins could become an attractive strategy for altering the biology of disease progression. By the 1980s, this concept had become a practical application when recombinant human insulin from Escherichia coli became the first recombinant pharmaceutical to enter the market. The development of several growth hormones produced in bacteria followed; as did the production of monoclonal antibodies such as infliximab and ritxumiab. By January of 2009, the number of protein-based recombinant pharmaceuticals licensed by the U.S. Food and Drug Administration had reached nearly 100. Since then, this market has become more and more specialized, and in the case of Repligen, that specialization market has focused largely on Protein A.
It is within the confines of this focus where Repligen could, potentially, thrive. While the opportunities in recombinant protein pharmaceuticals are widespread and offer countless commercialization pathways, the cost of bringing such therapeutics to market is extraordinary. The process requires substantial investment, extensive resources, synthesis ingenuity, and a technically complex purification process. This is, perhaps, why the company opted to focus its future strictly on bioprocessing in 2012, as opposed to drug development. In focusing on the "manufacturing chain" of therapeutics, as opposed to the development and commercialization of them, Repligen offers products and services which replace the need for clinical phase drug developers and big pharmaceutical companies alike, to devote time and money to such responsibilities. Repligen is essentially offering outsourced scientific process and support products to drug developers at a distinct financial benefit. After all, outsourcing recombinant protein development, supply, processing, and support, is far more economical for drug developers than staffing a team devoted strictly to this process in-house. Repligen identified this need, and is meeting it accordingly.
Already, Repligen has shown its value and authority. The company commands nearly 50% of the Protein A Ligand market for monoclonal antibody drug development, and its growth rate looking ahead forecasts approximately 10-13% growth annually. Other revenue streams, derived from additional products, can reasonably be expected to make a similar impact over time. Comparatively, those additional products are in their infancy. The alternatives available on the market are simply unattractive. Repligen offers a more stable and pure Protein A product at a lower unit cost. Repligen also offers pre-packed columns to aid in a safer and more sanitary disposable manufacturing process. Moreover, Repligen provides resins which reduce the cost of goods by nearly two-thirds, and which offer dynamic binding capacity and caustic stability. It could be argued, given the interdependency of all of Repligen's products, that the company is inching closer to becoming a "one-stop shop" for the recombinant Protein A needs of drug developers, as well as an ample manufacturing and processing support provider for multiple other recombinant protein needs. In a climate where, according to a 2012 UC San Diego study, the cost of bringing a recombinant protein drug to market can exceed $800 million dollars per, any cost-efficient and streamlined process will undoubtedly continue to be embraced by the pharmaceutical community.
Financials
On May 8th, the company will be announcing its first-quarter financial results from 2014. However, until then, investors would want to consider the financial results for the fiscal year 2013, and the guidance which accompanied them.
2013 was an outstanding year for Repligen. Product revenue growth increased to $47.5 million dollars; a 13.5% increase over 2012. Total revenues for the company were $68.2 million dollars; a 9.5% increase over 2012. The bioprocessing gross profit margin was 52.7% for 2013, which was up considerably from 40.3% in the year prior. As to year-over-year net income; it increased 13.7%. Cash and cash equivalents at year's end totaled $73.8 million dollars. which represented a near-50% increase over 2012.
In speaking about these annual numbers, company CEO, Dr. Walter Herlihy stated the following;
"2013 was an exceptional year for Repligen, during which we met or exceeded our financial goals while building value for our key customers and shareholders. Our financial performance was highlighted by strong top-line results, and substantial margin expansion. Strategically, Repligen is now established as a pure play bioprocessing company."
As it pertains to guidance offered by the company looking ahead to 2014, the company examined only its current business and revenue streams, and did not consider the potential impact on revenues from possible milestone payments from Pfizer and BioMarin. This was an interesting decision, albeit should be commended by shareholders. This judicious forward-looking approach is reflective of responsibility and accountability.
The company projects total revenue for 2014 to be between $54 and $57 million dollars; including an upfront payment from BioMarin to be recognized the first quarter of the year in the amount of $2 million dollars for the effective sale of a previous histone deacetylase inhibitor portfolio. Total product revenue growth is projected to see between 10% and 15% progression, and income projections are indicative of marginal, albeit positive, growth. The company expects to end the year with cash and cash equivalents equal to between $84 and $87 million dollars.
Expectations & Risks
This article asked a relatively simple question at its onset; is Repligen an enticing investment vehicle for new investors today? The answer is not quite as simple. The answer is, "it depends on the investor."
Repligen is unquestionably a responsible and capable company devoted to shareholder interest. Institutional investors hold 62% of the float, and stability and downside protection are well in place. Growth over the last two years has been responsible and healthy, and even opponents of the stock grasp at straws to find criticisms. By nearly every account, Repligen is a healthy company worthy of investor consideration. However, since not all investors are created equal, and subjectivity is indicative of investor activity, certain criteria must be considered.
Repligen appears to be quite fairly priced as of today. In fact, based on traditional metrics and forward-looking guidance, the price may even be slightly inflated by 5-7%. Fair value per share is likely closer to about 15.10 per. However, it is difficult to gauge with any certain conviction. As a niche company functioning in the bioprocessing and manufacturing chain, it is not comparable to traditional biotechnology and healthcare companies, which tend to trade at inflated, and often absurd, multiples. There is no pipeline of clinical candidates and no potential breakthrough blockbusters. This is not a modern-day biotech dream stock. This company is more in line with stocks of yesteryears, where older generations recall investing in companies for integrity, business model, and projected market share procurement. Repligen personifies the values equated with investing in the mid-twentieth century. It is appealing, but only if an individual's investment values match those of the company's.
Repligen is, in the opinion of this article, the prototypical "buy-and-hold" stock. Growth, over time, feels inevitable. It will not be explosive. It will not happen overnight. Traders will never tweet about Repligen being "on the verge of becoming a multi-bagger." The company employs a product and service business model reminiscent of industrial America's manufacturing glory days; except, it is doing it in today's era of evolving scientific discovery and biotechnology momentum. Instead of supply tools for the manufacturing of steel to support infrastructure, the company is supplying synthetic scientific materials in support of biopharmaceutical and scientific progression. It's an old method in a new world, and thus far, it's proving it worth. For the patient investor with a low tolerance for risk, Repligen could be appealing on multiple levels.
That being said, no investment is without uncertainty and concern. Repligen, like all investment vehicles, has certain risks which must be considered. First of all, while forward-looking guidance is progressive, it is not awe-inspiring. To call it conservative would be a slight overstatement. Revenue projections no longer include those derived from royalties paid by Bristol-Myers Squibb, which pertained to the company's Orencia product. Those royalties ended in 2013. Whereas future royalties from Pfizer and BioMarin could eventually elevate into the hundreds of millions of dollars for other products, the loss of the Orencia royalties could impact the company's immediate revenue projection forecasts. This could be reasonably offset in the first quarter by the $2 million dollar upfront payment from BioMarin, but such is yet to be determined.
Secondly, despite operating in a niche product market for which the company is an unquestionable world leader, competition is still noteworthy. As monoclonal antibody therapeutics become more and more popular among big pharmaceutical companies and clinical stage biotechs alike, the demand for similar products such as those provided by Repligen should increase. While this could be determined to be a factor in support of the Repligen bull case, it will also undoubtedly lead to more competitors entering the market. That is always a concern to be considered.
Lastly, there is simply the fact that the markets' cyclical nature historically indicates that upward trajectories are part of a larger pattern; one that often includes stagnancy and pullback. Given the tremendous, and well-deserved, two-year run that the company has made, one could not be faulted for wondering when a plateau will be reached and settled into for a reasonable duration of time. Again, this is where investor individuality plays a role. Time is of the essence.
Conclusion
Repligen is a breath of fresh air in corporate America. The company's business model is time-tested and true. There is no audacity in the corporation's maneuvers, and there is no real concern for worrisome volatility to any significant degree. The company's identity is a reflection of its values, as opposed to being one of the times. That is what makes it tough to gauge, for some. Appreciation for growth over time and corporate responsibility is becoming a philosophy largely of antiquity. Impatience has become an epidemic in America, and everyone wants what they want, and they want it immediately. The definition of a "long position" has changed dramatically from one generation to the next. As a result, in many ways, companies such as Repligen have suffered from this shift in investor expectation. It's sad, but it's true.
Nonetheless, the simple fact is that the company is worth investor consideration. Given the business model being employed, the direction of pharmaceutical product development in regards to monoclonal antibodies, and the market niche domination of Repligen's Protein A products, the future holds many potential revenue streams. Future royalties could be substantial, future market share procurement should grow with the times, and even the prospect of a potential buyout could be on the table within the next 2-5 years, based on proprietary products and processes. The future of the company is strong, just not perhaps the immediate future.
For investors with a focus on growth, an aversion to risk, and a market approach built on patience, the assumption of a position into Repligen is well warranted. This article would further suggest that a position could be built over time; accumulating on pullbacks to the $12-$14 dollar range, since market adjustments and mild volatility are likely to continue into the latter part of the year. Further due diligence and considerations are recommended.
Disclosure: I have no positions in any stocks mentioned, and no plans to initiate any positions within the next 72 hours. I wrote this article myself, and it expresses my own opinions. I am not receiving compensation for it (other than from Seeking Alpha). I have no business relationship with any company whose stock is mentioned in this article.