When I last wrote on Accuride (NYSE:ACW) on June 7, 2013, my thesis was it appeared to have positioned itself for a nice move in the second half of the year. It actually happened quicker than I thought, jumping from $5.10 per share at that time to $6.66 per share on July 18, 2013.
Not long afterward it began a precipitous drop, eventually plunging to as low a $3.10 per share in early November. From there it has regained momentum, closing at $5.70 per share on May 1, 2014.
Much of this performance has been because the overall auto parts industry Accuride operates in took longer to rebound than was expected. Only within the last month or so has started to be looked upon as having some strength; specifically in reference to earnings.
It remains to be seen if this is sustainable on the growth side, as all companies in the industry have been working on streamlining and cost reduction in order to prepare for the hoped-for rebound in commercial vehicle sales.
Segments and Performance
After selling its Imperial Group unit, which provided chassis and truck body components, Accuride now operates in Accuride Wheels, Gunite, and Brillion Iron Works.
The Accuride Wheels segment includes a variety of products made for light-, medium- and heavy-duty trucks, buses, commercial trailers, military vehicles and specialty vehicles. Included in the unit are rims, steel and aluminum wheels, among many other products.
The Gunite division markets products like spoke wheels, rotors, brake drums and disc wheel hubs.
Brillion Iron Works is the segment which serves the mining, construction, gas, and oil markets.
Revenue for continuing operations were up 2.3 percent to $166.8 million, a gain of $3.8 million. Net sales in the first quarter dropped to $30.4 million, falling $13.4 million, or 30.6 percent from the same reporting period last year. Most of this was the result of better OEM production rates for trailers and trucks.
Even though continuing operations improved nicely over last year in the first quarter, there was still a $3.3 million loss. Last year the company lost $14.8 million in the same period.
A significant positive outcome in the quarter was the improvement of its adjusted EBITDA, which was up almost $20 million to $18 million, up 10.8%.
Its Wheels unit is easily the largest of the company, accounting for approximately 55% of consolidated revenue. In the latest quarter it generated $92.2 million in sales. Adjusted EBITDA did fairly well, climbing to $19.2 million year-over-year, a gain of $3.2 million. One negative here is it appears pricing power with truck OEM may have disintegrated a little, as it fell by $1.9 million during the reporting period. That's not a lot, but it's not a trend Accuride wants to see continue.
It was good to see its Gunite unit boost revenue, as it jumped from about $39 million last year in the same reporting period to $44 million in the first quarter of 2014. While the adjusted EBITDA of Gunite climbed $4.3 million, I'm not as impressed with that. We'll get into the reasons why in the next section of the article.
Revenue from its Brillion unit was level for the quarter, coming in at $30.6 million, about the same as last year in the first quarter. Earnings improved slightly to $2.4 million, up $700,000.
Brillion will continue to be volatile because of the uncertainty surrounding commodities and the mining industry, as well as the lack of visibility in the construction market. Both are expected to do better over the next several years, but it's the pace and timing that are uncertain.
Cutting Costs
I mentioned earlier that I wasn't impressed with a lot of the earnings improvements across the units of the company, and that is primarily because they were accomplished primarily from price cuts and not from growth from increased demand.
That's not a cut on a good and necessary accomplishment management had to engage in, but it underscores the ongoing growth challenges Accuride and the industry face.
Whenever you see cost cuts and improved earnings as the chief catalyst of a company, it points to the fact it is operating in a very weak market. Since these cuts continue to be a key focus of the company, it suggests concern over the visibility and predictability in the commercial vehicle market.
It further points to an industry that is still struggling to grow.
While the cut in costs are effective for what they are, I want to see consistent growth in revenue and earnings coming from increased demand, rather than from lower prices and cost cuts. Until that happens, investors interested in Accuride need to proceed cautiously.
Accuride management says going forward its moving its primary focus from cost cutting to growth. If so, that's a positive move by the company. The next couple of quarters will reveal if that's in fact what the company is actually doing. That will happen more in its Wheel and Gunite units.
One area of internal inflation that the company doesn't have full control over is in costs of wages and benefits for its workers. So the upcoming labor negotiations with the workers at Erie and Rockford could result in a boost in costs.
According to management they have a good relationship with the unions, and they understand the economic environment the company is operating in and what it must do to remain competitive.
With a stated purpose of reducing labor costs, even a relatively good relationship can go sour though, and that will have to be watched as to the final deal being made, or if there may be some work stoppages if negotiations break down.
Commercial and Government Fleet Sales by Ford
With the weak GDP in mind for the first quarter, and the decrease in overall government spending, we'll look at the performance of Ford in its latest quarter in regard to commercial and government fleet sales.
Even with the weak GDP, Ford boosted its commercial and government fleet sales by a hefty 16% and 21% in the quarter.
For now the government is apparently ignoring the slow economy and replenishing some of its fleet. The same goes with the commercial market as represented by Ford's sales.
GM, even though it outperformed Ford in the latest quarter, didn't do as much in fleet sales as its competitor did, but still grew in that segment.
This suggests a recovering commercial vehicle market, but the question is how much of that business is Accuride going to secure.
Infrastructure Spending
In its latest earnings report Accuride management alluded to infrastructure spending as being a catalyst for the industry over the next several years. This is something I'm unconvinced about.
The reason I'm skeptical is this is always brought up in election cycles, and we have some elections coming up in the near future, which lend themselves to politicians talking about 'investing' in infrastructure and creating jobs.
There is no doubt some of this infrastructure spending will happen, as evidenced by an announcement in Ohio that it is going to spend a record amount on its roads this year. Illinois may do the same.
As for management pointing out there is a debate at the Federal level concerning improving existing bridges and roads, it's hard to know how much of it is politics as usual, and how much spending will actually be done in light of the increasing dissatisfaction with the amount of money the U.S. government is spending.
Accuride believes this will push up the number of trucks being sold for several years. It's of course possible, but this is one of the weaker arguments for growth proffered by the company. I don't think it can be counted on in any way as a significant catalyst for growth.
It may happen, but including that uncertain possibility when deciding on whether or not to invest in Accuride isn't a good choice in my opinion.
Construction and Mining
Since the government can create money from nothing, the effect of a weak economy won't necessarily have a negative effect on the commercial vehicle industry in general, and Accuride specifically.
But in the private sector, it can have a dramatic effect on whether companies keep their old vehicles longer or acquire new ones.
For example, during the recession, CAGR in the construction sector of the United States fell about 5% from 2008-12. That dramatically affected light, medium and heavy duty trucks sales during that time. As long as the recovery continues, that shouldn't be a problem.
Assuming the projected upward trend in construction and housing continues, that should result in decent growth over the next five years, driving sales of OTR construction and commercial vehicles.
If construction doesn't continue to grow, it will be a strong negative catalyst for Accuride.
On the mining side I agree with the assessment of Accuride management that it will be a struggle for some time. Fortunately, its Brillion unit only accounts for 17% of company revenue at this time.
For now, the strategy for Brillion is to continue to look for ways to cut operating cost. the company doesn't see endmarkets coming back until some time in 2015. Until then, it shouldn't be considered a growth segment of the company, and for the next year could be a weight on its performance.
One last thing concerning Brillion, is the fact it represents only 17% of Accuride's revenue is a double-edged sword. On the positive side it shouldn't weigh as much on the company in the way softness in Wheels would, which accounts for 55% of revenue, or Gunite, which generates 28% of revenue.
So the expected level performance or possible small loss in the Brillion unit shouldn't have a dramatic effect on the company. That's also true on the margins in earnings side, as the company will continue to look for ways to cut costs until this portion of its business rebounds.
If the Brillion unit is able to cut costs and boost earnings, it in turn won't have that much positive impact on the company because it generates much less revenue than Gunite and Wheels do.
Essentially I consider Brillion a wash at this time; not adding to or taking away from the performance of Accuride in the near term.
Demand Challenges
We've already looked at the weakness in the Brillion unit of the company. Another challenge is its Gunite division, which has a temporary demand problem.
This is partly from the tough winter, which has resulted in customers holding off on buying during spring season. That should improve during the second quarter, which should help the company's numbers.
The question there is the timing of the improvement. If it takes a little longer than expected, it could be a drag on the company in the second quarter. If not, it would almost certainly boost the revenue and earnings of the company for that period.
According to Accuride's customers, the spring buying delay is in a range of 30 to 60 days. If its the former, the second quarter will do better in the aftermarket. If the latter or longer, it may extend out some into the next quarter. In that case the near-term performance of the company would be somewhat affected by the timing of this.
Condition of Industry
The overall commercial vehicle industry looks like it is going to enjoy sustainable growth over the next several years.
Some of this comes from the fact the U.S. government isn't going to let the auto industry collapse, as evidenced by past bailouts. To help strengthen the industry it will continue to buy fleet vehicles for a variety of purposes. I see this as a no-brainer that will continue.
On the private sector side, the strength there is the manufacturing sector. The health of that sector will be a catalyst for freight, which will drive demand.
Fleets and freight rates are expected to continue to grow, and that bodes well for demand, as many companies have held off on acquiring new vehicles because of the impact of the recession.
With over 700,000 Class 8 trucks acquired in 2005-2006, expectations are manufacturers will replace those trucks in the near future. Some have already began to do that, and it should escalate going forward.
Housing and mining usually give the medium-duty truck market a boost, and in the short term housing looks like a stronger catalyst than mining. Those two markets will probably offset one another in the near term. Heavy machinery demand will continue to remain flat for at least another year.
Competition Risk
Accuride's competitors have outperformed the company over the last two years by a wide margin, with Dana up almost 47% during that time, and American Axle up over 84%. During that same period Accuride is down a little over 20%.
As you can see from the two-year charts below, Accuride has been much more volatile during that period of time, while Dana and America Axle were up nicely for the first year, while leveling off over the last year.
Nonetheless, it appears there is a pattern with Accuride that has held for over the two-year period after plummeting in the latter part of 2012. Since then it has moved up nicely, corrected, and then rebounded again; which is where we stand today. If that pattern holds, that points to the probability of Accuride either moving up a little before pulling back again, or being very close to dropping with little upward movement left in it for the short term.
source: Yahoo Finance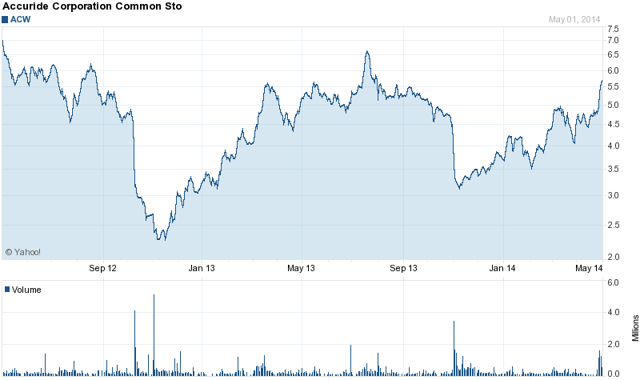 source: Yahoo Finance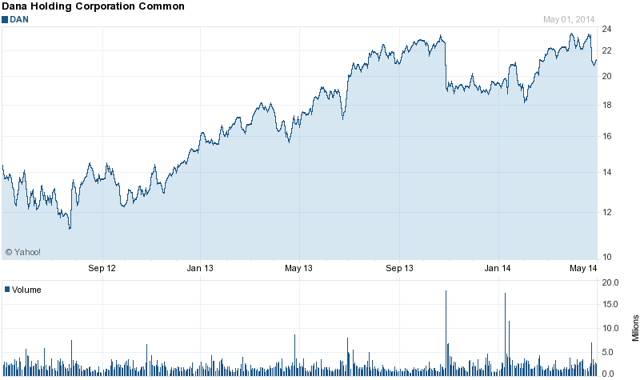 source Yahoo Finance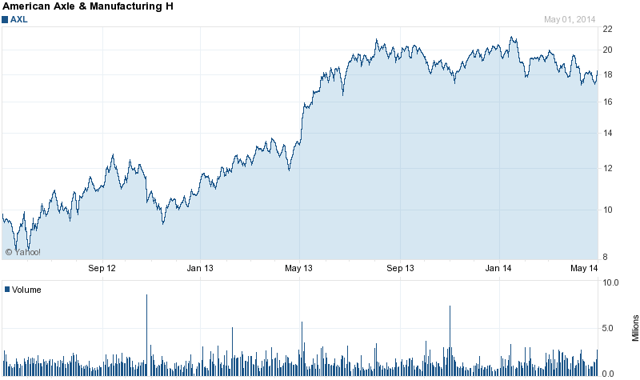 Next we'll look at a one-year chart of these three companies to show how the dynamics of the performance of the companies have changed some.
What I want to be seen is how in June and July Dana and AXL started to level off, while Accuride started to move up nicely in November. That may point to the possibility that Dana and AXL may have future expectation already baked into the price, while Accuride may be just starting to get the benefit of that.
source: Yahoo Finance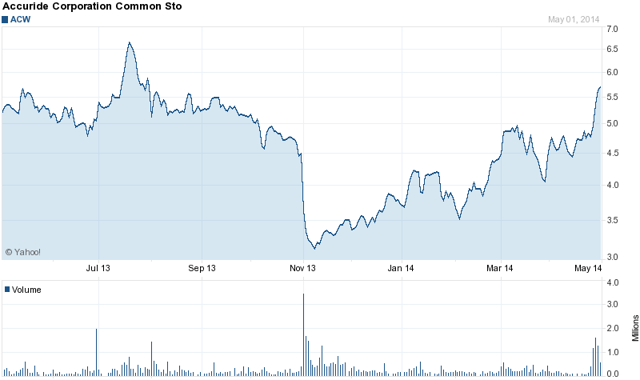 source: Yahoo Finance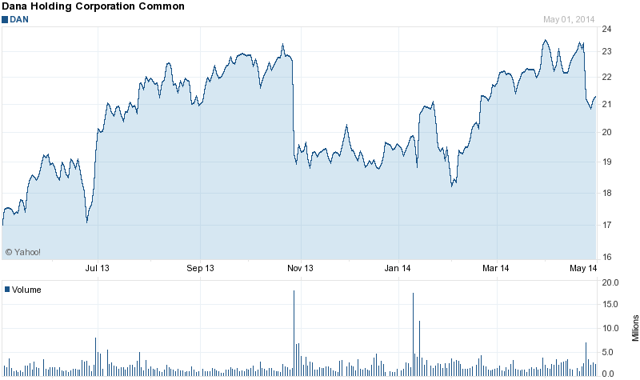 source: Yahoo Finance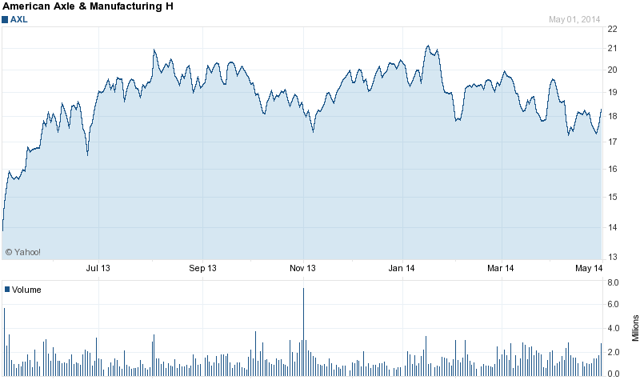 How to Play Accuride
If an investor wants to get into Accuride, I believe it would be better to wait to see whether or not it's reached a temporary high, or it's going to correct temporarily.
With Dana and AXL, they have remained flat for a number of months, and could remain that way for some time.
If you believe the commercial vehicle industry is sustainably rebounding, I think Accuride has more upside potential, based upon the assumption it is poised to drop in the near future.
Nothing in the industry suggests any type of major rebound, so growth should be more incremental at this time. With that in mind, the smaller Accuride provides more upside potential if it is acquired at a good price.
It remains to be seen if the tide is going to raise all ships, or if Accuride will languish behind its larger competitors.
Conclusion
The narrative for Accuride at this time is whether or not the commercial vehicle industry is going to continue to rebound, and how much of that business the company will get if and when it does.
I believe it is going to get stronger over the next several years, and the companies serving the sector should grow with it.
Since Accuride has had to struggle more than its competitors because of its smaller size, that has forced the company to focus almost primarily on cust cutting in the recent past. While that is a good strategy in a declining market, it's not as good of a strategy in a growing market.
This passive practice will have to change to more aggressive growth strategies going forward.
Accuride needs to gain market share as the industry rebounds if it wants to reward its shareholders with a better and more steady share price.
I'm not a fan of acquiring a company because of its lower share price, but with Accuride, its size does lend itself to that reality, while at the same time being more volatile, as measured by percentage of share price movement, than its competitors. That also provides a better buying opportunity for investors who believe the commercial vehicle industry is going to grow over the next several years.
Since this recovery looks like one that will be more incremental, I find Accuride having more growth prospects than its counterparts, who have been languishing over the last 9-10 months.
I would wait until the share price shows us which direction it is going to go in the short term. Whether it immediately goes up or not won't matter, as it will eventually pull back to provide a better entry point.
The only thing I see countering that idea is if investors start to believe the industry recovery will be quicker than expected. I don't think that will happen, so I look for Accuride to pull back before it begins another upward climb. That's when I would invest.
Disclosure: I have no positions in any stocks mentioned, and no plans to initiate any positions within the next 72 hours. I wrote this article myself, and it expresses my own opinions. I am not receiving compensation for it (other than from Seeking Alpha). I have no business relationship with any company whose stock is mentioned in this article.