Recently Citi Equity Research released an updated list of global bond refugee stocks. Stocks with higher dividends ands lower volatility as an alternative to bond investments. Among companies making the cut is UPS (NYSE:UPS) with a current dividend yield of 2.7%. Below we continue our review of UPS in Part XIII of this series, evaluating UPS from a relative value and dividend stability perspective.
Bond Refugee Ratings:
Overall Bond Refugee Rating: Accumulate
Relative Valuation: Fairly Valued
Dividend Stability: Highly Stable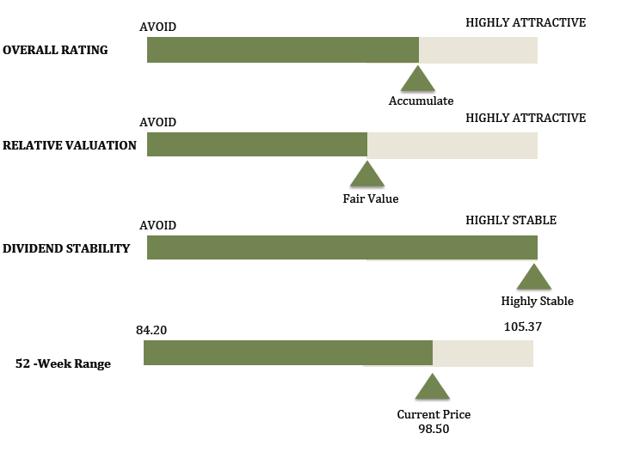 Background
UPS is a package delivery, transportation, air delivery, freight, and logistics company operating domestic and internationally. UPS operates in three segments:
US Domestic Package
International Package
Supply Chain and Freight
Strategy
UPS brand name and worldwide delivery network across 200 countries provides a sustained competitive advantage and significant barrier to entry. UPS is executing on a multi-prong strategy to earnings an market share. In addition the package delivery market is growing at an above average clip in both mature and emerging markets.
Emerging Markets Driving Opportunity
UPS points to a rising middle class driving increased consumption. In the below slide comparing 2008 versus project 2030 middle class size its evident India and China will drive a substantial increase in world consumption. Further emerging markets will drive nearly ¾ of economic growth. UPS is well positioned to capitalize already serving more than 220 countries and recently making strategic acquisitions and partnerships in Vietnam and Hungary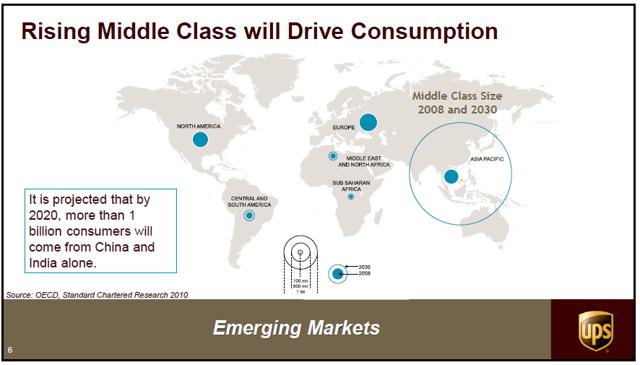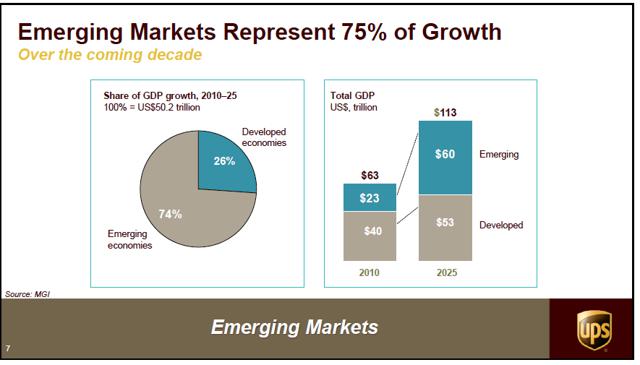 Business to Consumer
The online consumer market is growing rapidly both domestically and globally. Domestic growth is forecast to increase more than 10% annually through 2018 nearly four times the rate of economic growth and 2.5 times retail growth. The global picture is more impressive with online expected to grow 14.3% annually versus 3.5% economic growth and 5.8% retail growth.
UPS is poised to capture the online growth by evolving their product for industry specific solutions. UPS noted in a recent company presentation their deep collaboration with the healthcare industry. (see slide below) UPS collaborates with retailers and enhances the consumer experience with better tools.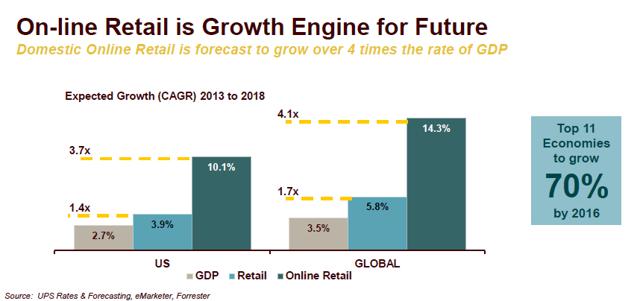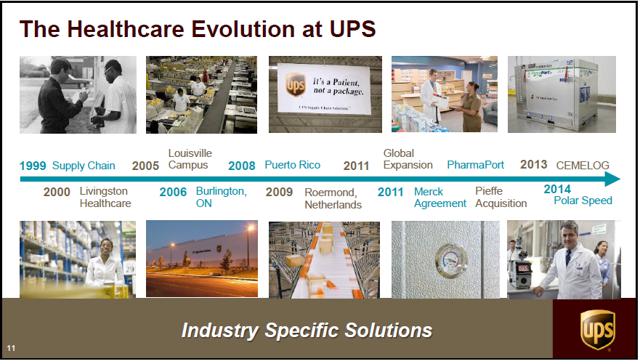 Operating Efficiency
UPS continues to innovate using technology to drive efficiency gains. During a recent company presentation UPS highlighted their ORION (On-Road Integrated Optimization & Navigation) platform. This technology will use algorithms to optimize routing taking into account business rules, customer needs and delivery commitments. In addition, employees are able to perform what if analysis to further optimize activities.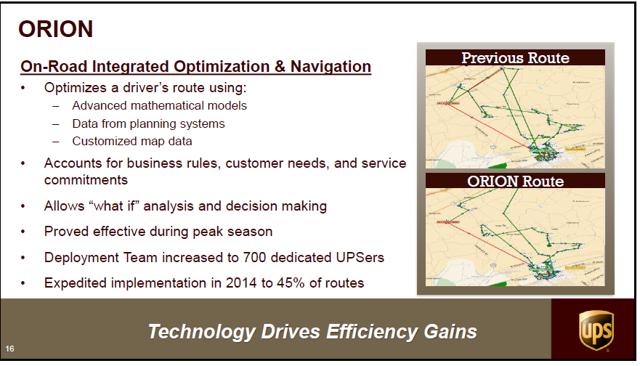 Financial Position
UPS has a strong history of cash flow generation eclipsing $5 billion in each of the past three years. UPS projects capital expenditures will be lower going forward as they realize benefits from previous investments.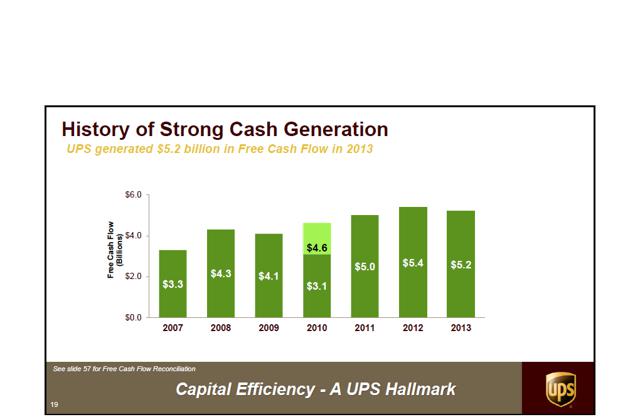 Valuation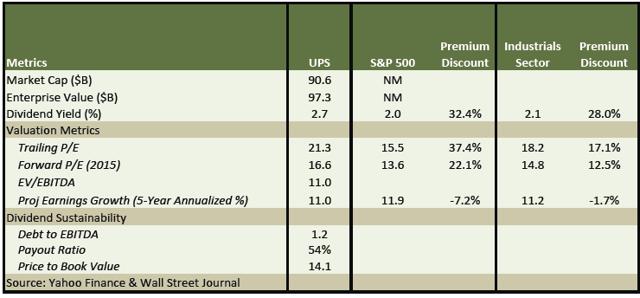 UPS has a market capitalization of $90.6 billion, enterprise value of $97.3 billion with a current trailing PE of 21.3. UPS PE on projected earnings is 16.6. UPS trades at a hefty premium to the S&P 500 and Industrials sector, both on a trailing and forward basis. UPS earnings are expected to grow by 11% annually over the next five years - a rate in line with both the S&P 500 and Industrials Sector.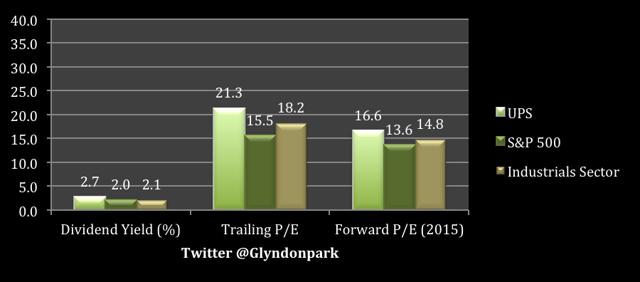 We rate UPS as fairly value based on bond refugee criteria that stresses relative value and stability of income.
UPSs earnings multiples are at a premium to the S&P500 and the Industrials sector.
UPS competitive advantage and rapidly growing market will likely result in more stable earnings in a historically more volatile sector - therefore justifying and multiple premium.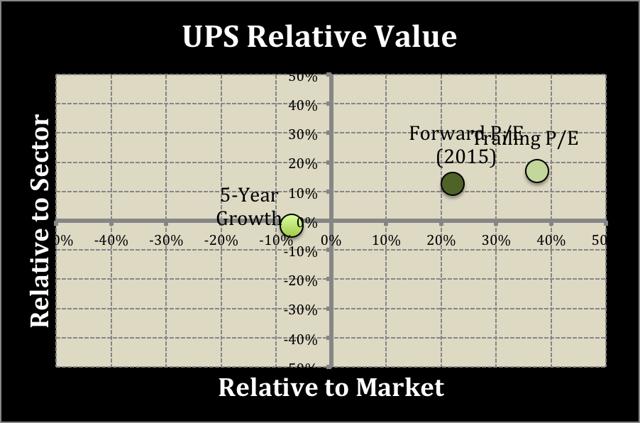 Dividend Stability
UPS has a track record of raising their dividend regularly since their IPO. Further the management team is committed to buying back stock and dividend payments.
From a financial view, UPS has a conservative balance sheet with debt at 1.2 times EBITDA. A very low rate given the capital intensity of their business. UPS has a payout ratio of 54% providing substantial flexibility to maintain the dividend.
We rate UPS stability as highly stable based on:
UPS history and commitment to growing dividends coupled with strong free cash flow.
UPS balance sheet and payout ratio are very conservative.
.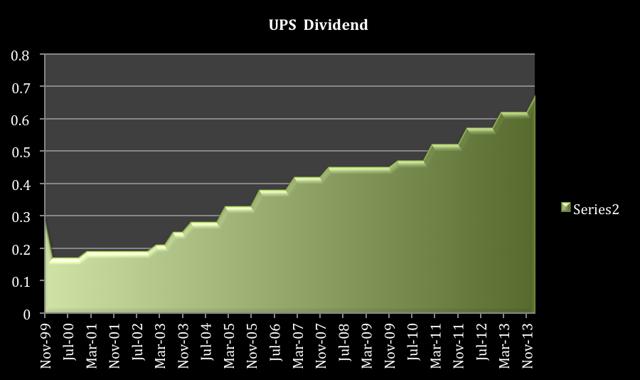 Sources:
Yahoo Finance
Wall Street Journal
S&P
UPS Company Presentation
Disclosure: I have no positions in any stocks mentioned, and no plans to initiate any positions within the next 72 hours. I wrote this article myself, and it expresses my own opinions. I am not receiving compensation for it (other than from Seeking Alpha). I have no business relationship with any company whose stock is mentioned in this article.