It's all going as planned at Skullcandy, Inc. (NASDAQ:SKUL). Q1 Revenue up. Gross Margin up. SG&A expenses down. Earnings beat by $0.05. And full-year guidance markedly up from previous guidance (Earnings release here, and conference call here).
2014 Q1 Net Sales: $39.1 million vs. $37.1 million:
"We are on the attack," exclaimed SKUL's CEO Seth (Hoby) Darling during the company's Q1 conference call.
Darling stated the company achieved progress on all fronts of his turnaround plan, and that revenue in Q1 was fueled by strong sales outside of the United States - in Canada, the Nordic region of Europe, the U.K., Mexico, China and Japan.
Demand in Canada, he said, "greatly exceeded expectations," driven by new power listening stations and popularity of the company's $99 Crusher model. Japanese consumers, too, chose to shell out $99 for Crusher more than SKUL's expectation.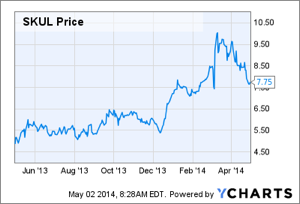 Due to the high purchasing power of Canadian, Nordic region, British and Japanese consumers, we expect a continued rise in sales of Crusher, Air Raid and other SKUL products above the $99 pricing point.
At nearly half the population of the United States, we feel the Japanese market for Crusher, Astro and future higher-priced models holds one of the keys to SKUL's strategic goal of splitting revenue between the United States and non-U.S. accounts, as well as achieving higher gross margins afforded SKUL from the sale of more of its high-end merchandise. China, of course, with its population 1.3 billion will drive revenue, though future quarters need to be accessed regarding that market.
To that end, SKUL CFO Jason Hodell said U.S. sales rose to $26.1 during Q1 from $26.0 during Q1 of 2013. Non-U.S. sales rose to $12.9M during the current quarter, up from $11.1M a year ago. Sales from non-U.S. accounts represent 33% of overall sales, up from 30% from a year ago. Hodell also noted Wal-Mart's (NYSE:WMT) "initial test load-in" was not included in U.S. sales, but will be included in Q2.
In late-May, Wal-Mart will offer SKUL's low-end-priced ($19.99) Buds, according to Darling. We will be watching the Wal-Mart account closely, as this retailer could contribute significantly to levering SG&A.
We expect data from SKUL's Wal-Mart sales to become available at the release of Q2 earnings. We will then update SA readers of the progress at Wal-Mart with our future article, titled, "Playing Skullcandy During The Turnaround (part II)."
Gross margin: 46.5% vs. 44.5%:
The increase of 200 basis points to Gross Margin was driven by a more favorable customer mix; ability to use returned product; lower supply-chain costs per unit of sale; and a lower warranty expense from lower warranty claims rate, according to the company. Lower claims were due to the company's shift away from production outsourcing.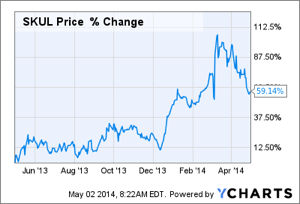 We believe the shift away from outsourcing will contribute significantly to maintaining Gross Margin in future quarters due to the meaningful reduction in overall Cost of Goods Sold from salvaging merchandise.
As reiterated through earlier communiques, achieving higher gross margin will be met with a higher proportion of revenue coming from the sales of Crusher, Bluetooth-enabled Air Raid speakers and the Astro Surround Sound line used with the Xbox 360.
"In Q1, our gross revenue product mix moved toward 'on' and 'over-ear' headphones verses Q1 [of] one year ago," said Hodell. "The share of 'on' and 'over-ear' products advanced to 51% of sales, from 47% [of] one year ago, driven by increases in the Astro [gaming] portfolio and Crusher growth."
In addition, Q1 results showed non-U.S. and U.S. off-price sales "significantly lower than internal guidelines," and were "consistent with [our] editing process" of last year, said Darling.
We expect improvement in gross margin as SKUL's higher-end products roll out in the United States, Canada, Japan, Europe, the U.K., China and Mexico, as the company will focus upon its strategic initiative of driving organic growth with existing customers first before expanding to other markets.
We expect this strategy will stabilize revenue and solidify the brand.
Selling, general and administrative expense: $22.1 million vs. $26.3 million
This large reduction in SG&A expenses were attributed to a significant write-downs of tooling, furniture and fixture; less severance expense; lower performance compensation expense (shifted to the end of the year through weighted timing); and less bad debt expense.
The company didn't delineate the savings of these four factors and represents the only chink in the armor of the Q1 earnings release. We suspect the bulk may be an accounting shift in performance compensation - which we may see in Q4.
SKUL's net loss per diluted share narrowed to $(0.12) for Q1, versus $(0.25) for Q1 of fiscal 2013.
Strong Guidance
Q2 guidance includes a 5% to 7% increase in net revenue ($53.3M to 54.3M), and a breakeven net profit.
We're looking for $0.04, the consensus estimate of analysts covering the stock. SKUL may be smartly playing the expectations game of guiding to the low side of its internal projections.
FY2014 guidance includes a "mid to high single-digit" percentage increase of net revenue, and between $0.16 and $0.20 GAAP earnings per fully-diluted share, an increase from previous guidance of between $0.10 and $0.14.
"[O]ur bottom line performance improved dramatically from a year ago, putting us on course to exceed our original profit targets for the full year," Darling stated in a May 1 news release.
Year-over-year results show SKUL adding $2M of revenue; adding $782,000 of Contribution through a 2% Gross Margin expansion; and increasing an additional $4.2M to EBITDA from slashing SG&A expenses during Q1.
SKUL Receives an "A-" for Delivering an Impressive Q1 Performance
In all, we give Darling an "A-" for delivering what he said he would deliver. And from the looks of the after-hours trading Monday, a pop of 9.03% without the benefit of any meaningful overhang of shorts speaks to our assessment of excellence to SKUL's Q1 results and guidance.
We feel Darling and company would deserve an "A+" if SG&A wasn't deferred in what we suspect is the Performance Compensation item line.
However, underneath the numbers and great expectations for FY2014 and beyond, we find in the details the two ingredients vital to this CEO's credibility: a well-thought out diagnosis and a detailed prescription to fix it - well-executed.
In short, Darling's marketing and merchandising skills appear to be more than enough to not only turn around SKUL but cause it to thrive. His persona and attitude toward investors speaks volumes to our confidence in him, his strategic planning, execution and much-improved product line.
In our previous article, "Playing Skullcandy During The Turnaround," we noted:
[Darling's] solid textbook blueprint for renewed growth is based on known marketing tends within the growing niche market of premium headphones. And the plan comes with a reasonably small risk of failure, as I see it. Darling's plan just needs to be executed, monitored and controlled, as there's nothing esoteric here for a rebound back to robust earnings growth.
After listening to SKUL's May 1 conference call, we stand by our assessment of Darling's command of marketing, branding and merchandising. And, thus far, he has also demonstrated an ability to properly execute.
Though SKUL lost 12 cents per share during the seasonally slowest quarter, we see the company emerging from Q2 profitable and poised for truly rapid growth. All else being equal, preliminary evidence of success from the Darling strategy suggests the momentum will continue.
Our outlook is predicated upon SKUL's continued execution of its "Five-pillar growth strategy" and no meaningful drop in discretionary spending among under-25-years-old consumers.
As outlined during previous communiques from the company, these five pillars to SKUL's turnaround include: Marketplace Transformation; Create and Innovate; International Sales to Reach 50% of Total Sales; Expand and Amplify Four Known Categories and Partnerships, and Team Operational Excellence.
The details of the five pillars were stated during the conference call. They include (we feel should be highlighted):
1) Drive awareness and demand through celebrity endorsements
2) Improve look-and-feel of POS materials
3) Continue to reduce retailers that violate pricing
4) Focus upon core customers engaged in the fastest-growing "intense sports" market, such as 'Cross Fit', Mud-Runs and Obstacle Racing
5) Seed more outlets for Women's lines for acceleration in fiscal 2015.
6) Continue promoting heavily the higher-margin Astro line during Microsoft's and Sony's cooling off of its initial competitive releases.
The company's cash position and accounts receivable have improved greatly, but these are typical of during the first quarter of the retail/supplier trade.
SKUL has NO outstanding debt.
The company has also reduced its Revolving Credit Facility to 10M, from 50M, and Letters of Credit to 5M, from 10M, with Wells Fargo National Bank. The purpose is to reduce the risk of breaching the terms of the original contracts of August 2013.
Risks
As we see it, among the usual and customary risks stated in every quarterly filing reports with the SEC, the primary risks include failure of management to execute its plan and deteriorating purchasing power of its target customers.
In addition to stock risk, overall market conditions may also affect the stock price. Investors should perform their own due diligence and inquiries before investing in any security.
Disclosure: I have no positions in any stocks mentioned, but may initiate a long position in SKUL over the next 72 hours. I wrote this article myself, and it expresses my own opinions. I am not receiving compensation for it (other than from Seeking Alpha). I have no business relationship with any company whose stock is mentioned in this article.