Is the stock market overbought?
I was asked that question recently by a Briefing.com reader. It came after the S&P 500 (NYSEARCA:SPY) had gained 4.1% between its low on April 11 and its high on May 1 -- a span of just 12 trading sessions. It is important to note that the aforementioned gain occurred on the heels of a 4.4% decline from the intraday high on April 4 to the intraday low on April 11 -- a span of just five trading sessions.
Getting to the bottom of whether the stock market is "overbought" or "oversold" is really a question for a technical analyst, which I am not. The more relevant question for me would have been: is the market "overvalued" or "undervalued?"
Regular readers of The Big Picture will recall from my March columns, An Apologist's View of the Market and Still Practically Positive, that I think the broader market has a full valuation while certain pockets of the market are grossly overvalued.
Notwithstanding my deficient skills as a technical analyst, I did provide the reader an answer. How could I not when my wife reminds me that I have an answer for everything?
My answer was thus: I don't know if the stock market is overbought. What I do know is that it is overwrought.
To the Dictionary
Overwrought is defined as being in a state of nervous excitement or anxiety. Yep, that pretty much sums up the stock market experience so far in 2014.
There is some palpable tension that the stock market could go either way right now. That is, it could break out or it could break down.
It has been exciting to see the Dow Jones Industrial Average (NYSEARCA:DIA), Dow Jones Transportation Average, and S&P 500 set new all-time highs. It has been angst-inducing to watch the Nasdaq Composite and Russell 2000 both drop nearly 10% from their recent highs on the back of a huge correction in many high-beta stocks.
It has been exciting to see the latest retail sales, durable orders, and industrial production reports reflect a recovery from the polar vortex slowdown. It has been angst-inducing to see the latest housing reports reflect a slowdown in what was expected to be an engine of growth this year.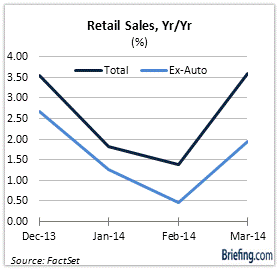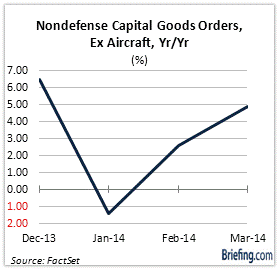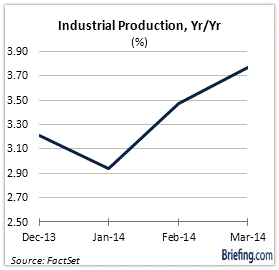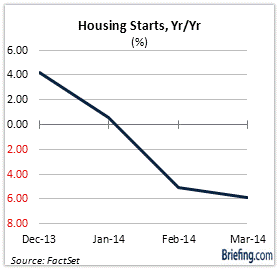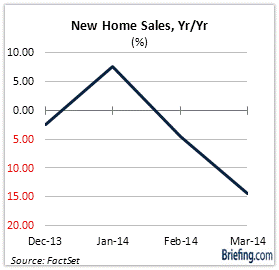 It has been exciting to see first quarter earnings coming in better than expected. It has been angst-inducing knowing that first quarter blended earnings growth is still just 1.5%, according to FactSet.
It was exciting to watch the Winter Olympics in Russia. It was angst-inducing to watch Russia annex Crimea just weeks after the end of the Olympics.
It has been exciting to see eurozone growth pick up. It has been angst-inducing to see China's growth slowing down.
It has been exciting to see the Federal Reserve taper its monthly asset purchases. It has been angst-inducing to see the Federal Reserve taper its monthly asset purchases (and, yes, I meant to say the same thing).
Pinterest
If I had to pin the stock market's overwrought status on just one factor, though, I'd pin it on the Treasury market.
I touched on the Treasury market's peculiar performance in a piece from two weeks ago, Capital Markets Not Buying What Talking Heads Are Selling.
I raise the issue again, though, considering the 10-yr yield is four basis points lower since then -- and that's after the Dow Jones Industrial Average climbed to a new all-time high, the FOMC said growth in economic activity has picked up recently, and nonfarm payrolls increased by 288,000 in April.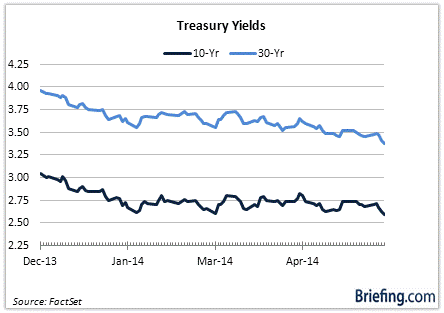 Frankly, the continued strength in the Treasury market is unnerving for stock market bulls on three levels:
It defies the conventional wisdom that the US economy is going to hit escape velocity soon
It flies in the face of all the talk suggesting government bonds are a terrible investment given their low yields; and
It is the embodiment of risk aversion, only the reasons why that may be are unclear

Concern a major stock market correction is coming?
Military conflict?
Worries that the Fed is tapering in such a way that will invite a cyclical slowdown?
Capital markets can move in a rapid-fire way and the Treasury market is not exempt from that. It is possible we could see a spike in the 10-yr yield before the year is done. A lot can happen between now and then. Its standing today, however, is a sight to behold because it is a sight very few people thought they would be beholding at this point in time.
What It All Means
For all that's been seen and said, the stock market has acted so far this year a lot like we thought it would at the end of 2013.
There has been a lot of roller-coaster action
Large-cap stocks have outperformed small-cap stocks
Multiple expansion has been hard to come by; and
The countercyclical sectors are holding up just fine versus the cyclical sectors
The difficulty the stock market has faced moving higher is not a surprise. The economic data haven't been strong and neither has the earnings growth. Remember, too, the S&P 500 surged 30% in 2013 on the back of 5% EPS growth. In our estimation, that huge price gain pulled forward a lot of the growth optimism for 2014.
With the latter in mind, a 1.8% year-to-date gain for the S&P 500 isn't bad at all. The problem for a lot of participants and sidelined investors is that it hasn't been an easy 1.8%. Furthermore, the recognition that longer-dated Treasury securities have been in high demand with the Fed pulling back on its monthly asset purchases hasn't created a comfortable feeling.
Some might say that leaves the stock market stuck between a rock and a hard place. Not me.
The hope that the economy will hit escape velocity soon and a Treasury market that isn't supporting that view leaves the stock market caught between nervous excitement and anxiety.
Risk management, whether you are a bull or bear, should not go unappreciated.
Disclosure: I have no positions in any stocks mentioned, and no plans to initiate any positions within the next 72 hours. I wrote this article myself, and it expresses my own opinions. I am not receiving compensation for it. I have no business relationship with any company whose stock is mentioned in this article.