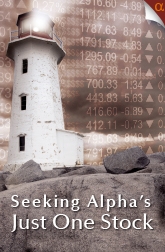 Several times a week, Seeking Alpha's Jason Aycock asks money managers about their single highest-conviction position - what they would own (or short) if they could choose just one stock or ETF.
---
[Editor's note: This story was updated to reflect that John Hecht of JMP Securities covers United PanAm Financial's stock; and to clarify that Consumer Portfolio Services (NASDAQ:CPSS) did not dilute shareholders when taking a private equity investment.]
The Banker has spent more than a decade on the buy side in financial management, and is portfolio manager of a Gig Harbor, Wash.-based long/short hedge fund.
If you could only hold one stock position in your portfolio (long or short), what would it be?
I would hold United PanAm Financial (OTC:UPFC). The company is a subprime auto loan originator.
During the move up in the economy United PamAm grew its branch structure from a few branches to a network of over 100 branches. The company has since consolidated these branches into one call center in Texas and one administrative office in Los Angeles. The company sold all originations done prior to last August to Banco Santander (STD).
United PanAm now has $40 million in receivables (auto loans made since last August) and $90 million in cash. Book value is currently $9 per share. The company is originating new auto paper and will be EPS neutral at $110 million in auto paper outstanding. This level should be reached in early 2011.
Between now and 2011, United PanAm should lose $0.50-0.75 per share in book value due to costs exceeding revenues. The company should be profitable in 2011 and make $0.50-1.00 in net EPS in 2012. I see the stock approaching book value in early 2011 and reaching a multiple of book value in 2012.
How does your choice reflect your (or your fund's) investment approach?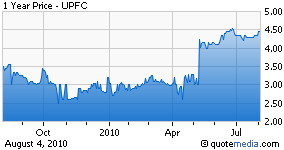 I run a financial services deep fundamental value fund. I have been a buy-side financial services analyst for 15 years and currently run a fund with a goal of 15% annual returns without excessive market risk or drawdowns.
United PanAm matches with my fund due to the ability to buy a dollar for forty cents, with little to no downside and plenty of upside catalysts. I buy the under-followed names without much analyst coverage.
Can you talk about the sector? How much is your selection based on the company's industry, as opposed to a pure bottom-up pick?
There is a ton of low-hanging fruit in the sector. The sector has very few competitors now. United PanAm is in an enviable situation.
The fundamentals of subprime auto attract me. These companies borrow at Libor plus one, and lend at 24%. There is a necessary market for these players, and little to no regulation. If the company can keep defaults under 10%, the EPS will be very strong.
This is a choice with very low liquidity; just around 7,000 shares trading daily and a market cap of a little over $67 million. How would you address concerns that something this illiquid is too risky a choice to hold as "just one stock"?
The liquidity is an issue. There are days when this stock is liquid. This is not a trading vehicle - this is a buy and hold. The return will be there; the liquidity is not an issue with my fund.
You've been in this stock a while, correct? What makes it a safe long-term hold and not prone to regulatory risk? It is working on loans in an area highly scrutinized by the government, after all.
Auto was excluded from the latest regulations. This is a necessary market for the subprime borrower, and at a reasonable rate for the credit risk.
This is not pawn [lending], or employment lending at 200% annually.
Describe the company's competitive environment. How is this company positioned with regard to competitors?
The competitors are mostly out of the industry. AmeriCredit (ACF) is the largest competitor, and ACF was just bought by General Motors at 1.5x book. United PanAm is trading at 0.48x book.
This seems like the biggest news for the future of this stock. Doesn't GM's purchase of ACF mean new competition for originating these loans - and competing against the U.S. taxpayer, no less?
ACF's business does not change. ACF targets franchises; United PanAm targets independent dealers. There is a ton of low-hanging fruit for subprime auto now that most of the competitors are out of the business. The takeout valuation on ACF was 1.5X book. - a peer valuation for United PanAm would be $13.
And what about Credit Acceptance Corp. (NASDAQ:CACC) - not ACF's size, but much bigger than United PanAm - and First Investors Financial Services Group (OTC:FIFS)? I suppose Consumer Portfolio Services (CPSS) mostly buys loans originated by others.
CACC is a totally different business; CPSS sold out to private equity and diluted heavily. United PanAm did not dilute equity, and has no need to raise capital. [Update: CPSS took a private equity investment that wasn't dilutive to existing shareholders.]

Does the company's management play a role in your selection? If so, how?
James Vagim is the new CEO (hired in 2008) - he has been in the industry for 30 years and I have met with him many times. He has the ability to make this company a significant player in the auto industry. He is compensated with 800,000 options at a strike of $5 and a reasonable salary.
Ravi Gandi is the CFO, and he made the Banco Santander transaction happen. I trust his abilities in this CFO role. He has 500,000 options also at $5 and his salary is reasonable. Both James and Ravi also own a significant amount of United PanAm stock, bought in the open market.
The chairman, Bill Bron, controls 58% of the company and exercised another 100,000 options that were out of the money at the time. He wrote a check to the company to exercise his options at $3.25 when the stock was trading under $3. The company did a fantastic job in negotiating the credit crisis, now going forward, I expect the current management team to originate more than $10 million in auto loans per month. The average loan size is $10,000 and they have the capacity to do more than I expect.
What catalysts, near-term or long-term, could move the stock significantly?
The company currently originates with its own capital. I expect a new line from Wells Fargo (NYSE:WFC) in late 2010 to early 2011 to be announced. This line announcement should boost the stock price by at least $1.00.

John Hecht at JMP Securities covers United PanAm. I also expect Stifel and Piper to pick up coverage. This coverage should boost the stock by another $1.00.

The company currently has 1 million shares to buy back. They are actively in the market buying back shares and will take any block for sale. I expect the company to increase this buyback when the million shares are executed.

Once the company shows a positive EPS quarter, I believe the stock will be trading at a multiple to book. This was a $33 stock price in 2006 and the company did not dilute shareholders by offering more stock.

The company decided to delist in 2009. This enabled the company to buy back stock and save in Nasdaq listing fees. I believe that the company will relist in 2011. The company still produces internal 10(q)s and 10(k)s.
What could go wrong with your pick?
Unemployment at 15%, and large future defaults on car loans above the level reached during the credit crisis.
Thanks for sharing your choice with us.
Disclosure: I am long OTC:UPFC.
Read more Just One Stock articles »
If you are a fund manager and interested in doing an interview with us on just one stock or ETF position you'd hold, please email Rebecca Barnett.