Shanda Games (NASDAQ:GAME) shares have risen 7.4% since its new game Dragon Nest started unlimited testing on July 22. Despite the recent run-up, I believe there is still plenty of upside for Shanda shares due to the stark contrast between Dragon Nest's large earnings potential and Wall Street's low expectations.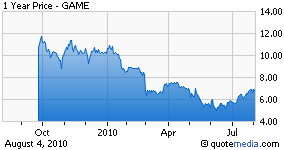 Dragon Nest has become a top-10 game in China. Based on my tracking, Dragon Nest has surpassed 400K Peak Concurrent Users (PCU) and 180K Average Concurrent Users (PCU) in the past week. As of today, it is the sixth most popular games in Internet cafes (Source: Barchina.net), the fourth most searched game (Source: Baidu.com), and the third most downloaded game (Source: 17173.com) in China. All of these data points indicate that Dragon Nest has become a top-10 game in China. In addition, Shanda has decided to start Dragon Nest's open beta on August 5 with 20 more server groups, implying a 23% capacity expansion from the current 88 server groups. The open beta is coming just two weeks after the start of unlimited testing. Such a short unlimited testing period and the significant capacity expansion indicate Shanda management is very confident that Dragon Nest is ready for the Prime Time. Based on these data points, I currently forecast Dragon Nest will generate $12 million and $16 million revenues in 3Q10 and 4Q10.
Wall Street's earnings expectations stay low despite Dragon Nest's strong performance. When Shanda started Dragon Nest's large-scale closed beta (Nei Ce) on June 17, the game's future was not clear, and Wall Street's consensus estimates included very little contribution from Dragon Nest. According to Yahoo! Finance, the consensus revenue estimate for Shanda Games (GAME) at that time was $180.6 million for 3Q10, $191.5 million for 4Q10, and $710.8 million for 2010. When Dragon Nest entered unlimited testing on July 22 with 300K PCU, the consensus had declined to $178.2 million for 3Q10, $187.7 million for 4Q10, and $707.4 million for 2010. As of August 3, consensus for Shanda's Q3, Q4, 2010 revenues stayed flat versus July 22, while Dragon Nest had surpassed 400K PCU. Consensus EPS estimates have followed the same trend as revenue estimates from June 17 to August 3. These data points indicate that Wall Street analysts have not timely raised their forecasts to reflect Dragon Nest's potential earnings contribution in the second half of 2010.
Shanda shares are poised to rise on upward revisions of earnings expectations. I believe Wall Street analysts have been slow to react to Dragon Nest's strong performance because they fear that Dragon Nest will disappoint them as Aion did in 2009 (Aion is a 3D game operated by Shanda). They have taken a cautious position to avoid damages to their reputation. In my opinion, such fear is overdone. As I pointed out in a previous article, Dragon Nest will not be the next Aion because of its different business model, different reliance on advertising, and different combat-control system. Even in the unlikely worst-case scenario, Dragon Nest will still make significant earnings contribution for at least two quarters as many short-term hit games did in the past. In this case, at least analysts should have raised earnings estimates for Shanda for 3Q10 and 4Q10, which has not happened based on my previous discussion. I believe as Dragon Nest continues to generate positive news flow in 2H10, and as Shanda report good 3Q10 and 4Q10 earnings numbers, more and more analysts will raise earnings expectations for Shanda. Shanda's stock price is poised to benefit from such positive changes in earnings expectations.


Disclosure: No positions