Colgate-Palmolive Current Events
Colgate (NYSE:CL) increased organic sales 7% in its most recent quarter, after increasing organic sales 6% for 2013. The business has steadily increased both revenues and market share by focusing on its core brands.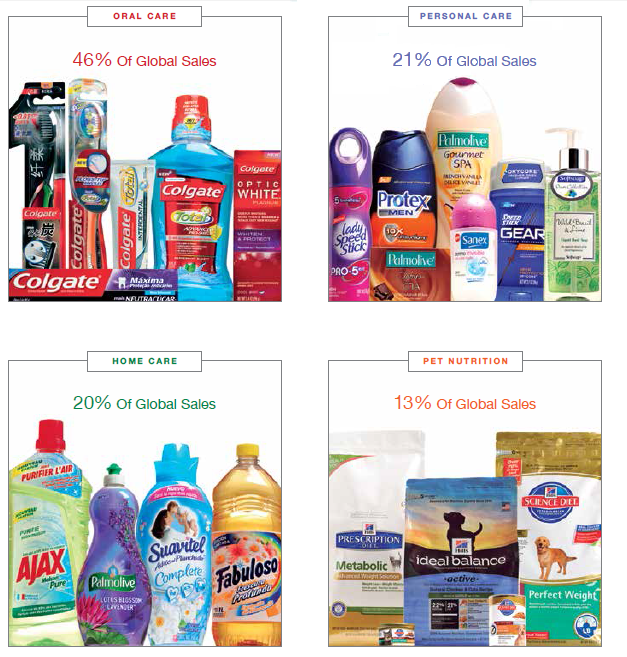 Source: 2013 Annual Report
Colgate's flagship toothpaste has steadily increased market share over the last 2 decades.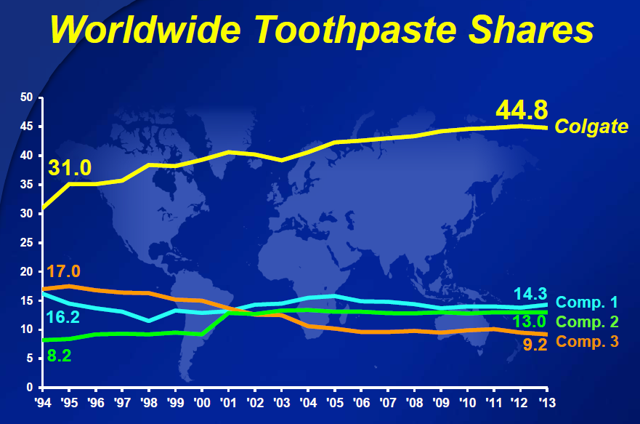 Source: Colgate CAGNY Presentation
Emerging market organic growth was 9.5% for 2013. The business has maintained close to 10% organic growth in emerging markets for over a decade. The company has compounded net sales at 4.5% per year since 1992. Such a long record of consistent growth is evidence of a strong competitive advantage.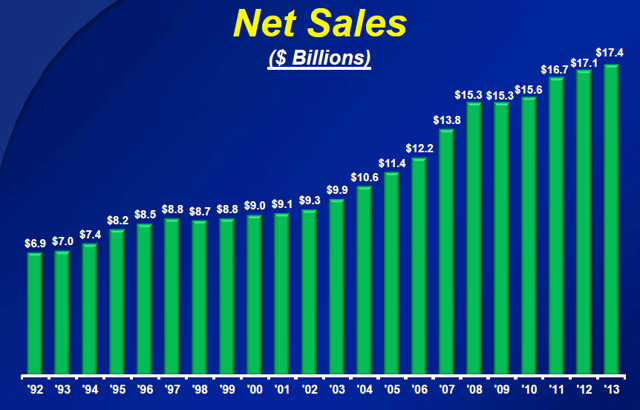 Colgate's growth strategy going forward is to continue focusing on its core brands. The company will achieve growth through deeper penetration in emerging markets, increased advertising, and product innovation within its core brands. Colgate is also focused on reducing expenses to increase margins.
Historically, Colgate has been very shareholder friendly. The company has returned an average of $1.37 billion to shareholders in the form of share repurchases each year over the last 3 years. This is about 2.25% of market cap each year at current prices. The company currently yields 2.15%.
Amazingly, the company has paid uninterrupted dividends since 1895 and increased its dividend for 51 consecutive years. This streak is not likely to stop soon. Shareholders of Colgate can expect a CAGR of around 10.5% from dividends and share repurchases (4.5%) and growth (5% to 7%). Colgate is one of only 9 dividend aristocrats to have paid increasing dividends since 1989.
Source: 25 Year Overview of Dividend Aristocrats
Clorox Current Events
Clorox's (NYSE:CLX) mission is to "make everyday life better, every day" through its portfolio of consumer products. Clorox's consumer products brands have been performing well, with 90% of the company's brands #1 or #2 in their categories.
Source: Clorox 2013 Annual Report
Clorox breaks down its company into 4 divisions: cleaning, household, international, & lifestyle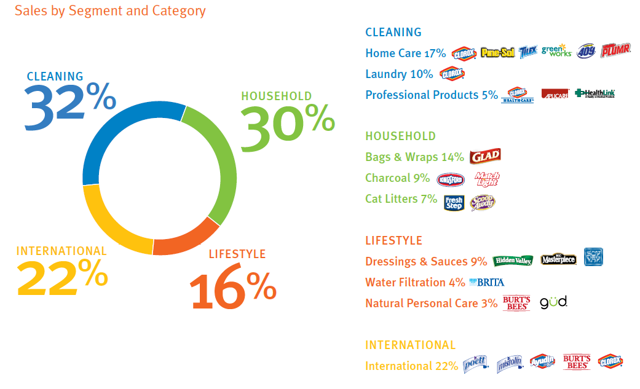 Source: Clorox 2013 Annual Report
Clorox grew revenues 3% in 2013. The company expects 3% to 5% sales growth through 2020. Clorox's growth by division for 2013 is broken down below:
Cleaning 5%
Household 1%
Lifestyle 3%
International 2%
Clorox plans to grow through bolt-on acquisitions, expanding brand penetration, and through innovative new product launches.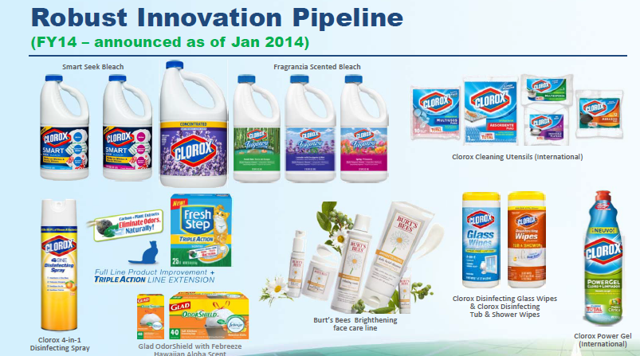 Source: Clorox 2014 CAGNY Presentation
Clorox's acquisition of Burt's Bees in 2007 is an example of the type of acquisitions the company is looking to make.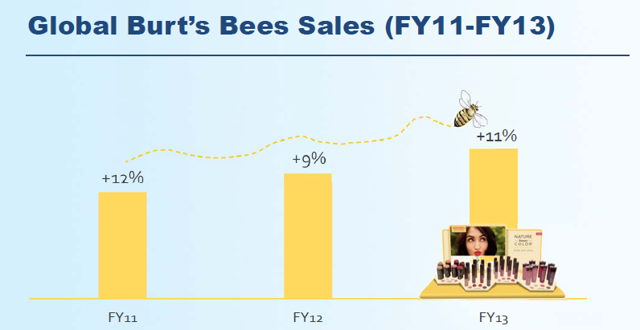 Source: Clorox 2014 CAGNY Presentation
Clorox has repurchased $696 million shares in the 3 year period ending 2013. At this rate, Clorox is buying back about 2% of its market cap each year. Clorox has a dividend yield of 3.18%, and has increased its dividend for 36 consecutive years. Clorox should achieve a shareholder CAGR of about 9% a year going forward from its dividends (3%), share repurchases (2%), and growth (3% to 5%).
Comparison 1: Dividend History
Colgate has increased its dividend for 51 consecutive years, versus 36 consecutive years for Clorox. Both businesses pass the 25+ years test; both businesses are Dividend Aristocrats.
Why it matters: The Dividend Aristocrats (stocks with 25+ years of rising dividends) have outperformed the S&P 500 over the last 10 years by 2.88% per year.
Source: S&P 500 Dividend Aristocrats Factsheet, February 28 2014, page 2
Comparison 2: Dividend Yield
Clorox has a dividend yield of 3.17% versus 2.15% for Colgate. Colgate's lower dividend yield is due to the stock trading at a significant premium. Colgate has a P/E of 28 versus 21 for Clorox. Clorox is a significantly better value than Colgate at this time.
Why it Matters: Stocks with higher dividend yields have historically outperformed stocks with lower dividend yields. The highest yielding quintile of stocks outperformed the lowest yielding quintile by 1.76% from 1928 to 2013.
Source: Dividends: A Review of Historical Returns
Comparison 3: Payout Ratio
Clorox's payout ratio of 62% is fairly high. Colgate has a payout ratio of 55%. Both businesses have higher than average payout ratios, but neither business is in danger of reducing their dividend.
Why it Matters: High yield low payout ratio stocks outperformed high yield high payout ratio stocks by 8.2% per year from 1990 to 2006.
Source: High Yield, Low Payout by Barefoot, Patel, & Yao, page 3
Comparison 4: Growth
Colgate is expected to grow at around 8% (including share repurchases) going forward, compared to 6% (again, with repurchases) for Clorox. Clorox has grown revenue per share by 6.35% per year over the last 10 years, versus 6.80% for Colgate. Colgate holds the edge in growth historically, and is expected to in the future as well.
Why it Matters: Growing dividend stocks have outperformed stocks with unchanging dividends by 2.4% per year from 1972 to 2013.
Source: Rising Dividends Fund, Oppenheimer, page 4
Comparison 5: Volatility
Both businesses have low volatility. Clorox's long-term standard deviation is 18.40%, versus 19.51% for Colgate.
Why it Matters: The S&P Low Volatility index outperformed the S&P 500 by 2 points per year for the 20-year period ending September 30th, 2011.
Source: Low & Slow Could Win the Race, page 3
Conclusion
Both businesses have high quality brands that have resulted in decades of growth and will likely continue growing into the future. Both businesses are also historically very shareholder friendly. Clorox is favored over Colgate based on the 5 buy rules from the 8 Rules of Dividend Investing due to its higher dividend yield.
When Colgate's P/E ratio falls (and its dividend yield rises), it will be higher ranked. Both businesses are excellent long-term holdings. Clorox is fairly valued (or slightly overvalued), while Colgate is overvalued at this time.
Disclosure: I have no positions in any stocks mentioned, and no plans to initiate any positions within the next 72 hours. I wrote this article myself, and it expresses my own opinions. I am not receiving compensation for it (other than from Seeking Alpha). I have no business relationship with any company whose stock is mentioned in this article.