SanDisk Corporation (SNDK), the flash memory manufacturer, reported solid first-quarter earnings. The results came in below my forecast on soft gigabyte prices. The company's solid-state drive segment reported excellent results, which is at least partly attributable to the strong product pipeline. Looking forward, the company could report revenue growth of about 10% for the full year, but EPS growth should be stellar on the impact of share repurchases.
The company should report solid results from its SSD and embedded segments during the fiscal year, but the removable segment could weigh on the results of operations. Removable is less attractive to consumers in the age of cloud stage. Falling ASPs are a key risk to the outlook for the calendar year.
For now, shares of SanDisk are overvalued as strong financial performance, an excellent product pipeline, and share repurchases have driven shares above their intrinsic value ($81).
Recent Developments
The Lightning Gen. II 12 Gb/s Serial Attached SCSI SSD was introduced.
The world's first 4-terabyte enterprise SAS SSD, the Optimus MAX, was unveiled.
Volume production of 15 nm NAND flash process node will begin in the second half of 2014.
The Board of Directors declared a second-quarter 2014 cash dividend of 22.5 cent per share.
Analyst's Note
SanDisk Corporation is a global leader in flash storage solutions. SNDK sells chips to device makers of smartphones, cameras, and other mobile devices. Also, SNDK is increasingly using NAND chips in its own branded solid-state drives, which are sold directly to companies and consumers. While they remain significantly more expensive than mechanical hard drives, SSDs are gaining popularity in data centers and consumer laptops because of their increased efficiency.
Thinking about the business and industry, it is getting cheaper for SanDisk to produce, which is attributable to economies of scale and favorable currency movements. During 2013, there were circumstances that helped firm prices during the year, but generally it appears supply and commoditization are outstripping demand with the consequence of reduced ASPs. Lastly, growth in SSD solutions could be masking weakness in removable. (When was the last time that you purchased removable memory?) While the scale of my survey was limited, I think the results are indicative of reality; removable has a place but embedded and SSD are SNDK's future. A non-attributed quote referring to removable memory, "That's old school; cloud storage…."
| | | |
| --- | --- | --- |
| For the year ending (in millions of dollars except per share data): | 2013-12 | 2014-12E |
| Revenues | 6170 | 6849 |
| Gross profit | 2867 | 3219 |
| Operating income | 1562 | 1849 |
| Net income | 1043 | 1370 |
| Diluted EPS | 4.34 | 6.20 |
Revenues are forecasted to come in below my original estimate as the ASP/gigabyte decline partially offsets gigabytes growth. My initial forecast was for 16.7% revenue growth to $7 billion, but I am lowering my estimate to 11% revenue growth or $6.85 billion. Readers should note that the industry is prone to sharp declines in ASP/gigabyte, and consequently the revenue forecast could be revised lower. The profitability profile for 2014 is better than I originally expected and the share count lower, and thus my diluted EPS forecast now calls for 43% growth to $6.20. Above is the table with the revised estimates. Additionally, the core-operating margin is trending higher.
There was a decline in liquidity during the first quarter, as $840 million of convertible debt became current. But the liquidity appears ample, and the solvency position seems solid. There could be an increase in debt of $160 million or more during the calendar year. Also, accounts receivable has picked up substantially since the recession with the recent pace of increase slowing. After years of allowing relative fixed capital to decline, management has recently emphasized fixed capital investment, which could be a positive sign. Lastly, management hasn't been "active" on the acquisition front; this could be an area that is utilized later if organic growth begins to falter. Overall, the balance sheet looks solid, but I question the ROI of the long-term marketable securities relative to alternative options.
Cash flow from operations is running below my forecast of $2.06 billion. There was a decrease in the non-cash charges during the first quarter, but most of the difference between my forecast and the run rate is attributable to changes in working capital. So I'll see how that plays out before I adjust my forecast. The latest expectation is $2.06 billion of free cash flow to equity for the full year.
Including the updated operating and financial intelligence, SNDK is expected to generate a net operating profit that is greater than its cost of capital in 2014. The key risk to the outlook for this year is the price of memory.
General Risks
The share price is likely to remain volatile and investors could lose a portion or all of their investment.
Investors should judge the suitability of an investment in SanDisk in light of their own unique circumstances.
A decline the global economic growth rate and/or a decline in the pace of economic growth in the United States could adversely impact the results of operations and the share price.
The technology industry is characterized by rapid technological change, which could materially adversely impact the results of operations.
Competition in product development and pricing could adversely impact performance.
Incorrect forecasts of customer demand could adversely impact the results of operations.
Higher interest rates may reduce demand for SanDisk's offerings and negatively impact the results of operations and the share price.
This section does not discuss all risks related to an investment in SanDisk.
Valuation and Portfolio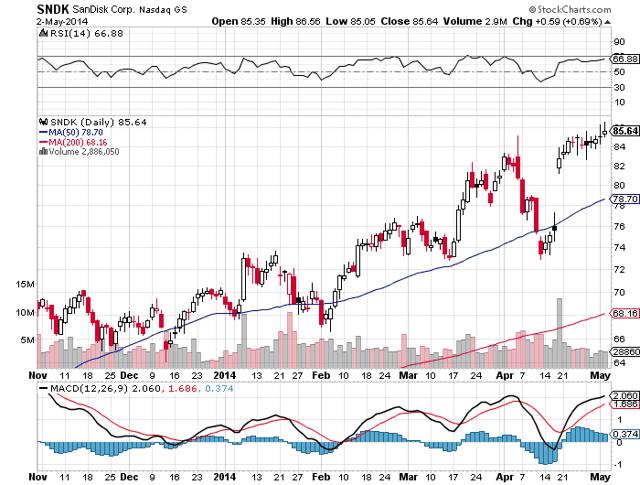 SNDK is in a bull market of intermediate and primary degree. The health of the primary trend appears to be excellent. Consequently, while the trend may appear to be long-in-the-tooth, it seems likely to continue.
| | | |
| --- | --- | --- |
| Monthly expected return | Quarterly expected return | Standard deviation of quarterly returns |
| 3.22% | 9.66% | 23.75% |
| | | |
| --- | --- | --- |
| | Estimated intrinsic value | Forward price multiplies based on intrinsic value estimate |
| Optimistic | $127.73 | P/E: 13.11 |
| Base case | $81.28 | P/S: 2.62 |
| Pessimistic | $46.45 | P/BV: 2.62 |
| | | P/CFO: 9.30 |
Based on the fundamentals of the firm, the base case intrinsic value of SNDK shares is $81.28, which means that the shares are currently overvalued. The absolute values of the forward multiplier valuations aren't pricey (13 times earnings), but there is the risk that the fundamentals of the firm are peaking. Additionally, the memory device supplier is trading at an EV-to-2014-NI (net income) of 13.50.
Disclosure: I have no positions in any stocks mentioned, and no plans to initiate any positions within the next 72 hours. I wrote this article myself, and it expresses my own opinions. I am not receiving compensation for it (other than from Seeking Alpha). I have no business relationship with any company whose stock is mentioned in this article.