The Alerian MLP index gained 1.64% for the week with a 7.31% YTD total return. The S&P 500 finished the week with a 0.95% gain. The gains in the MLP space resulted in 17 new 52-week highs against one new low. Q1 earnings are providing transparency into which MLPs have assets in the high growth basins as well as the significant operational impact from the prolonged cold winter.
To further highlight the impact of shale production, BASF previously announced it could save $500MM per year in energy related costs by relocating assets to the US. Friday, BASF announced that it is considering investing over $1.4B to build a propylene plant, which would be its largest plant in the world.
Unit Value Winners and Losers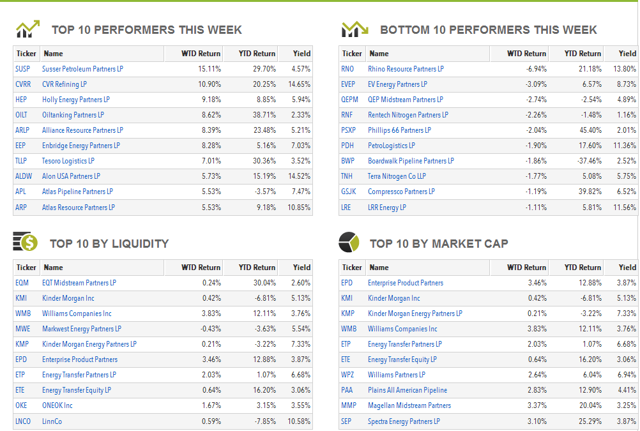 Susser Petroleum Partners LP (SUSP) benefited from the announced acquisition by Energy Transfer Partners LP (NYSE:ETP) of Susser Holdings Corp. (NYSE:SUSS), which owns the GP, IDR and about 50% of the LP units of SUSP. The acquisition will result in an SUSP entity, post drop down, of roughly $500MM EBITDA, with opportunity for mid single digit growth from cost synergies and product integration. ETE will benefit from the IDR payments which will reach top split upon drop down.
Variable distribution MLP CVR Refining LP (NYSE:CVRR) declared a $0.98 distribution, up from $0.45 paid for Q4 of 2013, but much lower than the $1.58 in Q2 2013.
During earnings release, Rhino Resource Partners LP (NYSE:RNO) discussed thermal coal prices remain at bottom of the market and that full-year DCF may fall short of cash required for the current distribution rate.
High Growth Units
The below chart shows the top 3 year CAGR distribution estimates compiled from the leading analysts

Distribution Rate Changes
Of the 23 distribution announcements this week, 16 were for higher rates than paid in the previous quarter. The only decrease was from variable distribution payer CVR Partners LP (NYSE:UAN). The chart below shows the announced increases: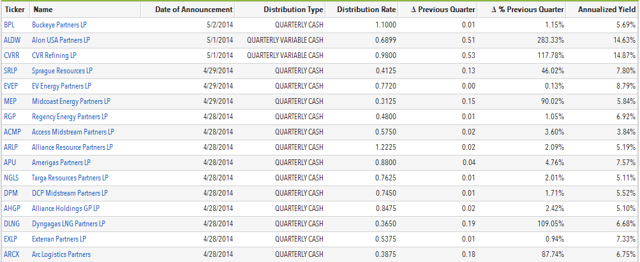 Insider Trading
Insider trading was very light for the week due to the earnings period, with only two sales reported.

Share Issuance News
EQT issues $814MM of units to fund their Jupiter dropdown. FGP placed $40MM of units directly with an investor. Westlake Chemical Corp. (NYSE:WLK) filed to spin off its ethylene business as an MLP. PBF Energy has launched their roadshow to spinout PBFX.
Get the details of any offer of interest by clicking on the specific issue on the Issuance page of the MLPData Dashboard.



ETF, CEF and Mutual Fund Money Flows
MLP focused funds added $389 million in assets over the last week, down from $394 million the previous week. Mutual funds picked up $226 million, almost level with last week, and ETFs added $63 million. Closed End funds lead in performance, with KED at 25% YTD return, a 10% premium to their NAV return of 15.05% YTD.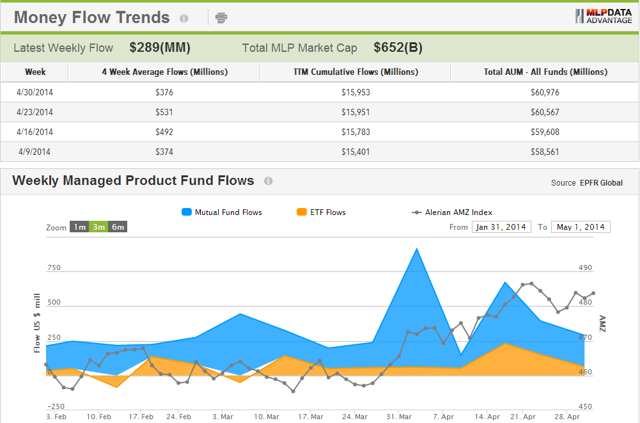 Next Week's Earnings Calendar
Next week 59, or about half of the sector, MLPs or related companies report Q1 earnings.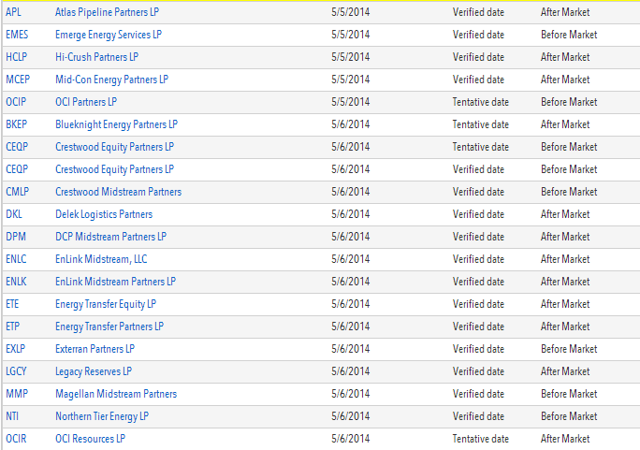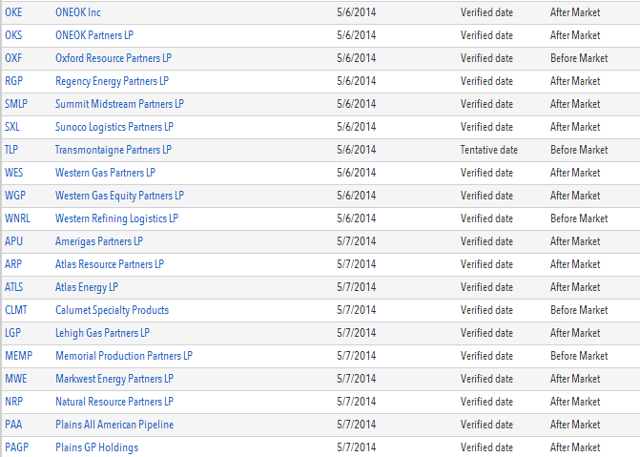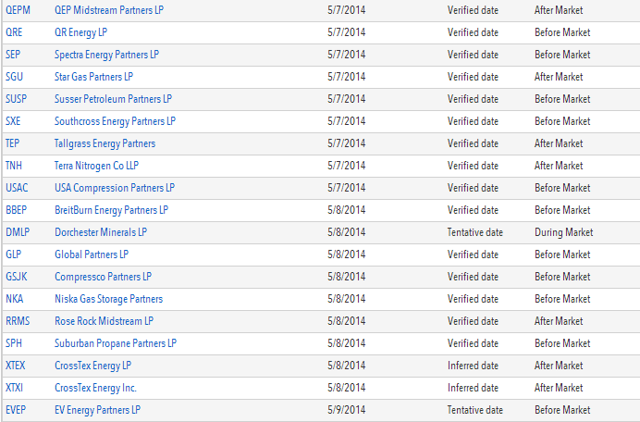 To make sure you get this round-up each week, make sure you are Following MLPData here on Seeking Alpha.
All charts and tables provided by MLPData.com
Disclosure: I have no positions in any stocks mentioned, and no plans to initiate any positions within the next 72 hours. I wrote this article myself, and it expresses my own opinions. I am not receiving compensation for it. I have no business relationship with any company whose stock is mentioned in this article.