Whole Foods Market (NASDAQ:WFM) is the largest premium grocer in the US, with a footprint of 362 stores at the end of 2013.
WFM stock took a significant hit during the great recession, but has bounced back outstandingly over the past 5 years. It reached an all-time high late in 2013 before moderating slightly and is now trading at around the $50 mark.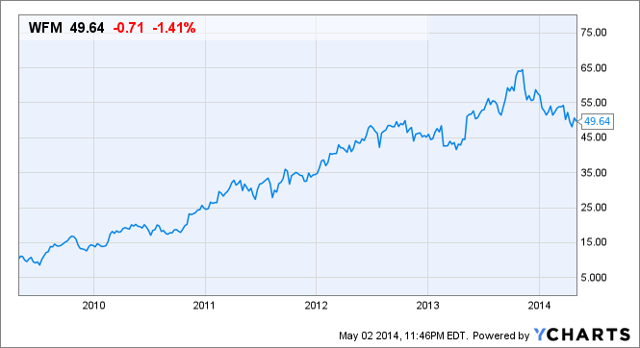 Source: Ycharts
WFM has expanded from 284 to 362 stores since 2009, and expects to open between 33 and 38 stores in fiscal FY14. Over this period, net sales have grown at an annualized rate of 12.6%, and WFM expects to maintain the pace this year, with a growth rate of 11-12%.
Store growth and comparable sales/store growth
Post-FY09, where comparable sales/store shrank 4%, WFM has grown comps impressively every year between 7 and 8%. Comps for FY14 are expected to be between 5.5 and 6%. In my model, I have assumed 6% growth in comps for FY15 and FY16, and 5% going forward. These assumptions reflect the impact of a productivity ceiling as the base of mature stores grows. There could also be some impact due to increased competition which could force WFM to stock more value offerings, resulting in a lower average ticket.
WFM is planning to expand its rate of store growth by opening between 33 and 38 stores in FY14, a record. In my model I assume net new openings of 36 to 41 stores each year through 2020, which reflect an improving economy and increased preference for natural and organic groceries. Here are my assumptions for store and comp growth: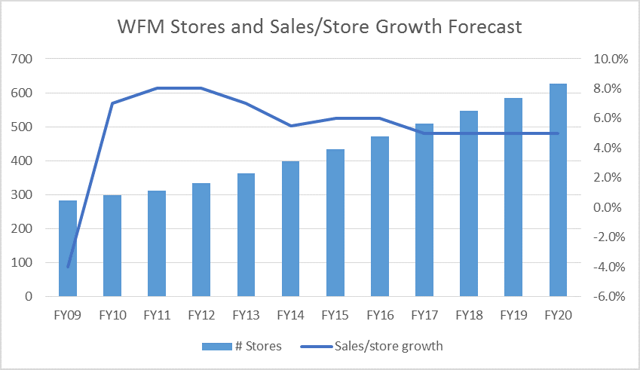 Source: WFM 10-K (2009-2013); Aurium Investments forecasts (2014-2020)
Gross margin and operating expenses
WFM is a premium grocer, and its gross margins reflect this. The company targets gross margins in the 34-35% range, and has been growing its gross margin percentage over the past few years. FY13 was a record at almost 36%. I would expect this to moderate slightly in the coming years due to the effects of competition, but have still modeled it at 35.5% going forward. Maintaining its high gross margins will be key to Whole Foods' performance.
Direct store expenses are mostly comprised of labor, and have been declining slightly but are still more than 25% of sales. WFM takes pride in providing industry-leading benefits for its employees which leads to lower turnover and high satisfaction. The company has been chosen in Fortune's list of 100 best places to work every year since 1998, which reflects the investment it makes in its employees. The following chart shows a comparison in gross margin and SG&A expenses between WFM and two of its competitors: Kroger (NYSE:KR), a more traditional grocer, and Sprouts Farmers Market (NASDAQ:SFM), which is a direct competitor in the premium grocery space.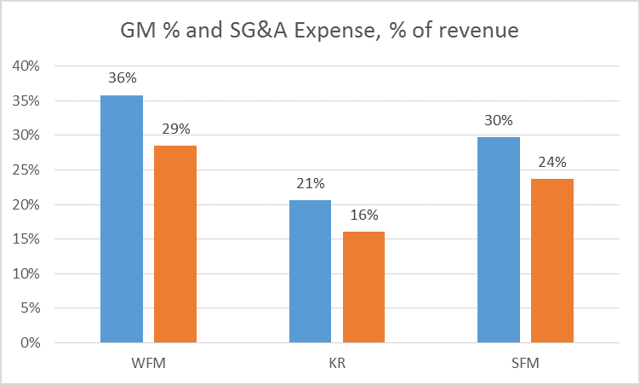 Source: Yahoo Finance
WFM's gross margins are 20 points higher than Kroger's but also 6 points higher than SFM - which is an opportunity to reinvest into the business but also a threat if it can be undercut by its competitors who offer a similar promise. SG&A expenses on the other hand are 5 points higher than SFM, which indicates that WFM could realize some efficiencies here if it needs to, while being careful not to jeopardize its employee-friendly reputation.
In my model, I assume direct store expenses decline slowly to around 25% of sales by 2020. G&A expenses are assumed to decline from 3.1% to 2.4% of sales due to operating leverage. Pre-opening costs vary with the number of store openings.
With these assumptions, I model a slight expansion in operating margins from 6.8% in 2013 to 7.8% in 2020.
Valuation
In the valuation model, I have used a discount rate of 10% and a terminal value growth rate of 3%, as well as dilution of 1-1.5% per year. This yields a fair market value (FMV) of around $44, which is a 12% discount to the current share price. One could argue for a higher discount rate in the 11-12% range, since WFM tends to be a volatile stock and less resilient to economic uncertainty. Using discount rates of 11% and 12% result in an FMV of $38 and $34, respectively. The valuation model is below: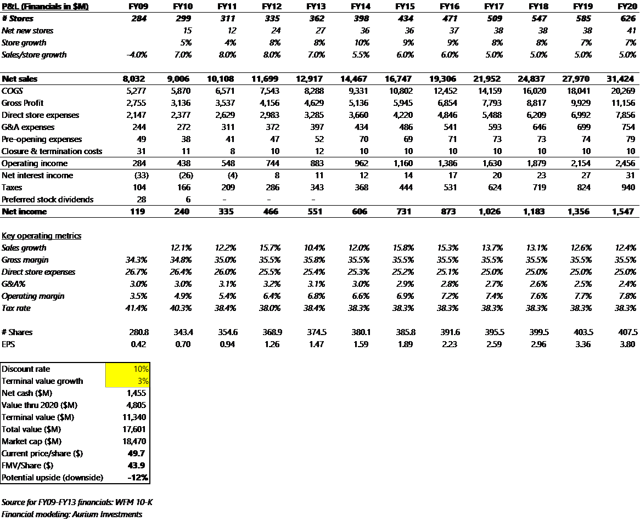 Risks and opportunities
An economic downturn is the biggest risk for WFM - the last one saw its stock crater to single digits. From an operational standpoint, maintaining its healthy gross margin will be challenging as competitors attempt to undercut it by offering a similar product assortment at better prices. A 1 percentage point reduction in gross margin would result in an FMV of $39, or a 22% discount to current prices. On the other hand, even if WFM were to grow its comps 7% annually, it would be worth $47 - still a 5% discount.
Summary
WFM is a premium brand that is loved by its customers and employees. The company executes very well on its promise and has years of growth ahead. However, it is priced at a premium as well, and needs to keep performing to a very high bar in order to justify its share price. Buying at current prices would be overpaying. Premium stocks such as WFM tend to fall hard during market declines, and that would be an opportune time to jump in.
Disclosure: I have no positions in any stocks mentioned, and no plans to initiate any positions within the next 72 hours. I wrote this article myself, and it expresses my own opinions. I am not receiving compensation for it (other than from Seeking Alpha). I have no business relationship with any company whose stock is mentioned in this article.
Additional disclosure: I am short WFM $30 and $35 puts.