Whilst buy-and-forget is not my approach to investing, I feel that the more of my picks prove to be good holdings for say five years or more, the more successful I have been as an investor. If there is one index that I really want to beat or rather undercut, it is my trading-activity-index. Here is how I have been performing by this measure since January 2013: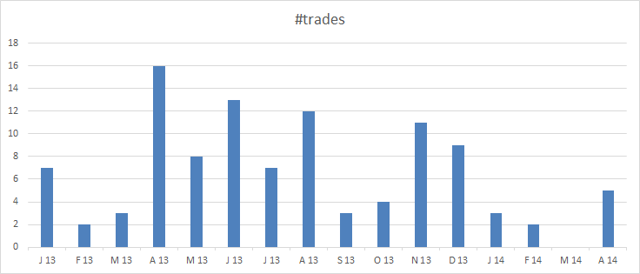 The trades fall into two categories: necessary and unnecessary ones. The former are those trades that bring me closer to the targeted portfolio. The latter are the result of me moving the goal posts to where they should have been in the first place. Following a review, the 2014 YTD number of unnecessary replacements of positions in my (still relatively) Sustainable Portfolio is three. If this becomes the average churn rate, it will take six years until I have replaced every single position once. This is not my ambition and puts the management fees that I save by not investing in ETFs into perspective. Does this mean that I will switch my stock allocation to ETFs? Not yet. The stats show how the number of trades has gone down since I have started sharing my approach on SA in January this year, which is encouraging, and even other things have been working actually quite well as we will see later on.
Below is a summary of my targeted portfolio before and after the review:
Before

After

13%

European large cap

Novartis (NYSE:NVS)

Swiss Re (OTCPK:SSREF)

The Swatch Group (OTCPK:SWGNF)

Coloplast (OTCPK:CLPBF)

Novartis

The Swatch Group

Coloplast

13%

European small cap

Chr. Hansen (OTC:CHHYY)

Schaltbau Holding

Energiekontor

IAR Systems (OTC:IARSF)

Chr. Hansen

Schaltbau Holding

Energiekontor

IAR Systems

15%

International

Canadian National Railw. (NYSE:CNI)

Ecolab (NYSE:ECL)

SunOpta (NASDAQ:STKL)

Hannon Armstrong (NYSE:HASI)

Kyocera (NYSE:KYO)

Sims Metal Managemt. (OTCPK:SMSMY)

Canadian National Railw.

Ecolab

SunOpta

Hoya (OTCPK:HOCPY)

Kyocera

Sims Metal Managemt.

8%

REITs

HCP

Hannon Armstrong

PSP Swiss Property (OTCPK:PSPSF)

GPT Group

17%

European long-term gov't bonds

Germany 12-42

Denmark 09-39

Germany 12-42

Denmark 09-39

Finland 12-42

17%

Gold

17%

Cash
I have initiated positions in all of the portfolio's components, but I have not arrived at all targeted percentages, yet. The proportions of European small caps, REITs and gold are virtually as targeted, but I still have to use some cash to add to my bonds, international equities and European large caps.
The changes in detail
European Large Caps >> SSREF out, SAP in
In the large cap stock allocation I replaced Swiss Re with SAP. Although I still trust that demand for natcat insurance cover will grow, I am not so sure anymore that Swiss Re is the right play on this trend. Alternative capital seems to have changed the reinsurance market in that supply has been increasing faster than demand, which has lead to margin compression among reinsurers. Since my stock allocation is meant to outperform the other asset classes in periods of growth, it seems doubtful to me that Swiss Re will be able to deliver that growth. Therefore, I closed the position.
This move was unnecessary because the reinsurance market did not change overnight and I should have analyzed it better before I went long Swiss Re. Luckily, I could exit at a profit so at least this lesson paid for itself.
The new entrant is a German household name: SAP. I do not even want to try linking SAP to one of the trends that I presented here. I simply failed to find a play on any of these trends among European large cap growth stocks. The space of stocks that are both large cap and growth is actually rather narrow and when I looked into the holdings of mutual funds with this particular focus, it was always the same names that popped up. By all other criteria presented in the article about Coloplast, SAP is no surprising choice at all, though: robust balance sheet, cash-generative business, long history of pay-outs, substantial stake held by founders and ambitious CSR policies. Plus, I had the chance to gather a little bit of insight in how they do business as they offered me a job at the beginning of my career and I appreciate their corporate culture. I expect that SAP will not give me much headache.
European Small Caps >> No changes
International >> HASI out (to REITs), HOCPY in
Despite its REIT status, I considered HASI a specialty finance business that could be part of my allocation of international stocks. However, then I realized that it does not really matter whether a REIT is a brick-and-mortar business or not. What matters is its function in the portfolio. As shareholder of any REIT my returns are mainly driven by distributions and asset appreciation, but hardly by re-invested cash-flows that fuel growth. The latter is what I expect my other stocks to deliver and therefore I chose to replace HASI by a non-REIT. Again, if I was a bit more careful a year ago, I could have easily avoided this flaw.
The new entrant to the allocation of international stocks is Hoya. The starting point for my screening process was that I wanted to increase my exposure to Asia and emerging markets. The Tokyo Stock Exchange is the gateway to individual Asian stocks that is most accessible to me. A further Japanese stock also gives me more options for reinvesting the JPY that I accumulate through dividends over time.
Like many Japanese companies, Hoya has been concentrating on mastering a high-technology as a platform from which they derive a variety of products rather than focusing on a particular product. Hoya is specialized in manufacturing optical glass and operates in two segments: Life Care and Information Technology. The former includes lenses for eyeglasses, contact lenses as well as endoscopes and stands for 56% of revenues, and the latter includes photomasks, glass disks for HDDs as well as optical lenses and stands for 43% of revenues. The key driver of growth is Life Care and in this case I can confirm that I managed to find a company that is addressing trends that I want to capture as well: Aging populations and increase in middle-class population in emerging markets. The company's financials are very sound by my standards. Hoya has been posting operating profits since its IPO in 1960. I cannot really judge Hoya's CSR track record and suffice with noting that they do not seem to ignore social responsibility; their products are beneficial to people and the stock has been held by a number of SRI funds.
REITs >> PW and DLR out, PSPSF and HASI in
By moving HASI into the REIT allocation another REIT had to leave. I decided to remove Power REIT from the allocation since it overlaps with HASI in terms of investment themes, has suspended its dividend payments and may be a bit too exciting for a REIT.
Further, as I took from the diversification review, 9 out of 18 stock picks were mainly plays on North America, which was a bit out of proportion for an European investor. Therefore, I also decided to remove with Digital Realty another North American REIT that I replaced with PSP Swiss Property. PSP is a solid office and retail REIT with focus on the Zürich region. The company prides itself for having reached a Carbon Disclosure score of 87 in 2013 which is a lot better than Digital Realty's 'No Response', but not quite as impressive as HCP's 97 (see here if you are interested how your holdings perform). Further reasons for keeping HCP rather than Digital Realty were its more impressive track record of distributions and the more stable and predictable market for health care properties as opposed to data centers.
Note that I am still long DLR and PW, but I do not intend to hold these stocks for the long term.
Again, these moves were unnecessary because I could have spotted the over-exposure to North America well before I wrote that diversification review.
Bonds
There are no leavers in my allocation of long-term government bonds. I decided to diversify a little further by adding a Finish bond, though. The criteria for this choice were straight forward: highest credit rating and no currency risk.
Performance
After a rather mediocre performance in 2013 'thanks' to gold, bonds and REITs, my sustainable portfolio has clearly gained momentum in 2014. Let's take a look at the amended portfolio's performance:

In particular my allocation of European small cap stocks has had an impressive run with a 39% return YTD which is mainly due to Energiekontor and IAR Systems that gained 79% and 52%, respectively. Next best performers were REITs and long-term bonds. The bonds prove the point that market-timing does not work for me. There was no need to wait with further bond purchases at the end of last year and I still have to catch up.
The worst performers have been Sims Metal Management and Kyocera returning -10% and -8%, but in the aggregate my current set-up is giving me little reason to worry. All (sub-) asset classes have been delivering positive returns so far and most of them are actually well ahead of the S&P 500 EUR Hedged. The tides may have changed and simply buying the index may not be the winning strategy this year. Then again, I am sure the next snapshot will look different.
Disclosure: The author is long CHHYY, CLPBF, CNI, DLR, ECL, GPTGF, HASI, HOCPY, IARSF, KYO, NVS, PSPSF, PW, SMSMY, STKL, SWGNF, SAP, HCP. The author wrote this article themselves, and it expresses their own opinions. The author is not receiving compensation for it (other than from Seeking Alpha). The author has no business relationship with any company whose stock is mentioned in this article.
Additional disclosure: I am long Energiekontor and Schaltbau Holding as well (no U.S. listings).
Editor's Note: This article discusses one or more securities that do not trade on a major U.S. exchange. Please be aware of the risks associated with these stocks.