For most gold investors, 2014 has started out with a bang, as almost all the gold miners and explorers are up by double-digit gains year-to-date. In fact, an investor would be hard-pressed to find any miner that hasn't been well into the green this year, but some have significantly underperformed both the mining indexes and gold itself - Iamgold (NYSE:IAG) is one of those companies, and that has piqued our interest.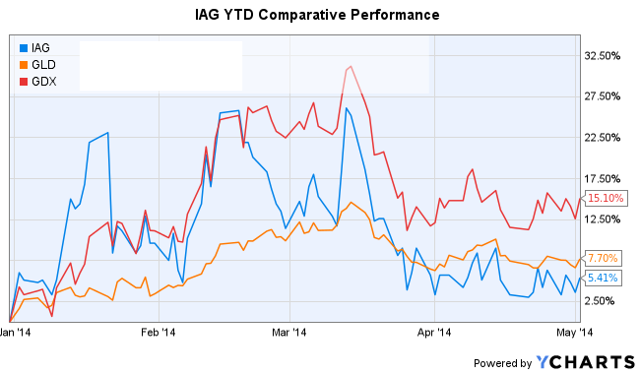 As investors can see, while the Market Vectors Gold Miner index (NYSEARCA:GDX) has registered a strong 11% gain YTD and gold has increased by 7.43% (as measured by GLD), Iamgold has significantly underperformed both assets.
Whenever we see clear underperformance in an asset, it interests us, because it may offer an opportunity as investors dump the underperforming asset. Stale longs and shorts join the party to hit the stock even harder - that's where we may pick up an asset much cheaper than its true worth. Obviously, not every lump of coal is a diamond, but it is worth a look.
In this research piece, we will take a look at Iamgold to determine if the current valuation offers investors good potential value compared to its peers.
For investors unfamiliar with the company, Iamgold is a mid-tier producer with six operating mines (including current joint ventures) in North America, South America, and Africa. Additionally, the company has one of the world's top three Niobum mines, and the company has a world market share of approximately 8% in ferro-niobium, which contributes around 20% of the company's revenues.
Iamgold's stock price has been hit relatively hard compared to its peers, as its all-in production costs have soared over the last few quarters. Additionally, low returns on growth projects and low near-term free cash flow have not been very appealing for investors. The company's stock price already reflects much of this investor pessimism, and we believe that there are a number of positive factors that may boost the company's outlook (and possibly its share price).
All-In Costs: Much Room for Improvement As Capital Costs Are Cut
Iamgold's current cost and production structure looks like the following:

Source: Hebba Investments LLC
Notes about All-in Costs Table
For a detailed explanation of the metrics and each metric's strengths and weaknesses, please check out our previous full-quarterly all-in costs gold report, where we discuss them in detail.
Iamgold changed the way it does its accounting as of Q1FY13 to account for the Sadiola and Yatela mines as joint ventures instead of joint operations. In layman's terms, the company is treating these mines as an equity investment, and thus, is including only its share of net earnings on its income statement and not including their costs as expenses on the company's income statement - thus, we have to remove their attributable production from IAG's total. We've included the top line gold production, but in terms of our estimation of their true all-in and core costs, we use their attributable production (e.g. 722,000 ounces in FY2013).
Finally, when applying our methodology, we standardized the equivalent ounce conversion to use the average price for Q4FY13, which results in a Niobium-to-gold ratio of 31:1 (assuming a Niobium price of around $41 per kg).
There was no doubt that Q4FY13 was a poor quarter for the company, as core costs (costs before taxes and removing write-downs) surged to $1190 per ounce from $1010 the previous quarter and a $1110 average for FY2013. Perhaps this explains the stock's poor performance over the last few months.
But when we look deeper into the numbers, it turns out that the jump in costs wasn't due to actual cost increases or operation inefficiencies, but rather primarily due to a fall in production (204,000 ounces of attributable production in Q3FY13 to 164,000 in Q4FY13). If we bring up Q4FY13 production to the 204,000 ounce level (to standardize and better estimate costs), we find that the actual core costs would have dropped to $1004 per attributable gold-equivalent ounce. This means, all else equal, if the company's production rises, it should be able to achieve the very good core costs it saw in Q3FY13.
That brings us now to production estimates for FY2014, and based on the company's FY2014 outlook, management expects to produce between 745,000 and 800,000 ounces of attributable gold (excluding Sadiola and Yatela), or an average of around 193,000 per quarter (assuming average production of 770,000 ounces in FY2014).
Based on this 770,000 FY2014 estimate, we can create the following estimate of core costs.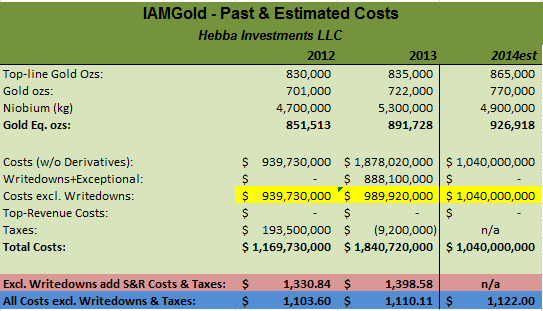 What we did here is simply plug in the numbers based on management estimates of production (middle of their estimated range), and we used last year's costs plus a 5% cost inflation addition (costs of $1.04 billion for FY2014).
As investors can see, all else equal, if the company can expand production to the mid-range of management's estimates, then we can expect core costs around $1122 based on the FY2013 cost structure.
This is actually pretty good, because it means that even with expected cost inflation of 5%, costs are in line with previous years, and thus, investors shouldn't be surprised with production cost blowouts.
Additional Capital Expenditure Cuts Could Provide Even Lower Core Costs
Up until this point, we've estimated the company's core costs based on management's estimated production and a 5% cost inflation rate. But that is not the whole story, because management is actually working to aggressively cut costs in FY2014 over and beyond what they did in FY2013.
In 2013, management implemented a cost-cutting program which was projected to reduce costs by $100 million. They actually exceeded that and cut costs by $125 million for the year - which shows pretty good discipline and effectiveness by management.
In 2014, management is aiming to have the following capital expenditures: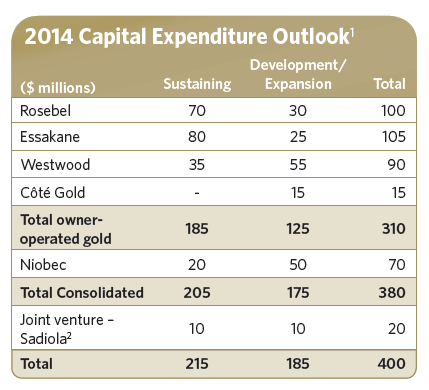 Source: Iamgold Corporate Factsheet
At around $400 million in capital expenditures, this guidance represents a drop of 40% from management's guidance for FY2013 costs (or a bit over $200 million less than FY2013 CAPEX guidance). We're not sure whether this includes realized FY2013 CAPEX guidance, but we'll assume it does, because CAPEX guidance in 2013 was issued before the announced expenditure cuts. So that means we expect that the total estimated decrease in CAPEX costs should be around $100 million from FY2013 realized totals.
This means that our estimated core costs of $1122 may be handily beat by Iamgold, as its additional CAPEX cuts may result in a reduction of gold-equivalent core costs of around $100 per ounce. That means core costs may be around $1022 per ounce - which puts the company in the top-tier of gold producers in terms of core costs. These cost savings should provide investors with a nice surprise to bottom line earnings, as well as significant improvement in terms of the company's cost structure compared to its peers - both very good things for the company's share price.
We want to emphasize that these are core cost estimates and not all-in costs, since they are before taxes and exceptional items (write-downs, derivatives, etc.). Nevertheless, the important thing investors should take here is that if Iamgold performs as management is predicting, it should rise to amongst the lowest core cost miners.
Dividend Cut Gives More Financial Flexibility
Markets hate dividend cuts, and in 2013, Iamgold announced that it would be suspending its dividend with the following statement from the CEO:
While our outlook for gold over the long term is optimistic, in light of the current gold price we are suspending the dividend to preserve our balance sheet. We are on target to reduce costs by $100 million this year and will continue to look for further reductions next year. This decision to suspend the dividend allows us to conserve cash and ensure we maintain the flexibility we need to take advantage of opportunities when they arise.

Predictably the stock got hit hard and investors sold shares. But we believe this was the right move in the current gold price environment and the company needs to focus on cash preservation and improving the company's balance sheet. This dividend cut is expected to save the company close to $50 million dollars per year ($47 million in equity-holder dividends in FY2013 and $94.1 in FY2012).
With $47 million more in financial flexibility in FY2014, the company will be able to accumulate more cash to better position the company and improve its balance sheet, and investors should start noticing it in 2014. The dividend cut pain has already hit the company hard, but we believe that the benefits of this cut have not yet been incorporated into the company's prospects and investors may be pleasantly surprised at the higher levels of cash accumulation.
Westwood Startup Should Materially Increase Production Totals
So far, we've focused on the company's CAPEX cuts and its ability to contain or even reduce costs. Ordinarily, we would expect this to result in declining or stagnant gold production, but with Iamgold, we actually expect the company to increase production over the next few years.
Why? Because the company's much anticipated Westwood mine in Quebec is scheduled to really ramp up in the second half of FY2014. Production estimates for Westwood are around 186,000 ounces per year over the estimated 19-year mine lifespan.
This means that we estimate that the company could reach 1 million ounces of consolidated production by FY2016 and over 900,000 ounces of owner-attributed production. That would be a 10-20% increase in total annual production from current levels, even with the aggressive cost-cutting that the company is currently focused on. If the gold price rises, then investors could see significant leveraged returns as costs are cut and production is increased - a formula for fat margins.
Investors should remember that Westwood is one of the few gold projects with gold resources that are estimated at greater than 10 grams per ton, which is a nice high-grade project in today's generally low-grade environment.
Company Risks
There are obvious risks with Iamgold (as with any other gold miner) above and beyond the standard industry-specific risks (gold price drops, mine accidents, etc.). We think a few of the key risks are the following:
Debt Risks
The company's debt load is significant, at around $640 million at the end of FY2013 (compared to a market capitalization of $1.3 billion). It does has a good chunk of cash on hand (around $230 million), but its debt load is clearly a relatively heavy burden for the company.
When it comes to debt, the key is when the maturities are due, because that will be where any significant cash crunches will occur.

Source: Iamgold 10-K Filing
As investors can see, the company should have no issues with debt repayments for the next 3-4 years; it is when we start getting closer to 2020 (when the large $650 million debt issuance comes due) that it may get a little dicey. Now, with a rising gold price, we think the company shouldn't have too much trouble paying or rolling over the debt, but if we do not see a significantly higher price, there will be some major concerns about how the company will deal with this large repayment.
But these troubles are troubles for another day, as the company should be fine for the next 3-4 years, and we do expect a much higher gold price within that time frame, which should make the debt payments much easier to manage. The major current consequence of the debt load is that it limits the company's financial flexibility, as it will make it more difficult to raise additional debt for acquisitions or major capital spending projects (though we do note the company does have an unused credit facility).
Westwood Production
Any time a new mine is brought to production, there are significant risks that mine production doesn't meet expectations. We've seen this before countless times, as miners' published expectations are lower than their realized grades and production (Detour Gold's (OTCPK:DRGDF) Ontario Detour Lake mine comes to mind).
In our opinion, one of the major value drivers for Iamgold is upcoming Westwood production - if it is much lower than expectations (or more costly), that will mean that a large part of our thesis will need to be re-evaluated. Investors should keep a close eye on Westwood production in terms of realized grades, recoveries, and of course, production ounces.
Estimated Base Price of Gold Reserves and Resources
The company's estimated resources and reserves of close to 30 million ounces compared to its market capitalization (around $1.2 billion) value its reserves and resources around $40 per ounce - which is extremely cheap compared to other gold miners. For example, Goldcorp has around 120 million ounces of gold reserves and resources and a market capitalization of $20 billion, which values each ounce at around $160 - four times the cost of each Iamgold ounce.
But there is a catch, since a large amount of Iamgold's ounces are estimated using a $1300 and $1400 gold price, which is obviously higher than current gold prices. If gold prices stay at current levels or drop further, a good chunk of these gold reserves and resources may not be economical. Unfortunately, we do not know how much Iamgold has in reserves and resources at lower levels, so it is definitely a risk investors need to take into consideration.
Conclusion for Investors
Iamgold has been beaten down pretty handily over the last year, and there is a lot of built-in pessimism in the company's share price. This presents investors with an opportunity, because the company is trading at much lower valuations than its gold mining peers, as it has one of the lowest Revenue-to-Enterprise values in the producer industry.
But the real opportunity for investors in Iamgold is related to the significant CAPEX cuts that management is proposing for FY2014 that should lower the company's core production costs around $100 per gold-equivalent ounce compared to FY2013 figures. This could put Iamgold in the top-tier of gold producers in terms of core production costs, and would lead to significant improvements in bottom line earnings. Couple this with expected production increases over the next few years (primarily from the company's Westwood mine), and this company that has underperformed its peers over the last few years could significantly outperform them - investors should keep an eye on Iamgold.
We think investors should pay close attention to the company's first-quarter report (scheduled for release on May 5th), because Iamgold's production costs may significantly positively surprise the market. We wouldn't expect a surprise in the amount of gold produced (that would be pleasant, though), but rather, in the costs to produce that gold and the bottom line profitability that would result. The bar is set pretty low, after all, which leaves plenty of upside as cost-cutting and CAPEX reductions take effect.
Disclosure: I have no positions in any stocks mentioned, and no plans to initiate any positions within the next 72 hours. I wrote this article myself, and it expresses my own opinions. I am not receiving compensation for it (other than from Seeking Alpha). I have no business relationship with any company whose stock is mentioned in this article.
Additional disclosure: As a rule we do not invest in companies with debt ratios greater than 20% and that is why we do not own shares in IAG.